The crypto expert known as DonAlt of TechnicalRoundup accurately predicted the 2022 Bitcoin low. He now foresees a potential skyrocket for Litecoin (LTC).

He shared some exciting news with his 47,200 YouTube followers during a recent strategy session. DonAlt revealed that the token for the peer-to-peer payments network has the potential to soar and increase by over 100% from its present value in the near future.
DonAlt's Litecoin (new) prediction
Its slow and steady ascent on the weekly timeframe resembles the impressive rise of Bitcoin when it was trading at around $17,000. 
"It's only a matter of time before Litecoin experiences a sharp, parabolic surge upwards. With its solid foundation".
Because of this, DonAlt has no intention of letting go and is eagerly awaiting the moment when Litecoin truly takes off.
The brand new newsletter with insights, market analysis and daily opportunities.
Let's grow together!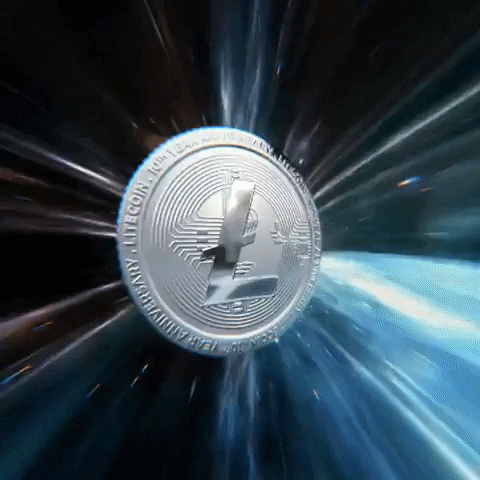 Rather than sell prematurely, he is opting for a different approach with his investment in Litecoin. 
What if his predictions don't come to fruition?
"If I'm wrong on it, I'm wrong on it," and he is ready to accept the consequences. 
However, he firmly believes in the potential of this asset and recalls the time when he forecasted its rise from $60 to $300, eliciting skepticism from others. Nevertheless, he's standing by his convictions and is eager to see the full extent of what Litecoin can achieve.
Bullish Litecoin prediction
As Litecoin steadily inches its way up to the $100 level, the eager beaver is convinced that this upward trend is only the beginning. 
He foresees a rapid escalation, projecting that after a brief period of consolidation around the $100 mark, Litecoin could soar to trade at $200 within a matter of days. 
As the crypto markets recover from their November dip (FTX scandal), Litecoin shines as a standout performer.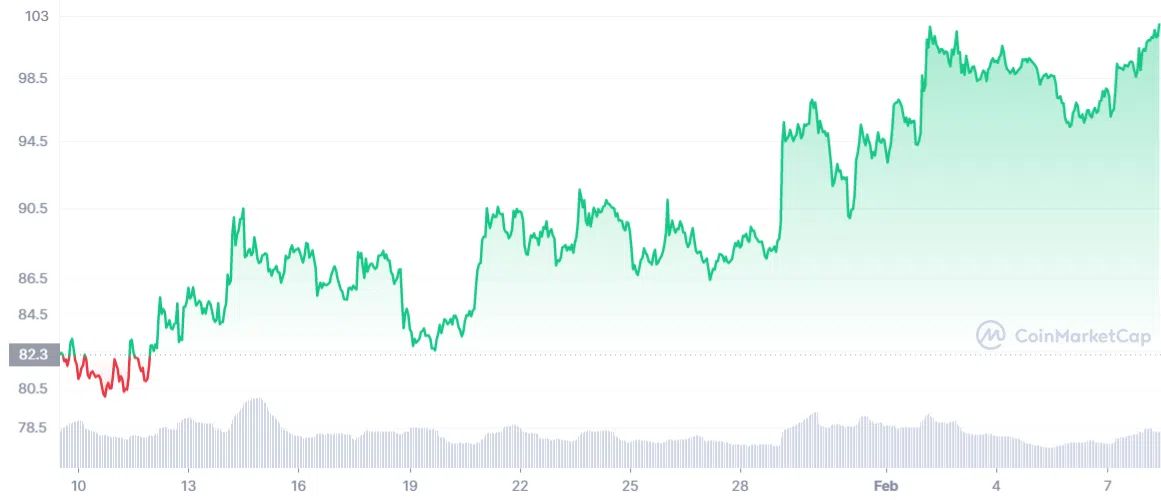 Litecoin currently boasts a value of $102.98, outpacing both Bitcoin and Ethereum, which have risen by 45% and 47%, respectively.
Furthermore, Litecoin has seen a remarkable 62% increase since November 21st.
DonAlt's Bitcoin prediction
With a keen eye on the market, DonAlt predicts that Bitcoin is in the midst of a consolidation phase and is poised for a break towards the upside.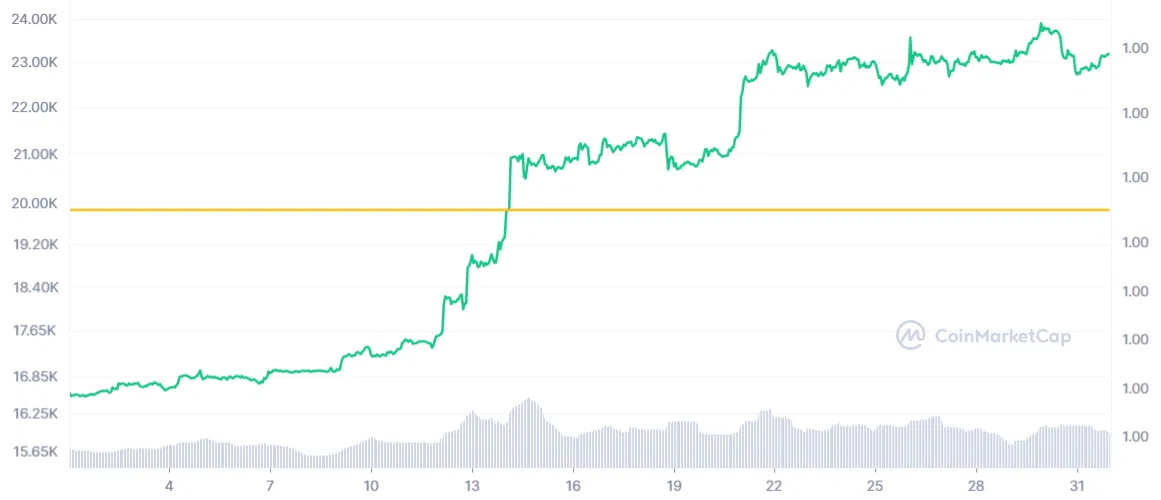 In January 2023, Bitcoin experienced a whirlwind of upward momentum, with only a slight dip in the sea of green. However, last week was just a mere blip on the radar, as Bitcoin sported a red sway, despite the expectations of a bigger push. 
"Just looks like strength to me…"
Nonetheless, the seasoned trader is closely monitoring this trend and eagerly awaits the next big move for Bitcoin.
In the current market, DonAlt observes that Bitcoin is undergoing a period of consolidation at or just below its resistance level.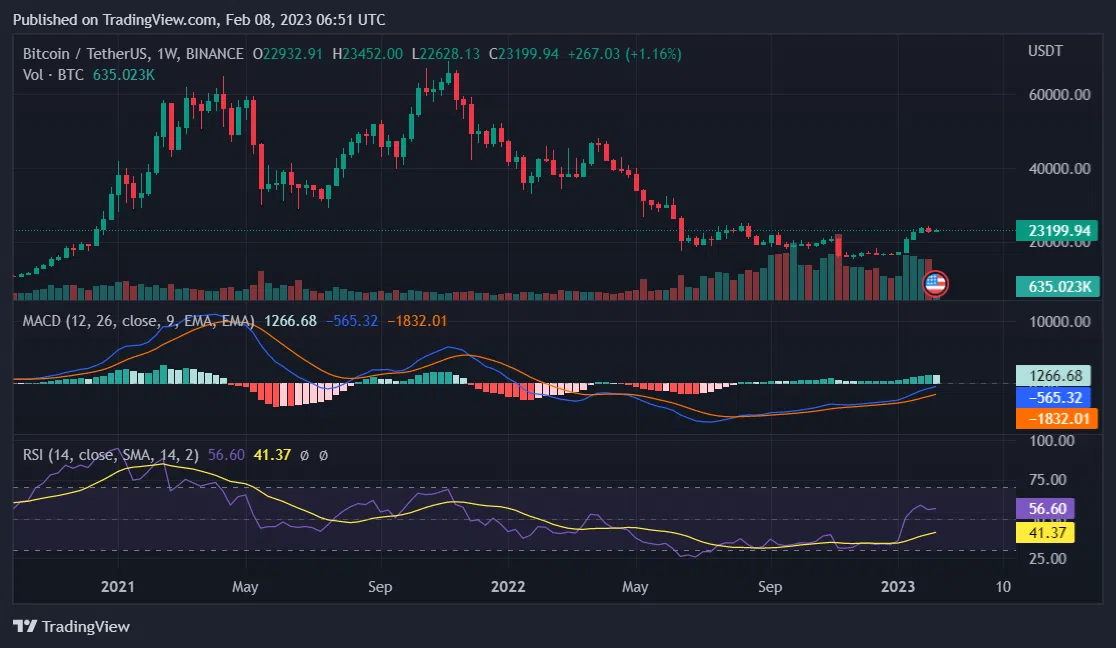 Moreover, he views this consolidation as a positive sign, as it demonstrates the asset's ability to maintain its value even at the brink of resistance. 
With continued testing at the $24,000 mark, DonAlt further believes that Bitcoin is building up the momentum it needs for an aggressive push upwards. 
Even amidst its slight red tinge, he is encouraged by the market's stability, as it sets the stage for even greater potential for growth in the future.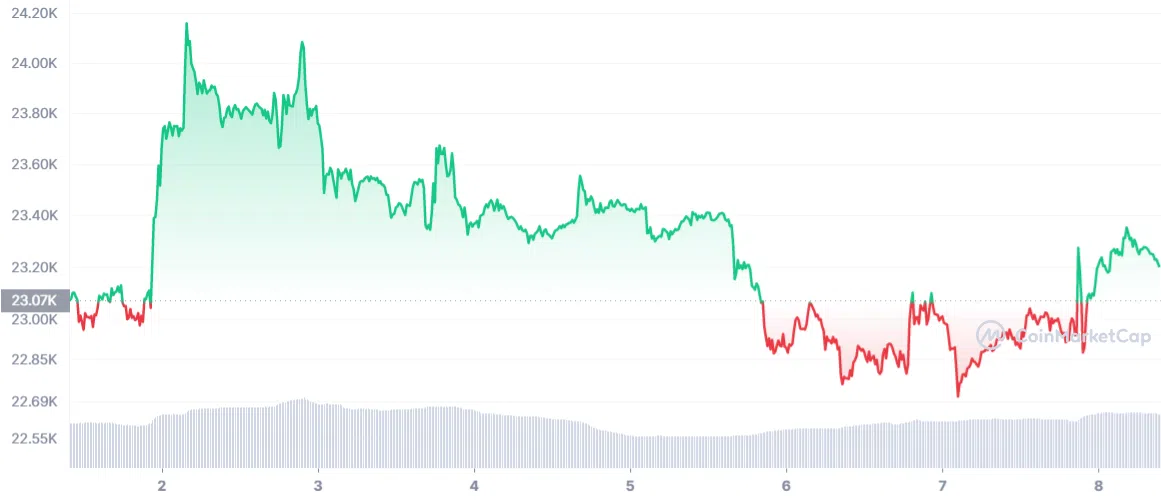 At the moment of writing, Bitcoin is exchanging hands for $23,199.56, up 1.22% in the last 24 hours.