The beta version of Shibarium will be launched soon. There is no exact date yet, but the Shiba Inu community (SHIB) is excited about the news. What is it, why is it causing such excitement among meme coin fans, and what will happen to its price after release?
What is Shibarium?
Shibarium is a Layer-2 blockchain scaling solution — a secondary structure added above another blockchain to improve scalability and increase transaction speed. Shibarium will aim to improve the performance of the main Shiba Inu chain, which is built based on the Ethereum blockchain (Layer-1), which the SHIB ecosystem tokens use (SHIB, LEASH, and BONE).
"This layer aims, as a protocol, to work on top of existing blockchain networks, allowing for faster, cheaper, and more private transactions to be processed off-chain, while still relying on the security of the underlying blockchain. This can help to reduce the load on the blockchain network and improve the user experience for metaverse and gaming applications. Combined, web3 and Shibarium's Layer-2 blockchain technology can enable a new decentralized metaverse and gaming ecosystem, where players can interact and transact in a decentralized way and where players can own, buy and sell the digital assets they acquire." the developers' description says.
| | | |
| --- | --- | --- |
| SHIB | LEASH | BONE |
| Shiba Inu, or SHIB, is the main token of the ecosystem, bringing the power of a decentralized, community-led currency to millions across the globe. Since its inception in late 2020, the Ethereum-based SHIB token has grown to become a worldwide phenomenon, and is now accepted as a form of payment at hundreds of locations, either directly or through third-party intermediaries. | With a total supply of just 107,646 tokens, LEASH is positioned as a special token for loyal supporters of the ecosystem, enabling holders to benefit from exclusive perks and access. Past examples have included incentivized BONE rewards for liquidity providers on ShibaSwap, exclusive access to Shiboshi NFT minting, as well as early access to Shib: The Metaverse land sales. | BONE is the ecosystem's governance token, with a total supply of 250,000,000. BONE was designed to allow the Shib Army to have its voice heard by voting on proposals via the Doggy DAO. Furthermore, BONE is the foundation upon which we built our ecosystem's proprietary Layer 2 network, Shibarium. |
Details about Shibarium are still scarce, but the main goals of this second-tier blockchain solution are: 
Speed up the transaction, as more transactions will be able to run simultaneously

reducing transaction fees, and in some places eliminating them altogether for members of the Shiba Inu ecosystem.

Simplifying the Shiba Inu Game

The Shiba Inu Game is actually two games, split into both a classic mobile game and an NFT game with the usage of the Shiboshi NFTs.

through fast transactions.

Participating in the implementation and applications of the Shiba Inu metaverse.

Work as a basis for the development of decentralized applications (DApps) and other projects. 
BONE native token is a governance token, and was launched in July 2021. It is needed to pay for gas transactions and reward validators

Nodes in a blockchain network that are responsible for verifying and validating transactions, and for maintaining the integrity of the ledger. These nodes are typically run by entities called validator operators. and delegates

People who want to maintain the network, but do not want to run a full node, by placing their BONE tokens on validator nodes. within the Shibarium protocol. 
The brand new newsletter with insights, market analysis and daily opportunities.
Let's grow together!
The total supply is 250 million, of which 20 million is reserved for rewarding validators

In Shibarium, validators are instrumental members of the network who contribute to operability and security by locking up a certain number of BONE tokens and operating the Heimdall Validator (an open-source software). and Bor

The EVM-compatible layer responsible for block production. block producer nodes and delegates in the coming years.
BONE is available through ShibaSwap and other decentralized and centralized platforms. The Bone ShibaSwap token price as of January 26 ranges from $1.35 to $1.36.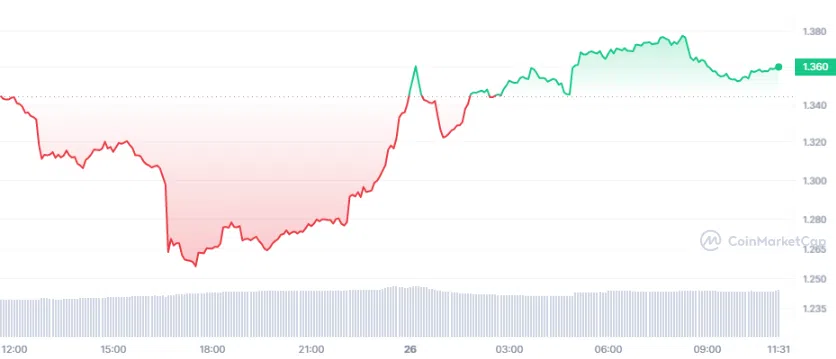 The launch of Shibarium's core network includes plans to integrate ShibaSwap into the platform to facilitate access to tools and features, and to give users and validators/dealers efficient access to all betting pools and liquidity. 
A new token, TREAT, will also be launched. It is needed to reduce network fees and as a reward. In addition, TREAT will help provide balance for SHIB algorithmic stablecoin (which has not yet been started up). A limited number of tokens will be reserved for the most dedicated members of the Shiba Inu community.
What will SHIB's price be after the Shibarium launch?
The current price of SHIB, as of January 26, is $0.00001158, BONE is $1.36, and Doge Killer (LEASH) is $375. In total, their market capitalization is $6,432,349,088. These are three SHIB ecosystem tokens. The SHIB coin has the largest capitalization, at $6 billion.
Once Shibarium is launched, the price of SHIB could skyrocket. A mechanism will start working, where each transaction on Shibarium will burn a certain amount of tokens. Exactly how many — the developers have not said yet. Burn refers to the irreversible removal of tokens from the total amount. This means that the same capitalization will account for a smaller number of coins. 
There will be more $SHIB Burns with the release of #Shibarium 🔥 https://t.co/rheQx3gFGM

— $SHIB KNIGHT (@army_shiba) January 24, 2023
Shibarium could potentially raise the price of the Shiba Inu coin because there would be more SHIB usage options, and it could also be held and processed at a much higher speed and lower cost.
When will the Shibarium launch? Probably quite soon. This is indirectly indicated by the whale's actions. One wallet added 1.10 million Bone ShibaSwap (BONE) worth about $1.4 million on January 24, according to Etherscan.io. This usually means that the whale is waiting for the price to rise.
Motley Fool's analyst even believes that, under the right conditions, Shiba Inu (SHIB) could surpass Bitcoin. Even during the crypto winter of 2022, according to Binance, SHIB was one of the three most popular cryptocurrencies, along with Bitcoin and Ethereum.
The Shiba Inu community knows how to hype. Even as of January 25, 2023, the token was ranked #8 on CoinMarketCap's trend list. And earlier this month, it was in first place.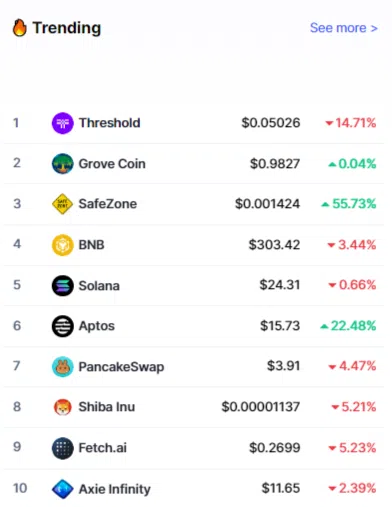 If crypto escapes the crypto winter and goes on a bull run, Shiba Inu could outperform Bitcoin due to its greater volatility and virality.