Bonk! No, we didn't hit you. It's the name of a new coin. And it is a token that is launched in the decentralized organization BonkDAO, based on the Solana blockchain. Until December of this year, not many people had heard of it, except those who actively monitor the Solana development.
However, Twitter personality R89 Capital, who is quite famous in the crypto community, recently told his followers about the existence of a new (yet another, sigh) meme token. And this token (sigh again) is dedicated to the Shiba Inu dog. 
What's so special about BONK tokens?

R89 Capital says the token has a chance to reach $1 even though it has 100 trillion coins (usually the higher the number of tokens, the cheaper they are). In such a case, BONK would become the largest token by market capitalization, with Bitcoin second. That's because the capitalization would reach at least $100 trillion. By comparison, Bitcoin's capitalization is $324.81 billion as of December 26. At the moment, even DOGE, the most popular doggy coin, has not managed to reach the price of $1, only $0.07. Another popular Shiba Inu coin is Shiba Inu (SHIB) worth about $0.000008.
The brand new newsletter with insights, market analysis and daily opportunities.
Let's grow together!
Now let's get to the hardest part. The new meme token should not be confused with another (yes, it's complicated), better known one (to some extent). DogeBonk (DOBO) is not the same as the Bonk Inu Token (BONK) in question here today. DogeBonk is a Binance Smart Chain (BSC) token with deflationary properties and automatic yield generation

That is, the number of tokens is "burned" from time to time by the developers to increase their value. And a 5% tax, which is applied to all transactions, is distributed to DogeBonk holders. Another 5% tax is automatically added to the locked liquidity pool. It was launched in May 2021, and it can be bought at PancakeSwap (V2) for about $0.0000000055, among other exchanges. It was created as a joke and meme parody like DOGE, which Elon Musk supports, and is promoted by the Reddit community. 
BONK for a weakening Solana
The token appeared to support the Solana community, which is going through bad times. The decentralized exchange (DeFi/DEX) protocol Serum on the Solana blockchain announced its closure, while the Solana-focused cryptocurrency wallet Phantom has added support for Ethereum and Polygon. Among the last to leave Solana were major NFT collections like DeGods and y00ts. They preferred Polygon and Ethereum. The process should be completed early next year.
All because Solana was hit by FTX collapse. About $643 million in SOL is under the control of liquidators as part of the bankruptcy process of Alameda Research (an FTX subsidiary). All of this is causing great fear among investors and companies who are trying to distance themselves from Solana, or at least not target only this blockchain as the only one.
A BONK token giveaway has been launched just before Christmas to reward everyone who is supporting the work of the Solana blockchain (NFT, art and Solana DeFi enthusiasts, developers etc.). Overall, 50% of the total number of coins will be distributed as an airdrop (free giveaway).
Dexlab, a minting lab, launchpad, and a dedicated DEX for all listings, helped create the token. Helio, the Web3 payments API, is used as an initial funding tool. Integrating airdrops, fflips, and raffles is implemented with the Famous Fox Federation.
What is the BONK token?
BONK is an airdropped community dog coin (since half of all tokens will be distributed to those who support Solana blockchain in different ways) provided to a wide range of Solana NFT holders, DeFi members, 1/1 art collectors, and Solana developers. 
BONK tokens are still in the process of giving away, but the token developers have already told us what percentage the community will receive:
5% will be given away to developers;

10% to artists and collectors;

15% to early openbook traders;

20% to holders of 40 NFT collections based on Solana.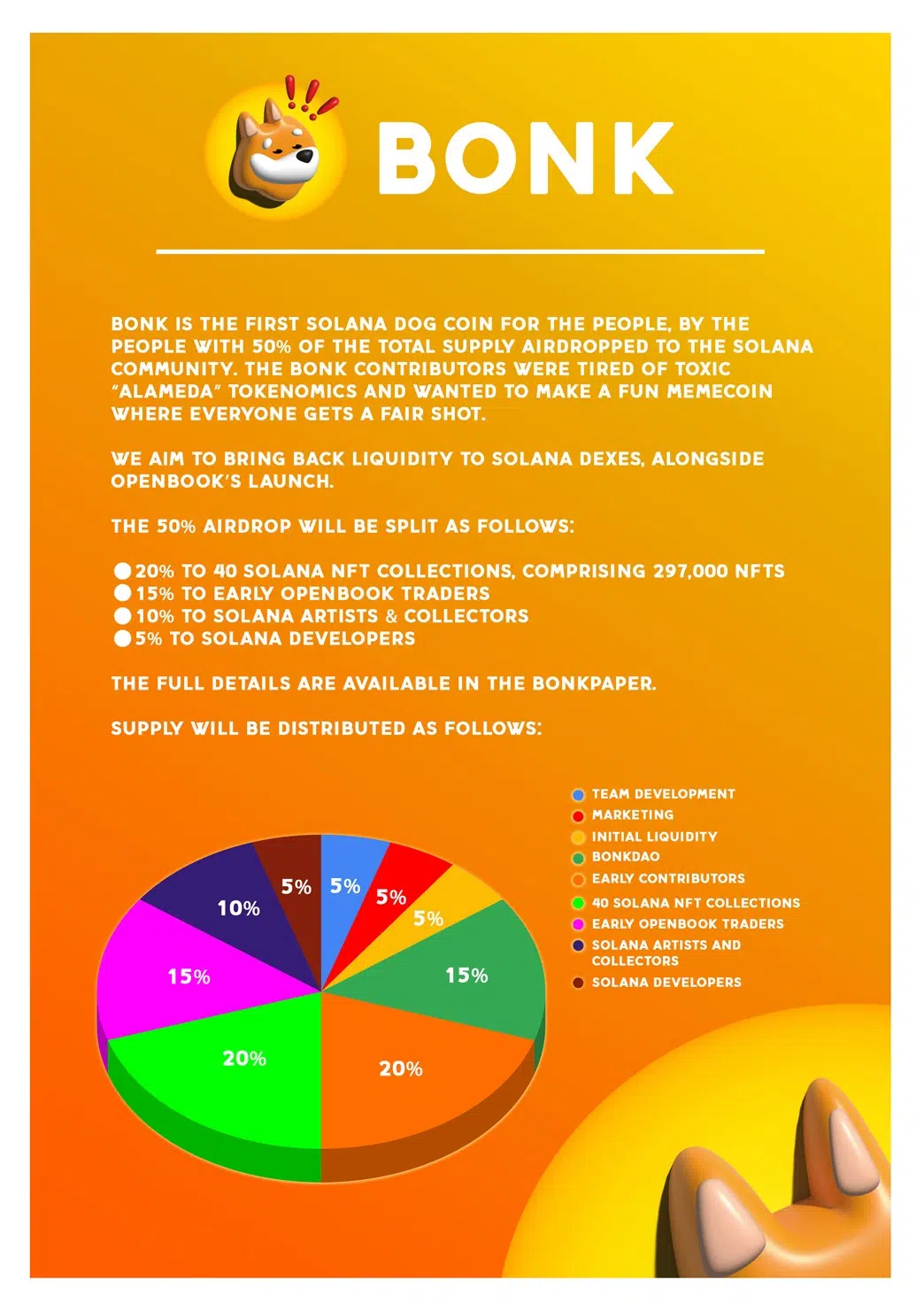 Non-members of the Solana community can also buy BONK by following these simple video instructions below. Half of the Bonk Inu Token (BONK), i.e. 50 trillion, will be available after the airdrop completion.
The developers promise many integrations and possibly the possibility of future voting among BONK holders (usually by voting important decisions about the further development of the project are made). The project is still under active development. It is expected that the more rights and opportunities the token itself will provide, the higher its value will be. The developers have promised staking, raffles, and trading contests in the near future. Soon it will also be possible to borrow and lend BONK through the Solend protocol and this will be maintained as a raffle token for the Famous Fox Federation. The Realms/SPL Governance, the chain community platform in the Solana ecosystem, will help the Bonk Inu Token (BONK) to power governance.
$BONK is a testament to what's possible when we focus on composability & partnership instead of trying to extract value from the Solana ecosystem at the expense of everyone else.

— Bonk! || Merry Bonk-mas! (@bonk_inu) December 27, 2022
According to Solscan, there are 63,165 BONK holders as of December 27. 
We airdropped a small city of people (over 60,000 wallets) for less than the cost of a few Happy Meals.

That's the power of Solana.

Imagine when the entire world is using it!

— Bonk! || Merry Bonk-mas! (@bonk_inu) December 27, 2022
Meme tokens — a chance to lose or to earn?
As it has already become clear, the list of dog tokens has arrived. Now we have to remember the Bonk Inu Token (BONK), not forgetting Shiba Inu (SHIB), Dogecoin (DOGE), Dogecoin 2.0 (DOGE2), OOGI (OOGI), KOROMARU (KOROMARU), Captain Inu (CPTINU), Baby Doge Coin (BabyDoge), Doge Killer (LEASH), Dogs Of Elon (DOE), DogeBonk (DOBO) and many more.
So why do meme coins keep appearing? As you know, it is demand that creates supply.
Pros and cons of meme coins
Pros
A fun kind of asset that can be used to learn about cryptocurrency and blockchain technology.

Opportunity to profit when the value rises.

Potential participation in an active investment and trading community.
Cons
High risk and volatility. The cryptocurrency market is characterized by high volatility, that is, sharp ups and downs in price.

Allegations of "pump-and-dump" fraud, according to

Investopedia

. This is a manipulative scheme in which untrue statements and recommendations try to raise the price of an asset, and when it is higher, sell it.

Can be technologically challenging for some users.
To understand what meme tokens are and whether they are useful, Nansen researchers analyzed more than 50 projects on Ethereum. Among them are Shiba Inu, Dogelon Mars, Baby Doge Coin, Kishu Inu, Tyrant and others.
The most profitable wallet address in terms of ROI

Return on investment is calculated by dividing the profit earned on an investment by the cost of that investment. was able to make more than $2.3 million in profit after spending only $450 in 2022.
Overall, the top 200 wallet addresses (based on ROI) spent over $160k and made a combined total of over $82M from meme token trading.
The average amount spent by each wallet was $800 and the average number of trades was just over 5.
The 213 wallet addresses were able to make over $1 million in profits by trading meme tokens.
The wallet address that generated the most net profits from trading meme tokens is the Maximal Extractable Value (MEV) bot

This is an arbitrage trading bot for Ethereum, that is, a small program that works independently according to predetermined parameters., and it accumulated a total of more than $78 million. However, it risked more than $213 million to make those profits.
Interestingly, the wallet addresses in both groups of investors profited from similar tokens. But their strategies were quite different — the traders with the highest ROI made very few trades with large winnings, while those who made more than $1 million in profits made many trades with more complex strategies.
How can I make money on this?
Are meme coins a good investment? Like any digital asset, they have pros and cons. Many meme coins are kept afloat by the communities that support them. That's something to focus on.
A token is worth considering if: 
There is support from a large number of community members. For example, Bonk Inu Token (BONK) has just over 4,000 followers on Twitter, while Dogecoin and Shiba Inu have 3.6 million and 794,000, respectively.

High FOMO. Fear of missing out (FOMO) is one of the biggest drivers of rising cryptocurrency prices. When Dogecoin rose in price in early 2021, Elon Musk played no small part in that. The asset attracted attention and FOMO emerged, everyone wanted to get their hands on DOGE. In this situation, meme coins are showing themselves to be some of the most popular tokens for day trading.

Meme tokens can constantly change and become more useful. Without real application, they lose value. Dogecoin is accepted as a payment method in many stores, and the developers of Shiba Inu have launched a decentralized exchange called ShibaSwap, as well as its

governance token

BONE.