Bull market vibes are returning in 2023. Altcoins are gaining momentum, especially the new AI tokens. The NFT market has also revived, and new trends have emerged. Although the older collections continue to rise in price, there are new leaders.
Let's find out together what's going on in the NFT market in February.
Battle for OpenSea: Polygon vs. Ethereum
In early January, the NFT market reached its 90-day high in the number of daily unique users (27,800) and in the number of daily sales (85,700). Two-thirds of users traded on OpenSea.
The NFT market sees a 90-day high in terms of both daily unique users and daily sales count, with a whopping 85.7K sales from 27.8K users.

Two-thirds of the users traded on OpenSea, with 2.7 sales per user, totaling 50.3K sales.@DuneAnalytics dashboard by @SeaLaunch_. pic.twitter.com/j6n1IvXpwX

— NFTgators 🐊 (@NFTgators) January 10, 2023
The brand new newsletter with insights, market analysis and daily opportunities.
Let's grow together!
According to DappRadar, in January, the NFT market recorded $946 million in trading volume and 9.5 million in sales, up 38% and 42%, respectively, from December. OpenSea's trading volume increased 66.58% to $495 million. This represents 58% of the total trading volume in the NFT market.
Polygon recorded a 124% increase in trading volume and a 157.39% increase in sales.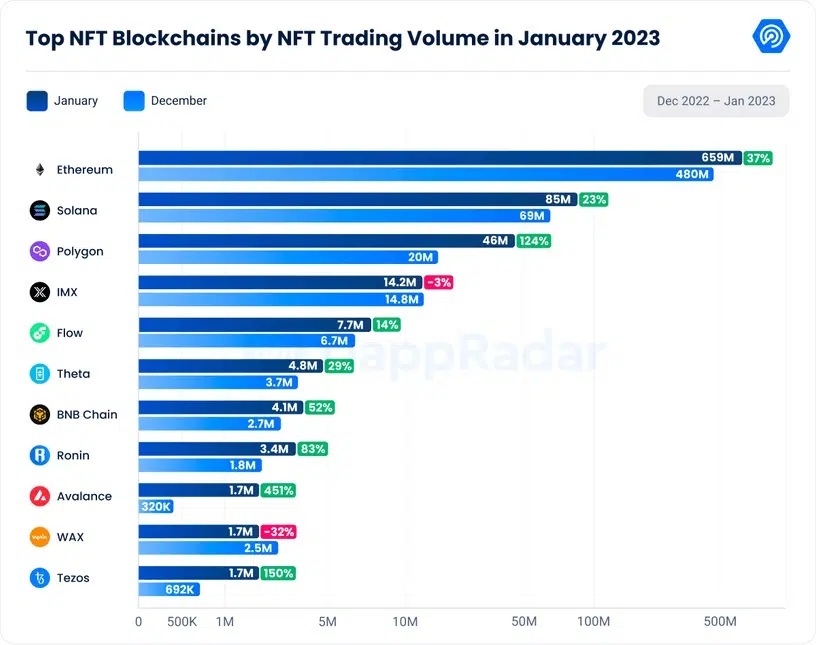 Dune data shows that for the second month in a row, the number of Polygon-based NFTs traded on OpenSea exceeded the number of Ethereum-based NFTs. The average Ethereum NFT trader in November traded $1390 and averaged 3.54 NFT. And the average Polygon NFT trader traded 7 NFT, twice as much, but spent only $69. 
The monthly number of Polygon NFT traders has reached an all-time high since September 2021, with 224,719 traders in January 2023.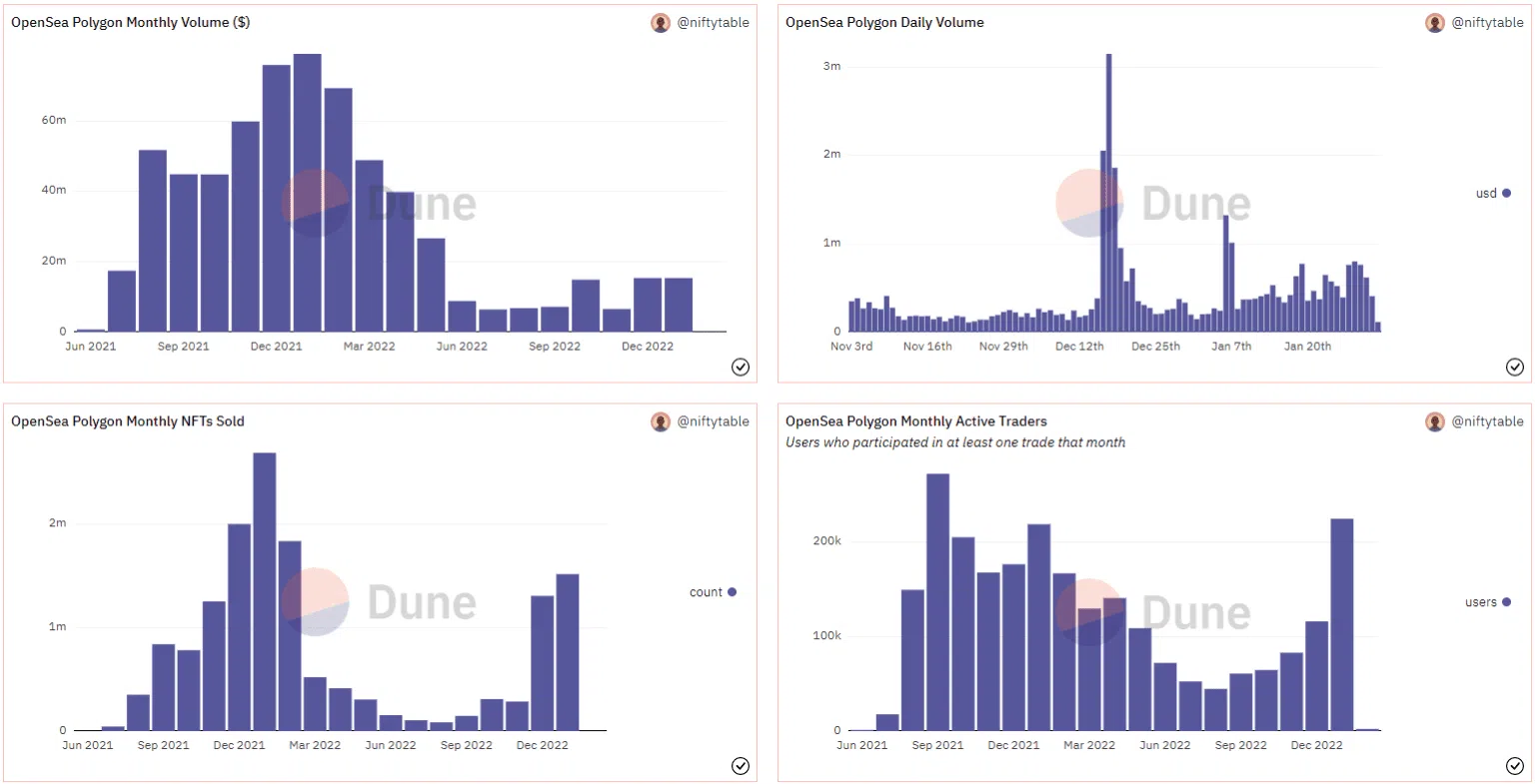 NFT's lending ecosystem reached a record high in January in terms of monthly loan volume and number. A total of 17,900 ETH was provided in the form of 4,399 loans. The number of borrowers was 616 and the number of lenders was 291. BendDAO was NFT's largest lending protocol, with more than $36 million borrowed in January. NFTfi was second with $25 million, and X2Y2 was third with $12 million.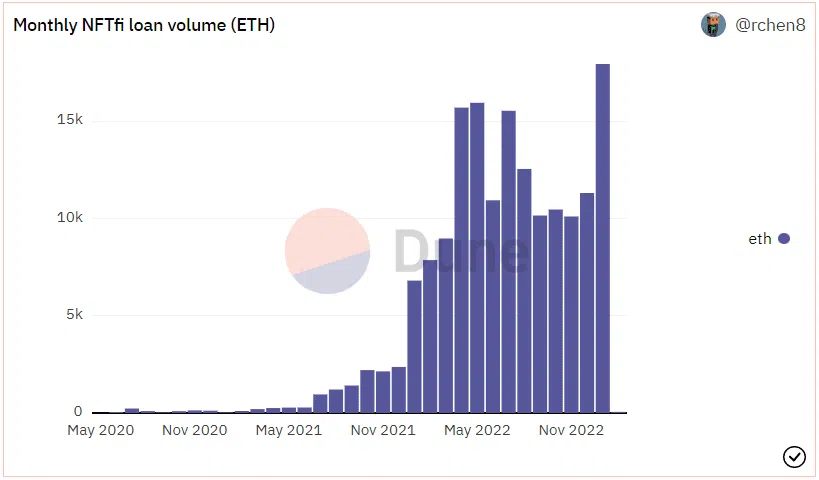 NFT leaders and new trends
The new NFT collection pushes back the old-timers
Recent high-priced NFT sales of eight Bored Ape Yacht Club ($1.3 million worth) and CryptoPunk #5066 ($1.4 million) made headlines. 
Breaking News: Yesterday @Memeland began making headlines after purchasing 8 Bored Ape NFTs for $1.3M

Meanwhile, CryptoPunk #5066 was just purchased for $1.4M 🤯 #BULLISH

Visit https://t.co/ArHdTqRe08 to stay updated pic.twitter.com/R19WsRVwEQ

— CryptoSlam! (@cryptoslamio) February 7, 2023
However, the most interesting event is the entry into the top 5 of the NFT collections Checks VV. In 2022, Elon Musk acquired the social network Twitter, which had a user base of 368 million active accounts. After that, there were verification ticks next to the account name. That gave Visualize Value artist Jack Butcher the inspiration. His project couldn't be simpler: it is based on the idea of a verified Twitter user checkmark. He introduced the NFT collection of such checks in different colors in early January. Then he sold about 16,000 at about $8 each.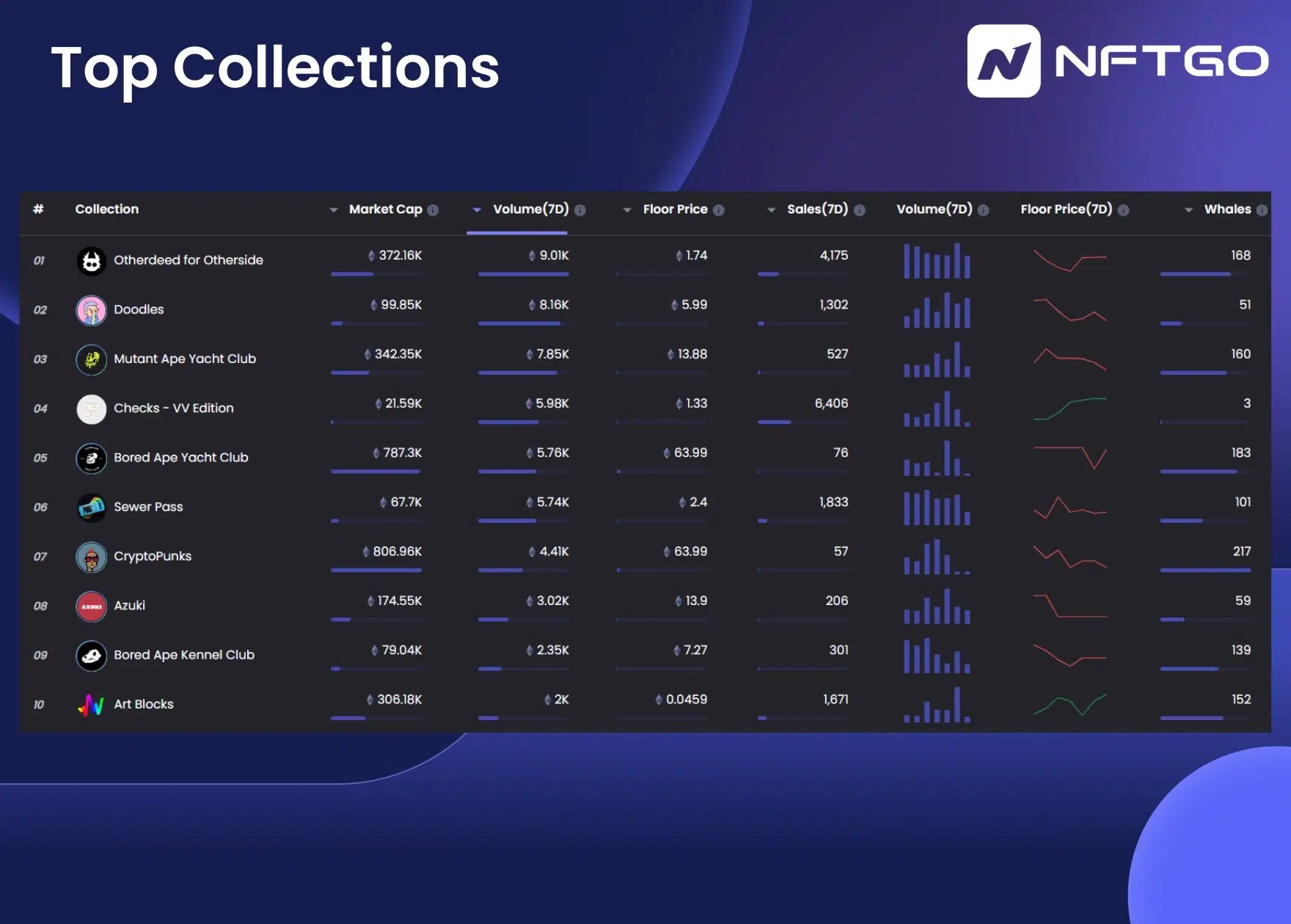 NFT now starts at 2.47 ETH (about $4,100), a price increase of 51,000% in just one month. To date, Checks collection has totaled more than $21 million.
This artwork may or may not be notable. pic.twitter.com/Mk0ptDkNl0

— @jackbutcher (@jackbutcher) January 3, 2023
Blur began to outperform OpenSea
As January showed, Blur Market became a major player in the NFT market with $187 million in trading volume, a 20% increase. OpenSea retained the lead with a trading volume of $495 million, representing 58% of the entire market.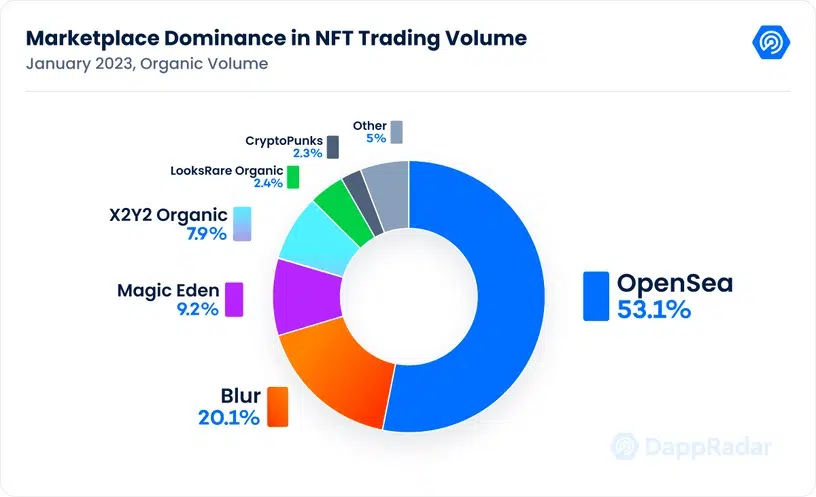 But in February, daily NFT trading volume on Blur was already exceeding that on OpenSea: an average of about $14.3 million, compared with $11.3 million, Dune data showed.
This surge in Blur's popularity may be due to the launch of its own cryptocurrency, BLUR, on February 14, along with the third and final points airdrop, which can then be exchanged for tokens.
Dynamic NFTs
Chainlink (LINK) is a cryptocurrency and technology platform (decentralized oracle network) that allows blockchain platforms to interact securely with external data. Now it is targeting NFTs, more specifically dynamic non-fungible tokens (dNFTs). Such dNFTs change or evolve over time depending on specific conditions or actions in the real world. Also, such NFTs can be changed by their owners and/or creators. 
This trend is just evolving. But there are already, for example, uses. For example, the dynamic multisport NFT platform OWNIC has introduced digital assets that develop along with the athlete's career and offer many privileges depending on the player's performance. For example, if a token represents a mixed martial arts (MMA) fighter, and he knocks someone out during a match, NFT will display the fighter's success and make his value rise.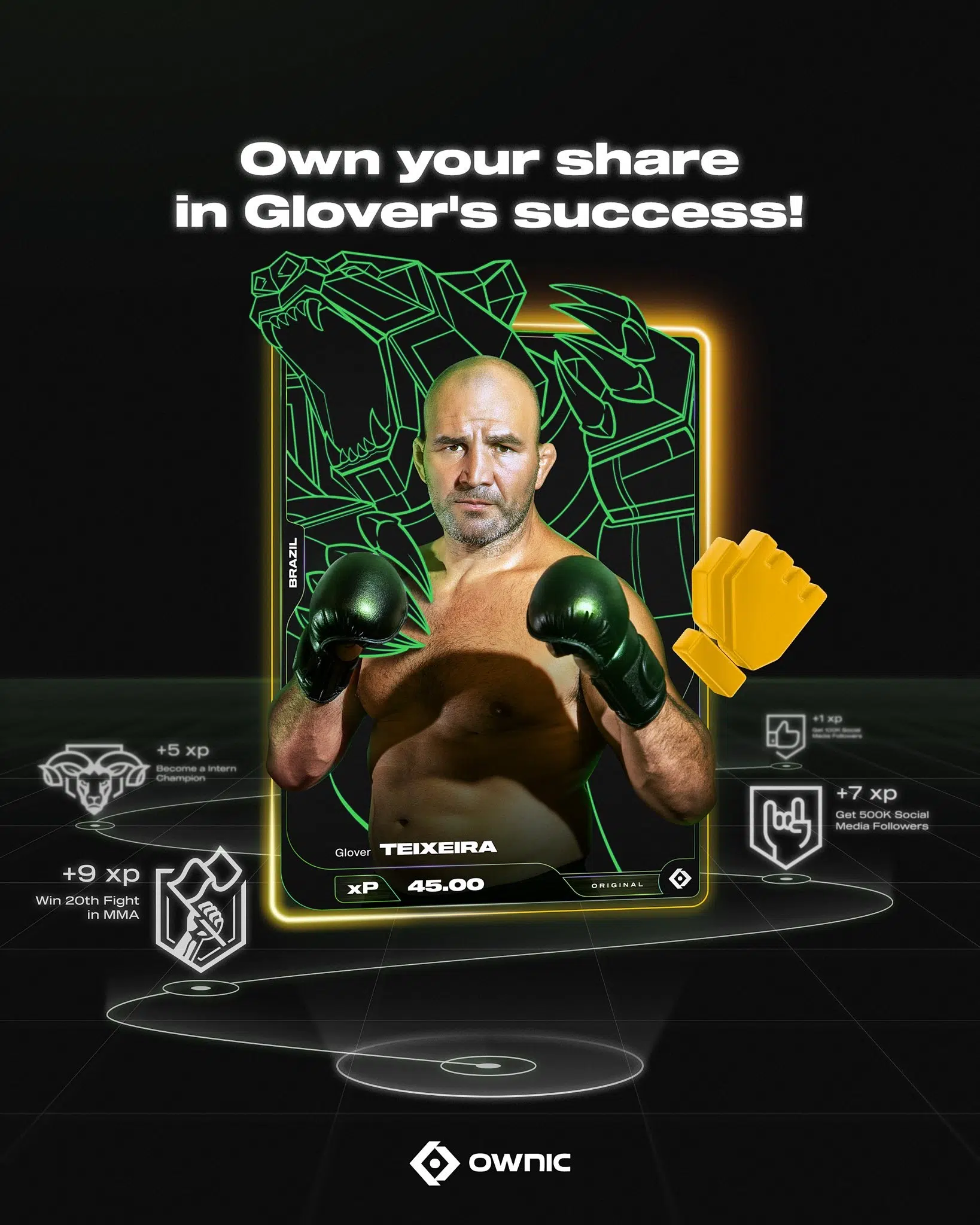 Chainlink believes that dNFTs are the future, as announced on January 30. So as soon as the launch happens, the platform's own tokens may go up even more. Within a month, the price of LINK has risen by almost 25% to $7.23. 
1997: "Most web pages are static. In the future, most web pages will be dynamic."

2023: "Most NFTs are static. In the future, most NFTs will be dynamic."

Understand why dynamic NFTs are a game-changer for non-fungible assets👇https://t.co/Xyqz72Ai9a pic.twitter.com/gEGGshKt2d

— Chainlink (@chainlink) January 30, 2023
Sewer Passes are gaining momentum
Yuga Labs' NFT collections accounted for 34.3% of all trades in January ($324.8 million). The major breakthrough of 2023 are the NFTs called Sewer Pass, which serve as the key to entering a game called Dookey Dash. According to Crypto Slam, Sewer Pass sales reached $71,595,485 as of the last 30 days, with a floor price of 2.3 ETH (+69596.97%). In January, trading volume was $57,390,941.06 (37,682,2600 ETH).
In place of a final chord
A new protocol called Ordinals, released on the Bitcoin blockchain, could change the NFT market. It allows users to insert relatively large amounts of data into transactions that can be used to create collection images on the network, similar to many popular NFT projects. 
The Ordinals protocol allows users to explore, transfer, and receive individual satoshis, which can include unique recorded data such as videos and images. Satoshi is the smallest unit of Bitcoin. 1 SATS = 0.00000001 BTC.
It has already created 11,000 NFTs in two weeks, but there are no sales or marketplaces yet, as the Ordinals protocol has just begun to develop. You can check out the NFTs here.