At the end of 2022, many analysts and experienced traders predicted that in 2023 the main trend would be artificial intelligence (AI). They turned out to be right, partially because of Chat GPT's

A chatbot with artificial intelligence developed by OpenAI and capable of working in a dialog model. success. 
Let's figure out what crypto AI tokens are, why they are skyrocketing, and whether it makes sense to invest in them now.
How is AI related to cryptocurrency?
Let's start by not giving in to FOMO

Fear of missing out. (which is hard).
With the popularity of projects such as ChatGPT (and there were also "artists" like DALL-E 2 and MidJourney), interest in AI has increased significantly. And hype in the cryptocurrency world means a lot. In cryptocurrency projects, AI has long been used, especially in decentralized finance (DeFi) protocols. They use AI instead of conventional algorithms, which allows it to improve itself over time.
The brand new newsletter with insights, market analysis and daily opportunities.
Let's grow together!
As interest in AI increased, the price of tokens for projects that had anything to do with neural networks began to rise. Some coins only in the last 7 days rose in price by 200-300%. Some have soared 1,100% in the last 30 days (as of February 6).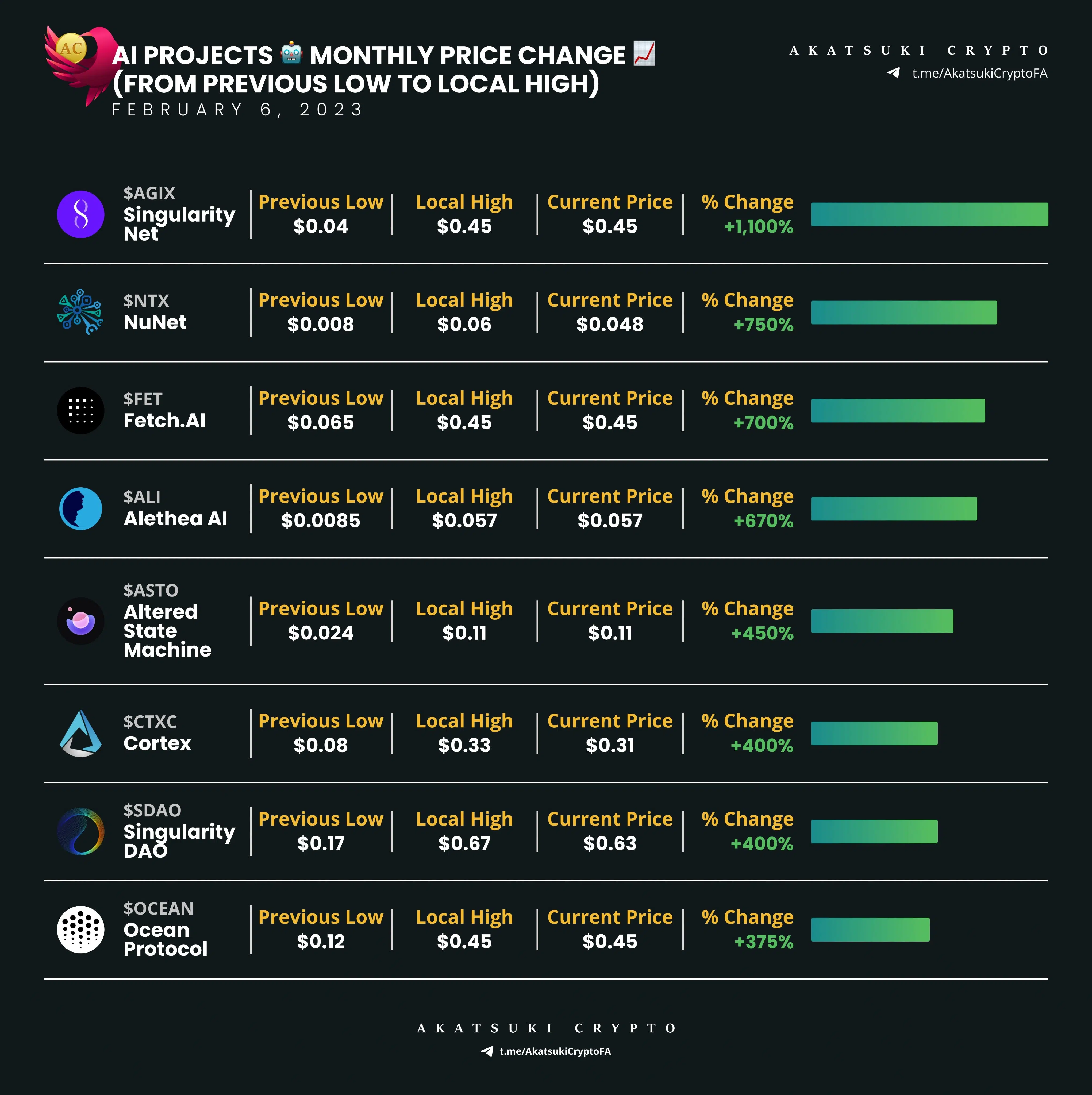 According to CoinMarketCap, the market capitalization of AI and big data tokens is approaching $5 billion. The three most popular coins are The Graph (GRT) at $0.1786 with a market capitalization of $1.5 billion, SingularityNET (AGIX) at $0.549 with a market capitalization of $661 million, and Fetch.ai (FET) at $0.5351 with a market capitalization of $439 million.
PlatON (LAT), Liquid Intelligence (ALI), and SingularityDAO (SDAO) have become 43-59% more expensive in the last 24 hours.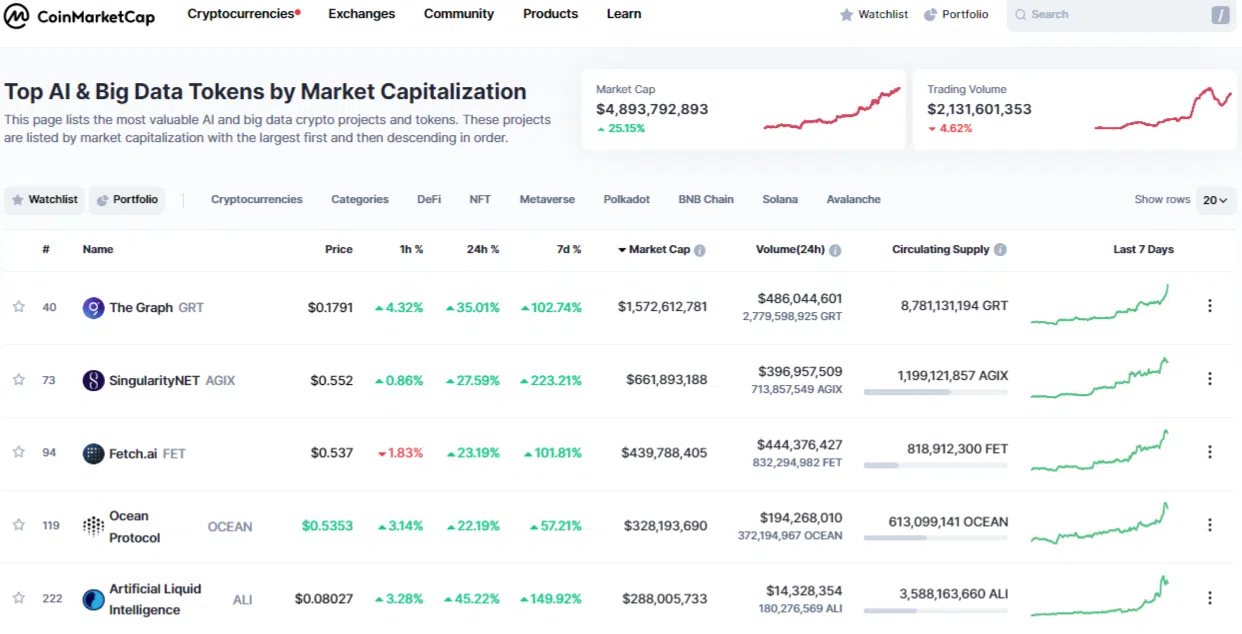 Briefly about the main AI crypto projects
The Graph is an open-source software used to collect, process, and store data from various blockchain applications to facilitate information retrieval. Graph uses such popular Ethereum-based decentralized applications as Aave, Curve, and Uniswap.

SingularityNET is a decentralized artificial intelligence marketplace powered by blockchain. Customers can use libraries of AI algorithms created by a community of service providers. Developers earn AGIX tokens by publishing their algorithms on the platform.

Fetch.ai combines blockchain and artificial intelligence to create a network of autonomous economic agents, or

AEAs

. Fetch.ai uses AEAs to connect with other AI applications for processing real-time data and taking actions based on that. After that, economic agents can act autonomously. AEA is a solution (software entity) that can take actions without external input using its own intelligence for the economic benefit of the owner.
AI crypto token price prediction
A growing interest in AI is only accelerating.
In January, Microsoft said in its report that it would invest an additional $10 billion in OpenAI, and the studio had a hand in developing ChatGPT. Microsoft is looking to use ChatGPT technology to animate its products so that AI can help create Excel spreadsheets, generate illustrations for PowerPoint slides, or compose emails in Outlook, and so on. Also, according to Semafor, Microsoft will incorporate a new version of ChatGPT called GPT-4 into its search engine, Bing, in an effort to overtake the market leader, Google.
Google has invested about $300 million in the artificial intelligence startup Anthropic, which was founded by former OpenAI engineers who worked on GPT-3. According to The Financial Times, Google is acquiring a 10% stake in the startup.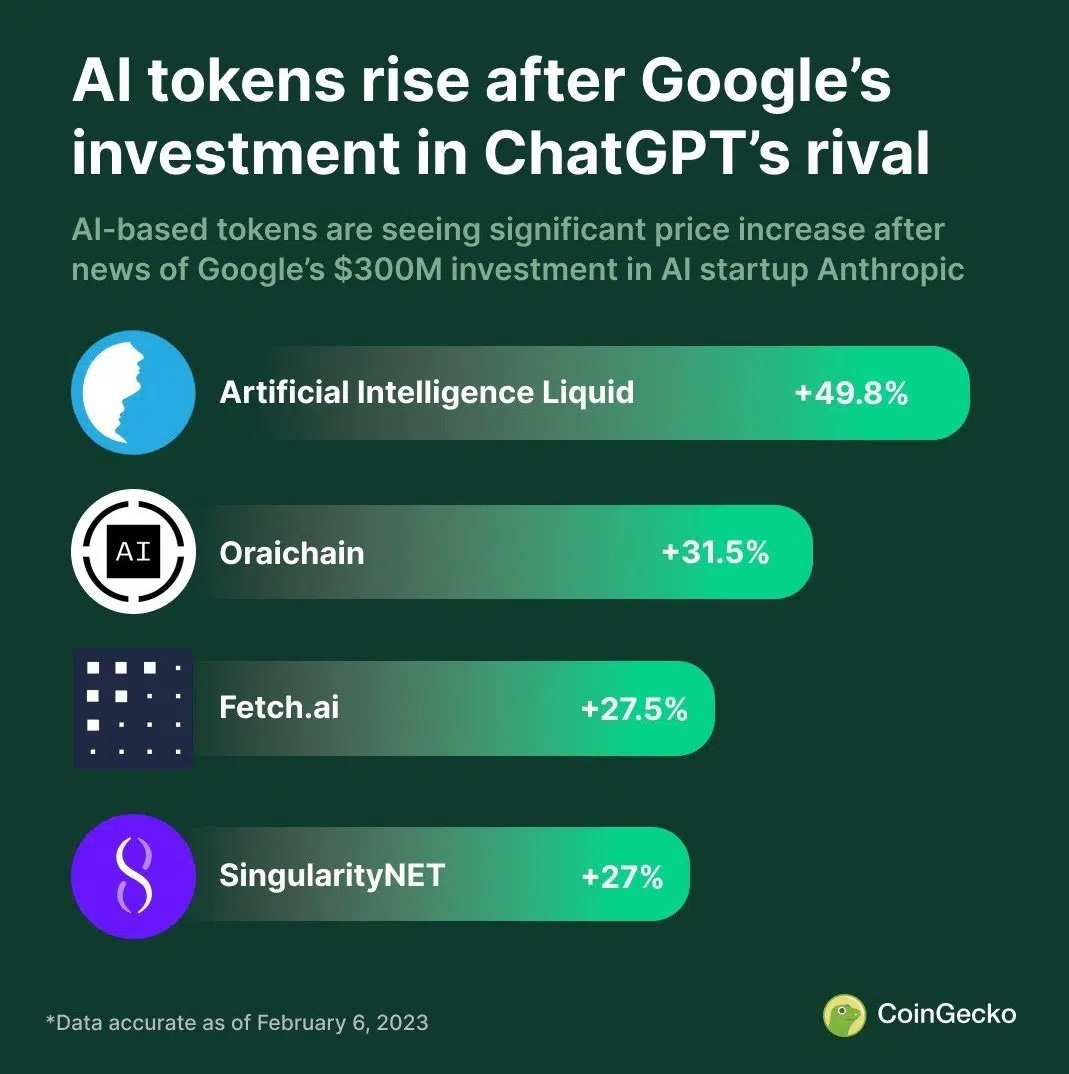 A recent JP Morgan survey of 835 institutional traders in six global markets showed that big investors have a strong interest in AI.
"53% of traders predicted 'Artificial Intelligence/Machine Learning' technology to be the most influential in shaping the future of trading over the next 3 years, with 'API Integration' and 'Blockchain/Distributed Ledger Technology' following," the survey says.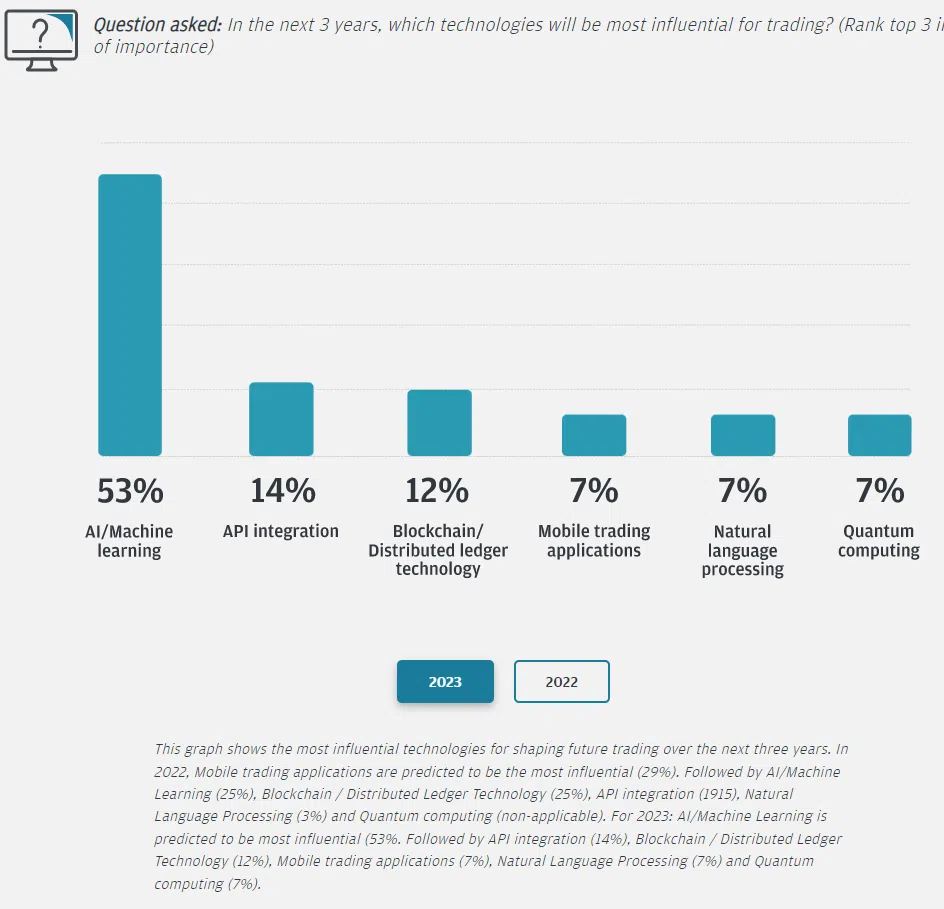 Now the market is reacting strongly to news about AI tokens. For example, after 6.1M OCEAN tokens were transferred from two addresses to the Binance exchange, their price increased by 30%.
Another asset, SAND, got notable attention after a $56M transfer went to Binance. According to Santiment, the SAND token has been in a stagnation mode, rapidly decreasing network activity for weeks, and it looks like some old-time hodlers decided to leave SAND and made deposits to Binance.
"Keep in mind, those who moved are in a big profit. They will have no problem selling it even after it starts dumping, it will even accelerate the dump. But once they are done and when you see a short drop, then it might be a good opportunity to enter the SAND position" analysts say.
There could be bad news before the dump begins. It is worth keeping an eye on SAND for entry. 
In addition, the value of FET soared 30% on February 7 after word of another token purchase by Whale on Binance. This user has been accumulating coins since December 28, 2022, according to Lookonchain.
Of course, the AI meme, posted by eccentric billionaire Elon Musk, added more fuel to the hype's fire. After his tweet, AGIX and FET turned out to be the most trending requests about cryptocurrencies on social networks.
— Elon Musk (@elonmusk) February 7, 2023
Is it worth buying AI coins now?
AI and related tokens have been on the hype wave for a month now. However, it no longer makes sense to invest in already known and blasted projects, the 001k.Trade experts say.
"The OpenAI popularity and the $29B funding round have given rise to tokens that even remotely say something about artificial intelligence somewhere on the website, even if it is the only intelligence for the entire development team. Cryptocurrency reacts to global trends. And sectors that have anything to do with it react to all these movements. This kind of thing needs to be tracked in advance (and it is very capable). It's too late to buy anything now. Hype," they consider.
The Graph
(GRT)

Price
Market Cap
SingularityNET
(AGIX)

Price
Market Cap
Fetch.ai
(FET)

Price
Market Cap
Artificial Liquid Intelligence
(ALI)

Price
Market Cap
PlatON Network
(LAT)

Price
Market Cap
SingularityDAO
(SDAO)

Price
Market Cap