Many analysts point out that Elon Musk's purchase of Twitter (considering his love of Dogecoin), opened a new era for DOGE. Unbiased statistics confirm these conclusions, stating the steady growth of Dogecoin. Collected the latest data on this meme coin, which may be potentially interesting for investors.
Dogecoin capitalization grew by $5 billion in five weeks
According to Finbold publication, on December 1 market capitalization of DOGE was ~$8bn, today it reached $13.2bn, having risen by $5.27bn or 66.5% in 4 days. During that time, trading volume soared 290%, from $216 million to $844 million. From this perspective, it is one of the fastest-progressing altcoins in the current crypto winter.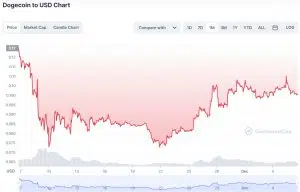 DOGE is currently trading at $0.099, up 8.5% on the week.
The brand new newsletter with insights, market analysis and daily opportunities.
Let's grow together!
Elon Musk himself contributes to the growth of excitement around DOGE, who often mentioned Dogecoin positively in context with his projects. Just recently answering a question about whether Twitter plans to accept crypto payments, Musk answered with a short phrase: "DOGE to the Moon".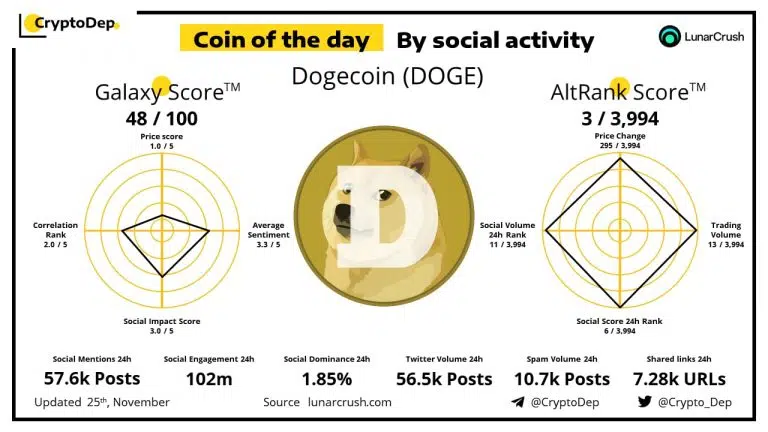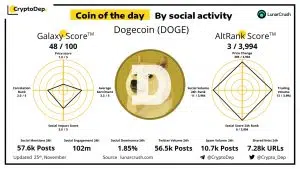 So it's no surprise that DOGE regularly becomes the coin of the day for its level of social activity. According to LunarCrush, it is one of the top altcoins in terms of social engagement.
DeFi is a symbol of altcoin maturation
Another sign of the maturation and wide acceptance of any coin is the appearance of its wrapped version, which only a few altcoins can boast of. BitGo recently introduced a wrapped Dogecoin (wDOGE) on the Ethereum blockchain thanks to a partnership with wDogeDAO.
Wrapped Dogecoin will mean that holders will be able to use their wDOGE tokens for decentralized applications (dApps) in the Ethereum ecosystem. All wDOGE is backed by a 1:1 DOGE token. In addition, BitGo will provide hot wallets, qualified storage and self-managed storage for DOGE and wDOGE by the end of the month.
The very fact that such a capability is available shows that the project has matured and that there is a certain level of interest in the DeFi area, which makes such a service in demand.
Any tweets mentioning the coin are suitable for Dogecoin's growth
In connection with the statement about the high social activity of DOGE, the following observation is interesting. 
Recently, hundreds of accounts dedicated to promoting Dogecoin on Twitter were blocked. This was done last weekend in connection with the beginning of the fight against spam. It was an attempt to stop the bots, though these accounts were mostly just tweeting funny pictures and memes with DOGE. 
Why Dogecoin's Rise Worries Some Crypto Analysts https://t.co/C2ed53KZkN The recent rise in the dog head cryptocurrency is a bad sign for some observers.The dog-headed cryptocurrency, dogecoin, had its best performance last week, gai…

— Geeky.News (@The_Geeky_News) December 6, 2022
In response to Dogecoin founder Billy Marcus' complaint about Dogecoin being harassed on that social network, Elon Musk responded that his team was too aggressive with the blocking and the decision would be reviewed. Marcus later confirmed that the accounts had been activated and meme posting resumed.
DOGE's price initially had no reaction to Musk's tweet. Subsequently, however, as meme tweets resumed circulating, the DOGE price gradually rose to $0.11192, recording an increase of ~7.5%. Some researchers attribute this shadowy activity of the Dogecoin community with memes that garner thousands of retweets to the rise in the coin's price.
How can I make money on this?
Experts say that technical analysis makes it likely that DOGE will continue to rise:
The Exponential Moving Average (EMA) Ribbon indicated a possibility of a bullish crossover soon as the 20-day EMA was quickly approaching the 55-day EMA.
DOGE's Money Flow Index (MFI) also went up and was resting above the neutral mark, which is a bullish signal.
On a fundamental analysis level, it also follows that this altcoin could explode under any integration with Twitter, something that Elon Musk keeps hinting at implicitly. The meme coin is a questionable long-term investment, but as a speculation, it looks very interesting. But in any case, it is important to be careful.