The issuance of Binance's stablecoins (BUSD) has been halted after the New York State Department of Financial Services (NYSDFS) called on blockchain firm Trust Company to stop issuing Binance USD. This came after the U.S. Securities and Exchange Commission (SEC) sued Paxos for maintaining BUSD, which was considered an unregistered security. 
Let's find out why the SEC and NYSDFS targeted BUSD and if its fate threatens other stablecoins.
Could USDC and USDT be the next?
As Kaiko's Director of Research Clara Medalie noted in an interview with BloombergTV, BUSD was a good counterweight to USDT, but it was rarely used outside the Binance ecosystem. But she noted that other issuers of stablecoins cannot be considered untouchable, in particular, the USDC and USDT.
"BUSD doesn't really have much use on other cryptocurrency exchanges. So that's why this regulatory action very much targeted Binance and not necessarily stablecoins as a whole. Because Paxos was the one to issue BUSD. However, I don't think this makes other stablecoin issuers immune. Specifically, USDC and USDT. Although it will be very difficult to regulate Tether simply because the largest stablecoin is not actually domiciled in the United States," she says.
The brand new newsletter with insights, market analysis and daily opportunities.
Let's grow together!
What makes this story special is that the SEC labeled BUSD security, even though it does not pass the Howey Test, which uses simple criteria to determine whether a transaction falls under SEC jurisdiction with subsequent mandatory registration. 
The Howey Test was developed in 1946 by the U.S. Supreme Court to determine the criteria for a financial asset such as a promissory note or stock. According to it, a token is recognized as a security if it meets four key parameters:
Investment activity;

The investment is in a common enterprise. Common enterprise means an enterprise in which the fortunes of the investor are interwoven with those of either the person offering the investment, a third party, or one or more investors.

The investor hopes to make a profit.

Reasonable expectation of profit from the efforts of others. A purchaser may expect to realize a return through participating in distributions or through other methods of realizing appreciation on the asset, such as selling at a gain (profit) in a secondary market.  When a promoter, sponsor, or other third party provides essential managerial efforts that affect the success of the enterprise, and investors reasonably expect to derive profit from those efforts, then this prong of the test is met.
According to the Howie Test, a security is an "investment contract" in which profits are expected. Stablecoin, on the other hand, is not expected to make a profit. Why, then, did the SEC call BUSD a security? As Adam Cochran, Partner at MetaCartel Ventures DAO, noted, the Howie Test is more appropriate for investment contracts. 
1/5

This is what people don't realize.

Howey test = precedent for investment contracts.

"Securities" is a much broader category defined by the 1933 Securities Act.

Honestly, if the SEC wants to, with how vague the act is, its fairly easy to put anything under it. https://t.co/TbHKqO3zLD

— Adam Cochran (adamscochran.eth) (@adamscochran) February 13, 2023
However, "securities" is a much broader category defined by the Securities Act of 1933. And if the SEC wants to, given how blurry that law is, it's easy to lump anything under it.
On one hand, stablecoins have a stable exchange rate. On the other hand, owners can profit from them, including through arbitrage, hedging, and staking. Thus, there is a risk that stablecoins could be considered a token created for the purpose of making money or a derivative of a security.
Paxos confirmed that the SEC sent them a notice that BUSD should be recognized as a security and the company should have registered that asset under federal laws. Paxos disagreed. It stated that BUSD is not a security under federal securities laws. And that the SEC notice applies only to BUSD  and there are no unequivocal charges against Paxos.
"Paxos has always prioritized the safety of its customers' assets. BUSD issued by Paxos is always backed 1:1 with US dollar-denominated reserves, fully segregated and held in bankruptcy remote accounts. We will engage with the SEC staff on this issue and are prepared to vigorously litigate if necessary," the company's statement says.
What happened to BUSD, and why did this Binance stablecoin lose its peg to $1?
The SEC filed a lawsuit against Paxos, the issuer of BUSD, considering the token to be a security. 
The New York State Department of Financial Services (NYSDFS) prohibited the company from creating new BUSDs. Paxos, in turn, announced that it is no longer working with Binance and that no new BUSD will be issued. 
Binance's founder and CEO, Changpeng Zhao (CZ), said that the exchange will replace the major pairs in BUSD with other ones.
The exchange rate of BUSD, the third most popular stablecoin on the market, has dipped slightly but still does not fall below $0.99. This followed after assets in BUSD were rushed to USDT, USDC, DAI stablecoins, and other crypto assets amid the market panic.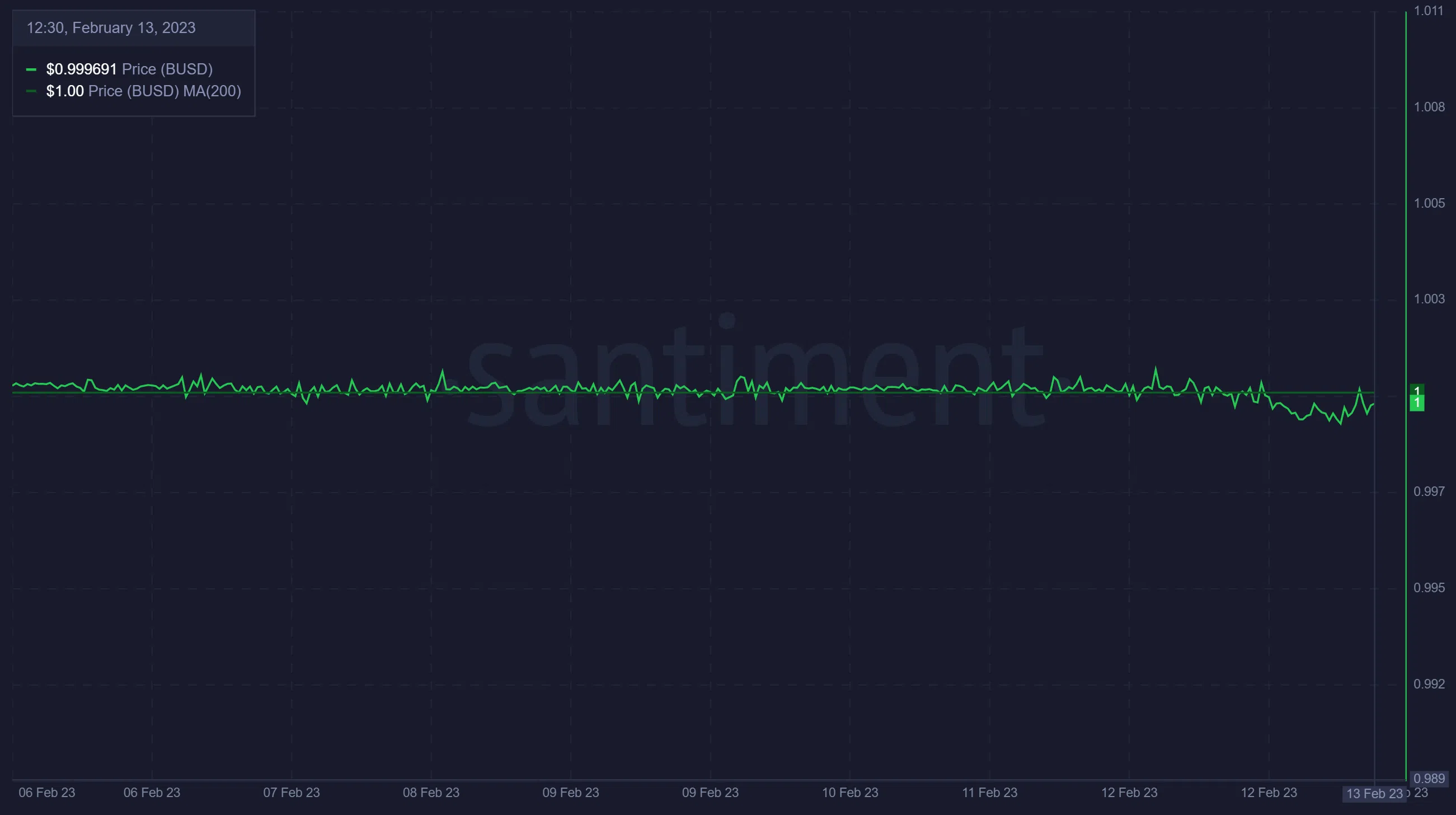 According to Santiment, the number of addresses containing 1,000 to 10,000,000 BUSD (sharks and whales) has dropped sharply. Since December 13, they have collectively dropped $602.38 million. On February 13, they dropped $207.49 million.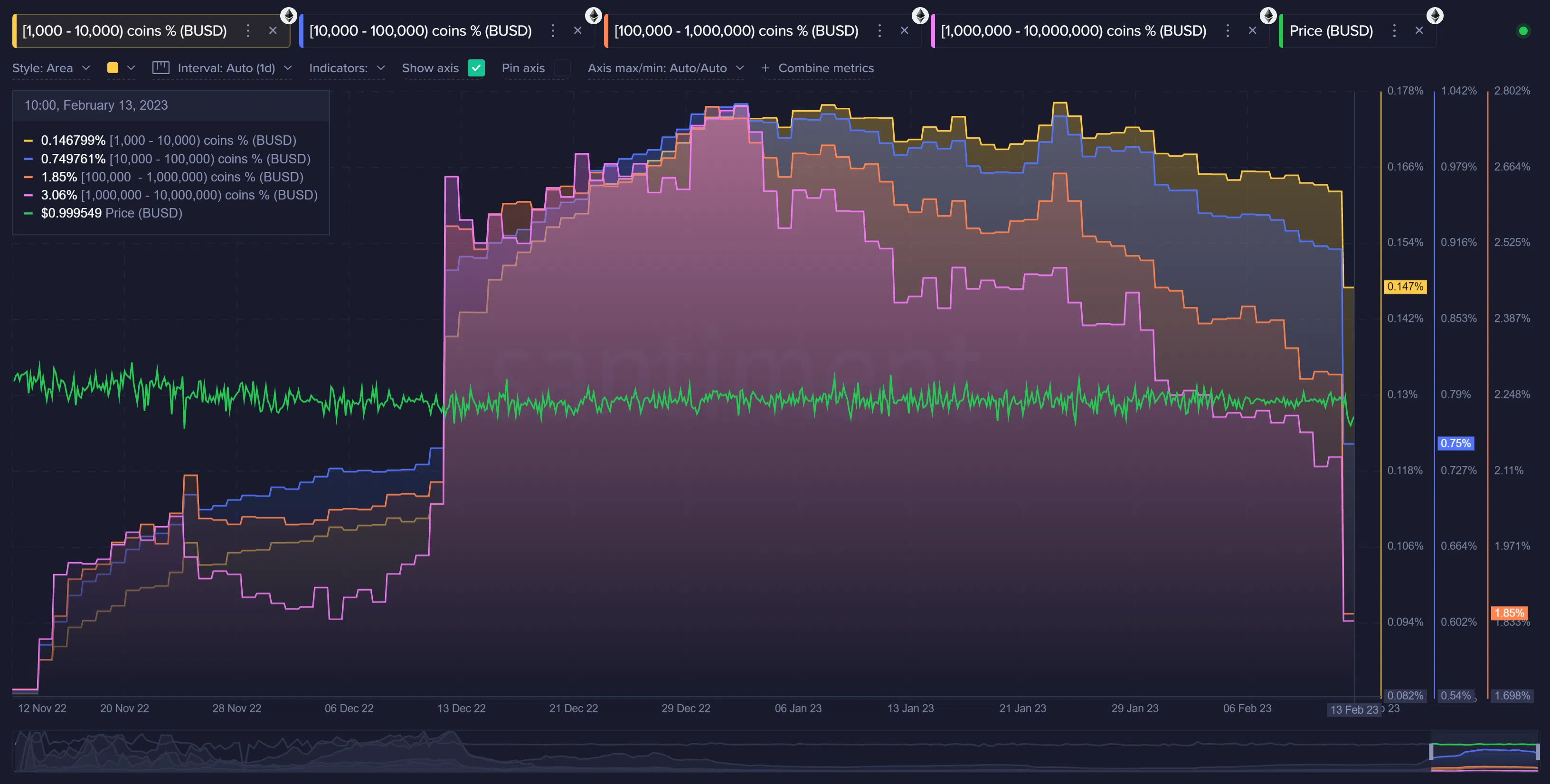 Why did the SEC dislike BUSD?
After the collapse of the TerraUSD (UST) stablecoin and FTX exchange, the SEC is afraid of a repeat of the situation. In the latest Twitter AMA session, CZ said that since those events, regulation has become stricter and many traditional banks are no longer cooperating with cryptocurrencies or treating them very cautiously. Binance has lost some traditional banking partners, which will hit the industry in the short term. 
But why exactly was it the Binance USD? According to Bloomberg, last year USDC's stablecoin issuer, Circle, filed a complaint with the NYDFS against Paxos about ineffective reserve management. Circle commented that Binance does not hold enough cryptocurrency reserves to support its tokens. NYDFS pointed out that Paxos cannot safely and securely manage BUSD based on extensive regulatory involvement, recent audits, and Paxos' failure to address significant problems with Paxos-issued BUSD in a timely manner. 
Circle is a principal partner of Coinbase, the most popular crypto exchange in the U.S., and one of the largest hedge funds in the world, BlackRock. And the USDC stablecoin is the second most popular after the USDT (Tether).
Coinbase offers "rewards" to USDC users. This rewards program doesn't look like loyalty points. It's paid in USDC and they use terms like "APY", "yield", etc… So where does the yield come from? Does Circle pass along yield via the Centre consortium? The SEC will likely ask. pic.twitter.com/UuezeZDuYI

— Gabor Gurbacs (@gaborgurbacs) February 13, 2023