The New York State Department of Financial Services (NYSDFS) called on the blockchain firm Trust Company to stop issuing Binance USD (BUSD) stablecoins

A stablecoin is a type of cryptocurrency whose value is tied to an asset, such as the U.S. dollar, gold, securities, and so on, to maintain a stable price.. The company has already promised to stop issuing new tokens. This follows news that the U.S. Securities and Exchange Commission (SEC) may sue Paxos for maintaining the BUSD stablecoin because it violates investor protection laws. According to The Wall Street Journal, the SEC believes that BUSD is an unregistered security. What will happen to BUSD and BNB now? What impact will this have on other stablecoins?
The BUSD fate
Paxos has announced that it is no longer working with Binance on BUSD stablecoin, and the issuance of new tokens will be halted on February 21. All BUSD issued by Paxos Trust will always be secured 1:1. Customers, both new and existing, will be able to redeem their BUSD funds or convert their BUSD tokens to Pax Dollar (USDP) until February 2024.
The cessation of issuance means that only redemptions and burns will be possible, with no minting.
The current supply of BUSD is 16.148 billion coins, of which 5.435 billion are stored in the Binance wallet, which uses them as collateral for that number of coins issued by Binance itself, not Paxos, in the BNB Chain (the blockchain network of the cryptocurrency exchange Binance).
The brand new newsletter with insights, market analysis and daily opportunities.
Let's grow together!
Due to this news, the BUSD price lost its 1:1 peg to the U.S. dollar and is hovering around 0.99 cents.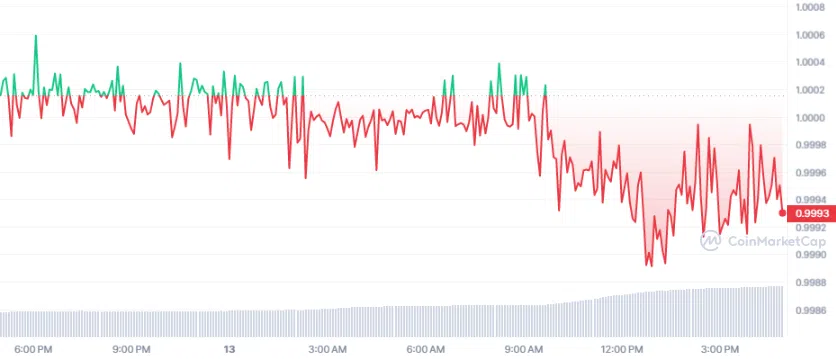 According to Kaiko Research, BUSD accounts for about 35% of the total trading volume on Binance. At the same time, in September 2022, Binance removed from its listing the stablecoin competitors USDC, TUSD, and USDP.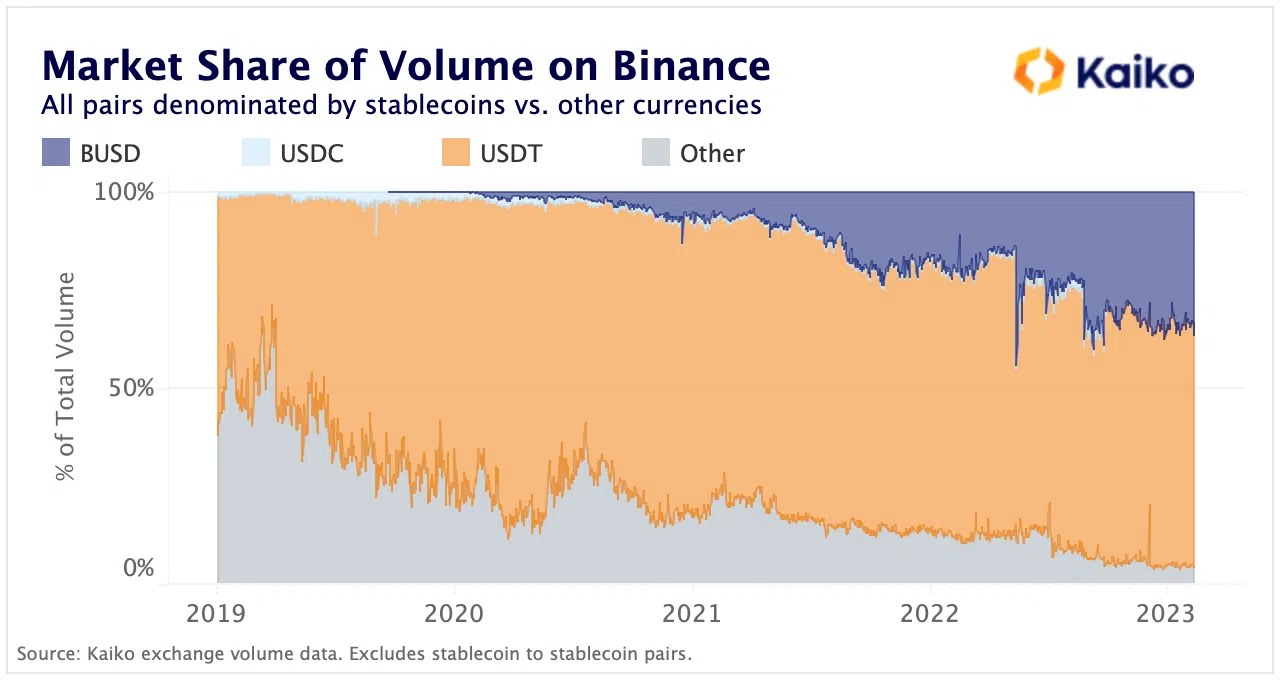 Binance's founder and CEO, Changpeng Zhao, who goes by the CZ nickname, anticipates that users will switch to other stablecoins and is already considering replacing the major pairs in BUSD with other ones. 
7/ Binance will continue to support BUSD for the foreseeable future. We do foresee users migrating to other stablecoins over time. And we will make product adjustments accordingly. eg, move away from using BUSD as the main pair for trading, etc.

— CZ 🔶 Binance (@cz_binance) February 13, 2023
Following the problems with BUSD, the price of BNB fell by 9%. Binance Coin (BNB) is a cryptocurrency that can be used for trading and paying commissions on the Binance exchange.
While tokens were trading at $312-$314 as early as the morning of February 13, the price is now $288.
Binance withdrew $500,000,000 in just one hour. Most likely, those who gave in to the fear that something could happen to the assets in case the exchange was threatened. This is unlikely to be a big blow for such a giant. In November 2022, Binance reported that it holds about $64.3 billion in assets, like BTC, ETH, TRX, and Binance Coin (BNB).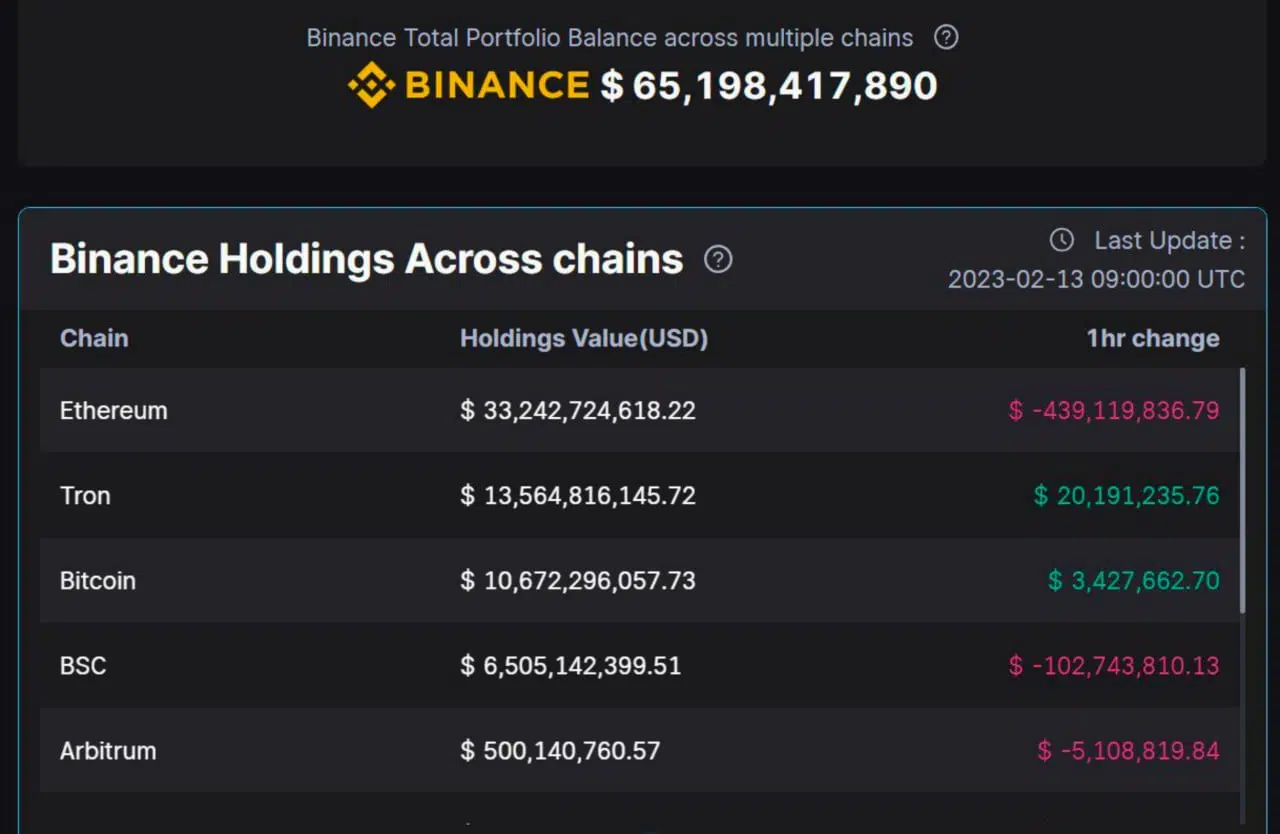 Circle and its USDC are next?
There is still no clear regulation of the crypto sphere in the USA. The TerraUSD (UST) collapse and large volumes of trading in stablecoins caused fear among US authorities, who consider these products extremely risky for the entire crypto industry (being the main liquidity of all major exchanges) and, above all, undermine the significance of the dollar as a trading currency. In addition to the mini-court wars against Tether and its USDT stablecoin (regulators have repeatedly fined Tether, the largest stablecoin by market share, for misleading consumers about their reserve assets), a Twitter influencer nicknamed Andrew said that according to his sources, USDC stablecoin from blockchain-focused financial services and payments company Circle is next in line. Other stablecoins may also suffer a similar fate.
Circle has not yet responded to the rumors.
UPDATE: Expect @circle and USDC to be the next SEC stablecoin target to receive a Wells Notice.

**sources: "Circle will get sued, as will every other stablecoin of consequence."

**source: "Look at @PayPal abandoning their stablecoin project; what else do you need to know?"

— Andrew (@AP_Abacus) February 13, 2023
Bloomberg reported on February 10, citing a source, that PayPal Holdings Inc. has suspended work on its stablecoin as regulators increase their scrutiny of cryptocurrencies and a key partner in the project faces an investigation by the New York State Department of Financial Services.
As Adam Cochran, Partner at MetaCartel Ventures DAO, pointed out, the Howey Test isn't everything. As you know, under that test, security refers to an "investment contract" for which a return is expected. And in the case of a stablecoin, profits cannot be expected, as its price is always pegged to the dollar 1 to 1. But, "securities" is a much broader category defined by the Securities Act of 1933. And if the SEC wants to, given how vague the law is, it's pretty easy to put anything under it.
1/5

This is what people don't realize.

Howey test = precedent for investment contracts.

"Securities" is a much broader category defined by the 1933 Securities Act.

Honestly, if the SEC wants to, with how vague the act is, its fairly easy to put anything under it. https://t.co/TbHKqO3zLD

— Adam Cochran (adamscochran.eth) (@adamscochran) February 13, 2023
How many stablecoins exist?
BUSD is the third-most popular stablecoin. Tether USDT from Bitfinex is first, followed by Circle and Coinbase's USDC.
According to DefiLlama, there are 96 stablecoins as of February 13. However, not all of them are reliable or really stable.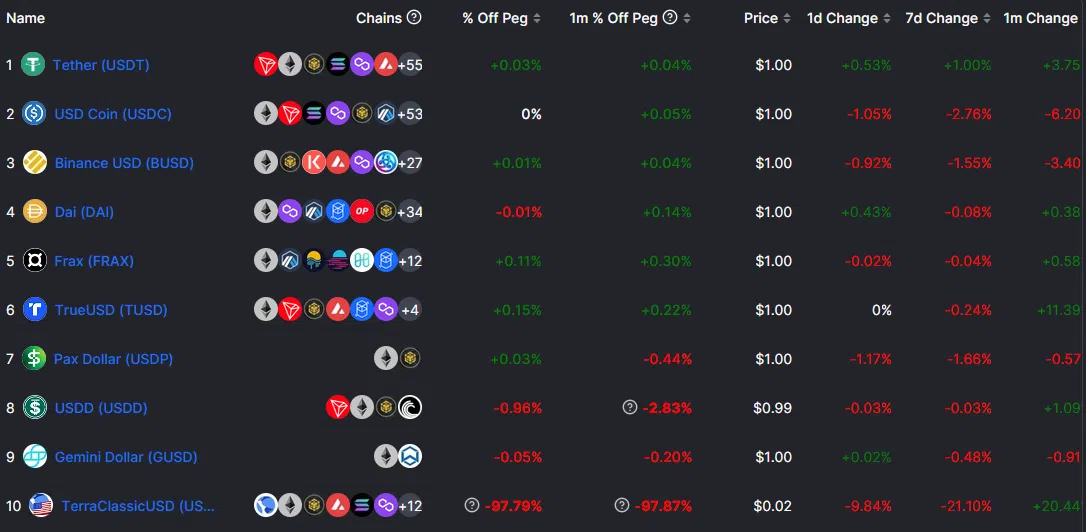 What is Paxos?
Founded in 2012, fintech company Paxos creates enterprise blockchain solutions for institutions such as PayPal, Interactive Brokers, Mastercard, MercadoLibre, Nubank, Bank of America, Credit Suisse, and Societe Generale. Paxos has raised more than $540 million from leading investors including Oak HC/FT, Declaration Partners, Founders Fund, Mithril Capital, and PayPal Ventures.