The hashtag Optimus started to be actively used in Twitter trends the other day. And the value of OPT tokens increased by one-third, which is not a very outstanding result, but very noticeable against the backdrop of the general decline in the market. In addition, Optimus AI's (OPT) trading volume grew by 1108%. Let's take a closer look at what this project is and how it is connected to Elon Musk.
ARE YOU EARLY? Yes….. yes Optimus has gone parabolic these past few days. But zoom out bro, look at the room for growth here. Other reasons you are early.

-1,600 holders. Floki has 69k and that is not at ath.

-only 26m marketcap! That IS a micro cap. All other… https://t.co/bRvh0rjzVi pic.twitter.com/dfRceEYhCj

— Vert (@VertTrades) March 5, 2023
Let's take a look
The current price of the Optimus AI token (OPT) is $0,000000000197836 (+33.03%) but is still 96.24% lower than the price recorded on July 15, 2022, the all-time high of $0.000000004828. The trading volume for 24 hours is $66,953 (+1108%).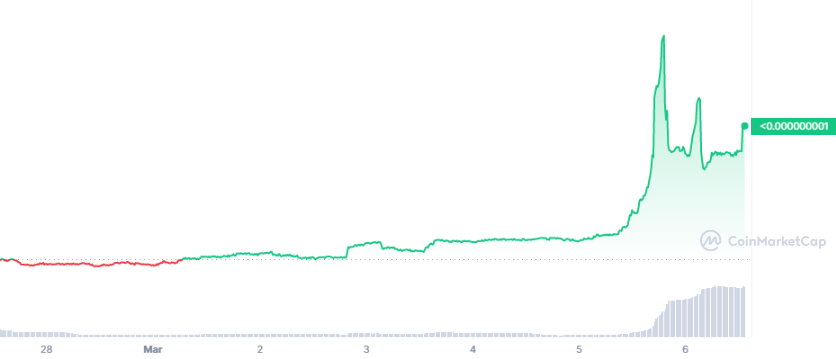 So much to question and so few answers
There is no need to remind you that projects related to artificial intelligence (AI) are trending in 2023. The hype has reached the point of absurdity. The price of tokens not directly related to AI grew too. It was enough that AI was mentioned in the project. 
Good to see the legend @MichaelSuppo sharing #OPTIMUS as a top 5 potential meme coin for 2023

Whether people like it or not, meme coins are here to stay and they will onboard more retail into crypto than any other sector so it's nice to see them coveredhttps://t.co/KddQsSQprY pic.twitter.com/CRa08bnQEB

— Eric Cryptoman (@EricCryptoman) March 5, 2023
In addition, Elon Musk has recently made frequent publications that have been perceived by subscribers as an excuse to pummel meme coins such as Dogecoin (DOGE) and ShibaPup (SHIBAPUP). More recently, Musk's doggo tweets have raised a new coin, FLOKI (FLOKI).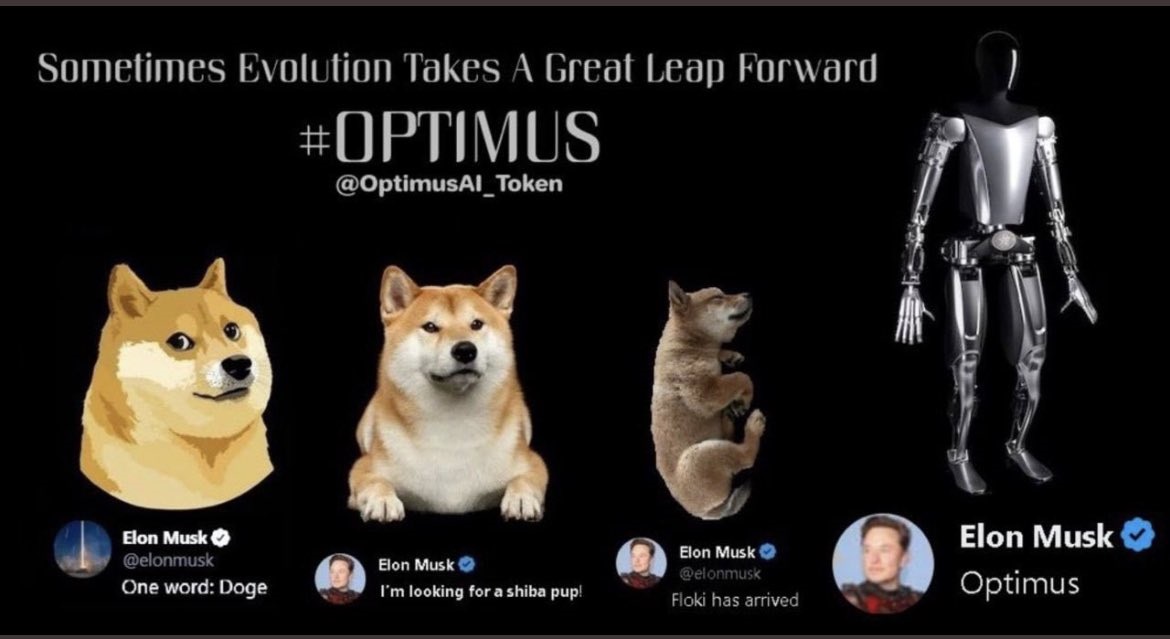 #Optimus, the final form of combination of all Elon Musk's industry… https://t.co/3yU527CAkp

— Optimus (@OptimusTesla_io) July 31, 2022
It seems that interest in Optimus AI has increased amidst the increased focus on AI tokens and FLOKI. In addition, OPT's price hike coincided with Tesla Investor Day on March 1, which featured Tesla CEO Musk and other executives in person. During the event, a video was presented showing two Optimus humanoid robots building another bot.
"I used to be in crypto, but now I got interested in AI"

— Elon Musk (@elonmusk) March 3, 2023
Although meme coins are treated more as a way to have fun than as a real way to make a profit, many of them have gained some credibility with investors. As for Optimus AI (OPT), there are a lot of questions.
According to CoinMarketCap, it is a BEP-20 standard token on BNB Smart Chain (BSC), the most common Ethereum token standard. There are 10,963 addresses holding tokens, and the contract address of the token itself is 0xDFE29AFdF5A7D0bb92A01A56Adabfa87D652E0E7.
On OptimusTesla.io website stated that Optimus is a collection of "tesla botes" (no, not "Tesla bots") designed by OptimusTesla and minted as 100 NFTs. They are constructed from various Optimus and Tesla shards. And all shards' holders have a chance to win a real Tesla Model 3.
Optimus is a Tesla meme and NFT-Fi project founded by early adopters of Tesla stock. The first project the developers promised was OptimuSwap, which will allow holders to participate in Farming, Pools, and Staking. Users will be able to bet on OPT, WBNB, BTCB, and OPT-BNB LP tokens to earn $OPT at a high annual percentage rate (APR). The website mentioned in the description is not operational.
Another website, Optimusbot.io, states that the Optimus AI project was created to support and honor the Tesla Optimus bot via blockchain. The team also states that it has nothing to do with Tesla. Meanwhile, the DEXTools tool shows that this token has 2.11K holders. And the contract address is 0x562E362876c8Aee4744FC2c6aaC8394C312d215d (Etherscan, BscScan), and the current price of OPT tokens is $0.3295.
#Optimus is trending on Dextools with 35M MC 🔥 pic.twitter.com/4ymkGmdEYh

— $SHIB KNIGHT (@army_shiba) March 6, 2023
#OPTIMUS @OptimusAI_Token is gonna be your biggest plays if you take the opportunity🤑
sellers are mad because their sales get brought up and sent every time 🤣🤖 https://t.co/CKzEKpXEy1 pic.twitter.com/pZZIBHTYHL

— AltcoinCadet (@AltcoinCadet) March 5, 2023
In addition, the first one mentioned here, Optimus (OPT), can only be purchased on the PancakeSwap exchange (V2) in the WBNB/OPT pair. And the second can be bought through UniSwap.
Very obvious conclusion
Given how difficult it is to figure out which website is official, who is developing the project, and which token is genuine, one of them is probably a scam. Be sure to do your own research if you decide to mess with any of these Optimus.