On January 24th, LunarCrush's social intelligence portal took a snapshot of the crypto world and uncovered which meme coins were generating the most buzz.
Shiba Inu surprisingly came out ahead of the meme coin heavyweight, Dogecoin. Nonetheless, the true leader of the pack, with its social mentions and activity soaring high, was Rich Quack (QUACK).
Though it may have lost its throne, Dogecoin secured the third spot with 1.99% dominance. It leads in social engagement of 20.8 million and 8,210 social mentions.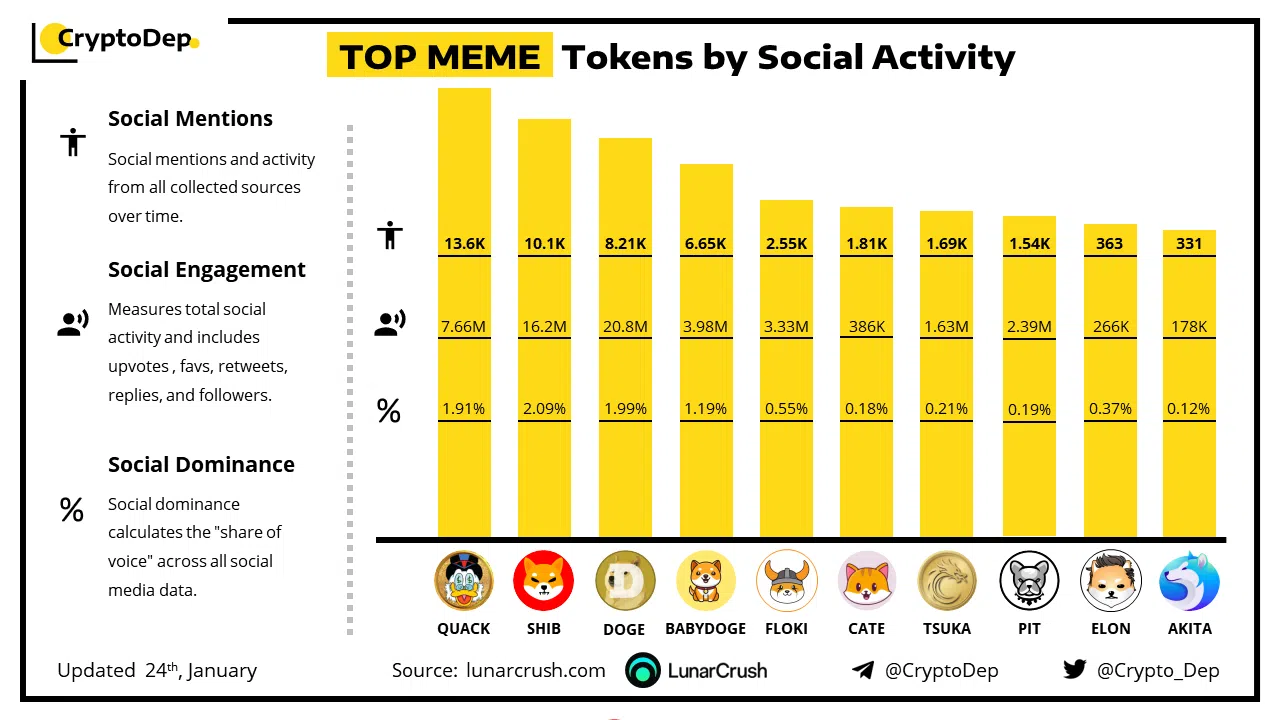 Shiba Inu claimed the second spot overall with a commanding 2.09% social dominance and 16.2 million in social engagement. However, it wasn't just a close runner-up, it beat Dogecoin on mentions with a score of 10,100.
Furthermore, Rich Quack soared to the top with a commanding 1.91% social dominance and 7.6 million in social engagement. With 13,600 social mentions, it cemented its place as the leader of the pack.
The brand new newsletter with insights, market analysis and daily opportunities.
Let's grow together!
About Rich Quack
Rich Quack is a Binance Smart Chain project that bills itself as a "hyper-deflationary, self-generating automatic liquidity generator" that rewards its holders with static returns.
With staking yields and liquidity pools, Rich Quack offers little to distinguish it from the vast sea of DeFi and meme coins. It is gaining traction among other Binance Chain-based projects and making a name for itself.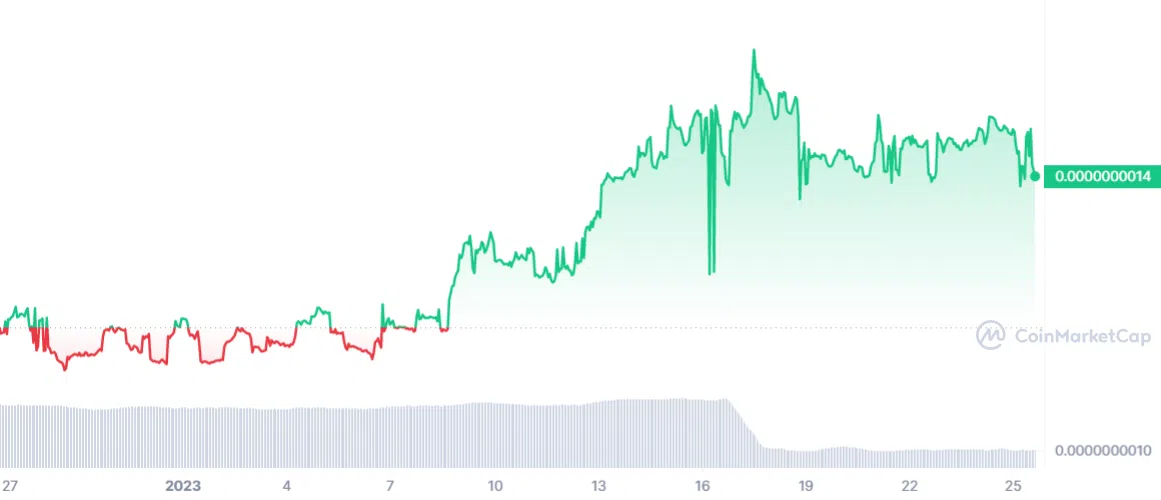 With an overwhelming supply of 44 quadrillion tokens, it's no surprise that Rick Quack's price hovers around a minuscule $0.000000001365. 
SHIB, QUACK and DOGE token price
Despite a lack of movement in the past day, the coin has seen a 15% boost in the past two weeks. To boot, QUACK is still feeling the after-effects of a 92% drop from its November 2021 peak.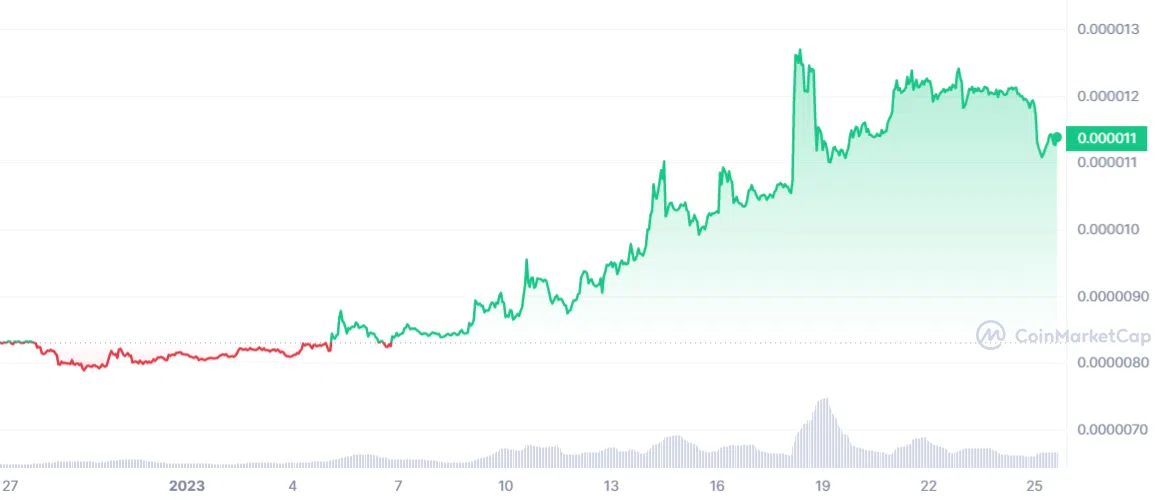 On the other hand, SHIB took a 7% hit, plummeting to $0.00001132, but the meme coin has still managed to claw its way to a 22.6% increase over the past two weeks. Despite this, SHIB's value is still a far cry from its all-time high, having dropped a staggering 87%.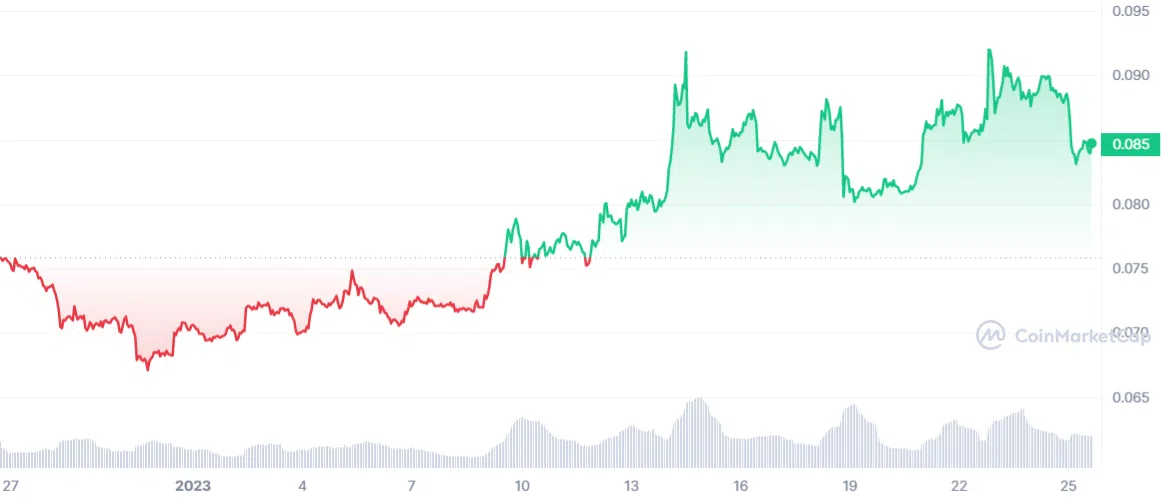 Moreover, DOGE was trading at a disappointing $0.0844 after taking a 6.2% hit. The coin's performance over the past two weeks has been underwhelming, with a mere 8.7% increase. Unfortunately, DOGE is currently feeling the lingering effects of a 88.5% drop from its peak price.