Ethereum's grandiose transition to a proof-of-stake (PoS) mechanism as part of The Merge update did not include features such as the ability to withdraw staked ETH. The Shanghai update provides the ability for stakers to do that. That's why its release is so anticipated. It is expected to come out in the coming months. The test network launch on February 1 only strengthens the expected release date.
What is the Ethereum Shanghai upgrade?
After PoS, network members (validators) provide their ETH to the network to verify transactions and keep the network secure. Validators earn rewards for staking newly minted ETH. That is, it is no longer required to mine the cryptocurrency, as it was with proof-of-work. 
On February 1, the Shanghai update was activated on testnet. This is essentially a rehearsal. In six days, stakers and staking companies will be allowed to study the software and stress-test it before a future mainnet launch. If there are no problems, Shanghai could be released as early as March of this year. 
The Zhejiang public testnet is going live tomorrow (1st of Feb 15:00 UTC, 2023). Shanghai+Capella will be triggered 6 days later (at epoch 1350). You will be able to deposit validators, practice BLS change and exit without risk. All links are here: https://t.co/XNlsDIG0cm pic.twitter.com/sKKDJmolt2

— Barnabas Busa (@BarnabasBusa) January 31, 2023
The brand new newsletter with insights, market analysis and daily opportunities.
Let's grow together!
Before the Merge, network users were given the opportunity to start staking on Ethereum in anticipation of an update. So far, about 13.6 million ETH worth $27 billion have been staked. However, these users still can't get the promised ETH. The funds are locked and will be unlocked with the release of the Shanghai update. 
Liquid staking is on the rise
Due to the fact that Ether is blocked during staking, many owners prefer to use liquid staking. It allows crypto assets to be used even after they are blocked by obtaining a tokenized version of the basic asset.
There are many decentralized finance (DeFi) projects that provide such services. Through it, the user can send their assets to stacking, receiving an equal amount of a liquid derivative

Derivatives are financial instruments whose value is determined by the price of the basic (underlying) asset. asset in return. The owner of the tokens receives income from the staking and can dispose of the funds received. In return, the owner gives a percentage of the staking rewards to the intermediary company.
Most recently liquid staking derivatives have had a nice uptrend.

This is thanks to the Shanghai upgrade expected in a few months which will enable withdrawals of staked ETH.

As withdrawals are enabled, many believe more users will stake their ETH.

LDO +26%
RPL +12%
SWISE +66% pic.twitter.com/tl2d3KSlRC

— 👨‍🍳.eth (@CroissantEth) January 2, 2023
Lido Finance (LDO) and Rocket Pool (RPL) are among the most popular DeFi projects. As the Shanghai update approaches, the tokens that power the staking protocols have risen notably in price.
The RPL jumped in price from $37 to $40 over the week, and the 24-hour trading volume, as of February 1, was up 39.34% to $11,293,448.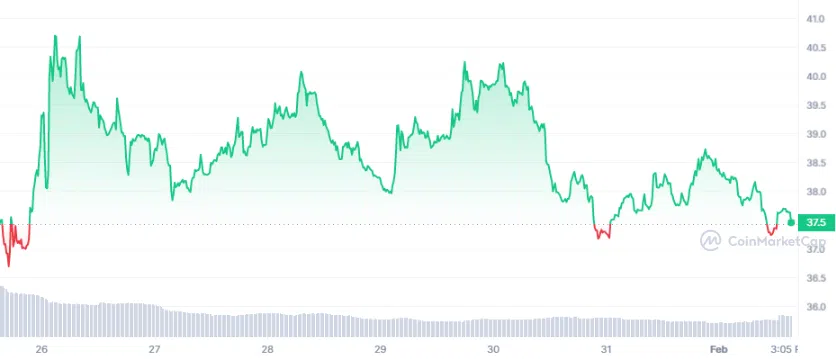 The LDO price began rising on January 30 and has since risen from $1.98 to $2.20. Daily trading volume at the time of writing is up 8.80% to $121,923,864.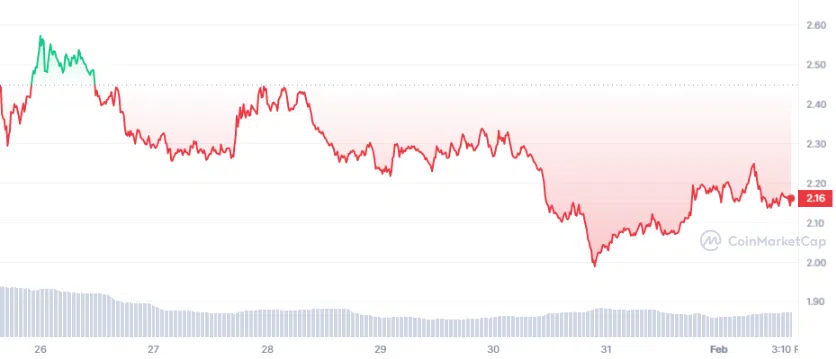 After the Shanghai update, ether staking could increase significantly, CIO of Selini Capital, Jordi Alexander, tweeted.
$ETH staking is going to explode after the Shanghai fork allows withdrawals- esp. now as Metamask integration makes it easy for Dummies.

But LSD tokens are overvalued in anticipation of this- revenue is not going to change much, bc reward yields will plunge as staking % goes up. pic.twitter.com/8DS99H207G

— Jordi Alexander (@gametheorizing) January 18, 2023
What will happen to Ether's price?
After the transition to the new consensus mechanism, the price of Ethereum cryptocurrency remained as before, at about $1,500. As of February 1, the price remains roughly the same. At the same time, daily trading volume fell 16.33% to $6,136,013,727. This could also be caused by the expectation of a Fed rate hike, which could make the entire crypto market turbulent.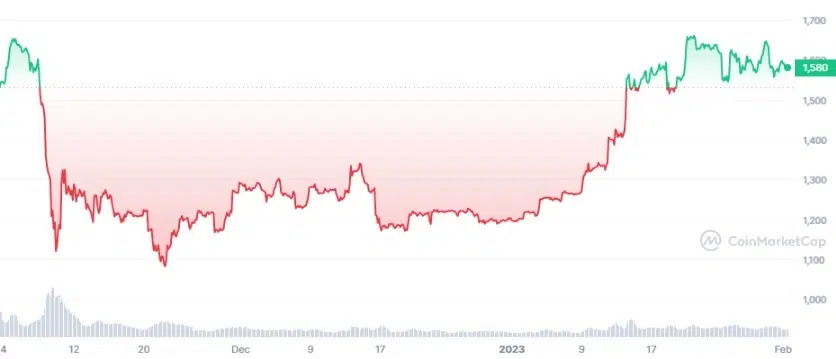 According to Staking Rewards, 14% of all ETH tokens (122,373,866 in circulation) are being staked at the time of writing. With withdrawals allowed, this opens up a significant amount of liquidity. There is no definite answer as to how this will affect the price, but here are the possible scenarios.
On the one hand, users who didn't want to use liquid stacking protocols will now be able to do ETH stacking. This could increase demand.
On the other hand, opening up withdrawals from Ethereum will take away the unique functionality that liquid ETH stacking offers. This will impact users who own their own tokens on liquidity stacking platforms. 
Ethereum
(ETH)

Price
Market Cap