The Layer-2 Ethereum-based Optimism project's token OP unexpectedly surged in February. The coin's price reached its highest level since its launch in the second half of 2022. On February 3, the price exceeded $3 and has remained at about the same level ever since. 
Let's look into the reasons for this sudden rally and the possible further, price movements.
Optimism (OP) shows its strength
On February 2, the Optimism Foundation

A nonprofit organization dedicated to growing the Optimism Collective. proposed the first protocol update called Bedrock. Community voting will begin on February 16, and a decision will be made on March 1. If the update is supported, it will be launched within a month. 
About Bedrock – as simply as possible
This protocol update will help reduce fees and deposit times by implementing an optimized data compression strategy to minimize costs. Bedrock also eliminates all the gas costs associated with running an Ethereum Virtual Machine (EVM) when sending data to L1. This reduces the fee by an additional 10% compared to the previous version of the protocol. 

The node performance improvement.

Improved Ethereum equivalence. Bedrock was designed from the ground up to be as close to Ethereum as possible. Numerous deviations from Ethereum in the previous version of the protocol have been eliminated. Bedrock also adds support for EIP-1559, chain reorganizations and other Ethereum features present in Layer-1 (L1). More details are

here

.
On the same day, the BUSD (Binance stablecoin) developers announced its deployment on the Optimism network, making deposits and withdrawals available to users.
Following this information, the price of the OP token increased by 22.6% in a day, and for the month, the growth was 192.7%. 
Market capitalization reached $693,164,334 as of February 6, and daily trading volume rose 45.46% to $401,992,692. At the same time, there are 234,748,364 OP in circulation, with a total supply of 4,294,967,296 coins.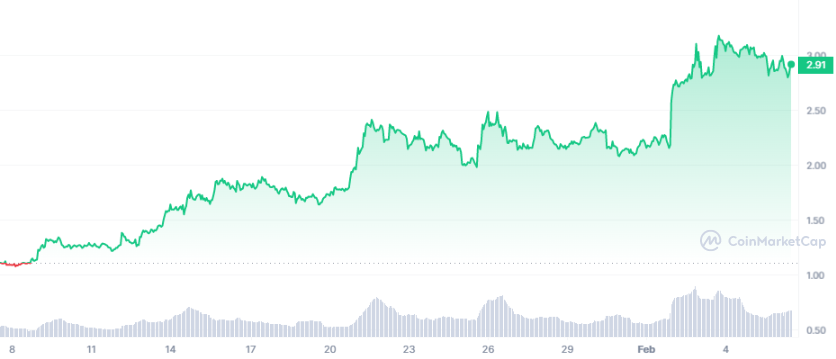 Optimism will not turn into pessimism?
The network is quite new, but in a short period of time, it has attracted the attention of developers and investors alike. Optimism's open mainnet was launched in December 2021. 
Of course, a lot depends on the overall state of the market, whether there will be a majority vote for Bedrock or not, and how successful the implementation of the protocol update will be. 
Recent figures indicate that this project is making good progress.
According to Token Terminal, its daily active users in Web3 data shows that Optimism was in 13th place with 21k (as of February 4).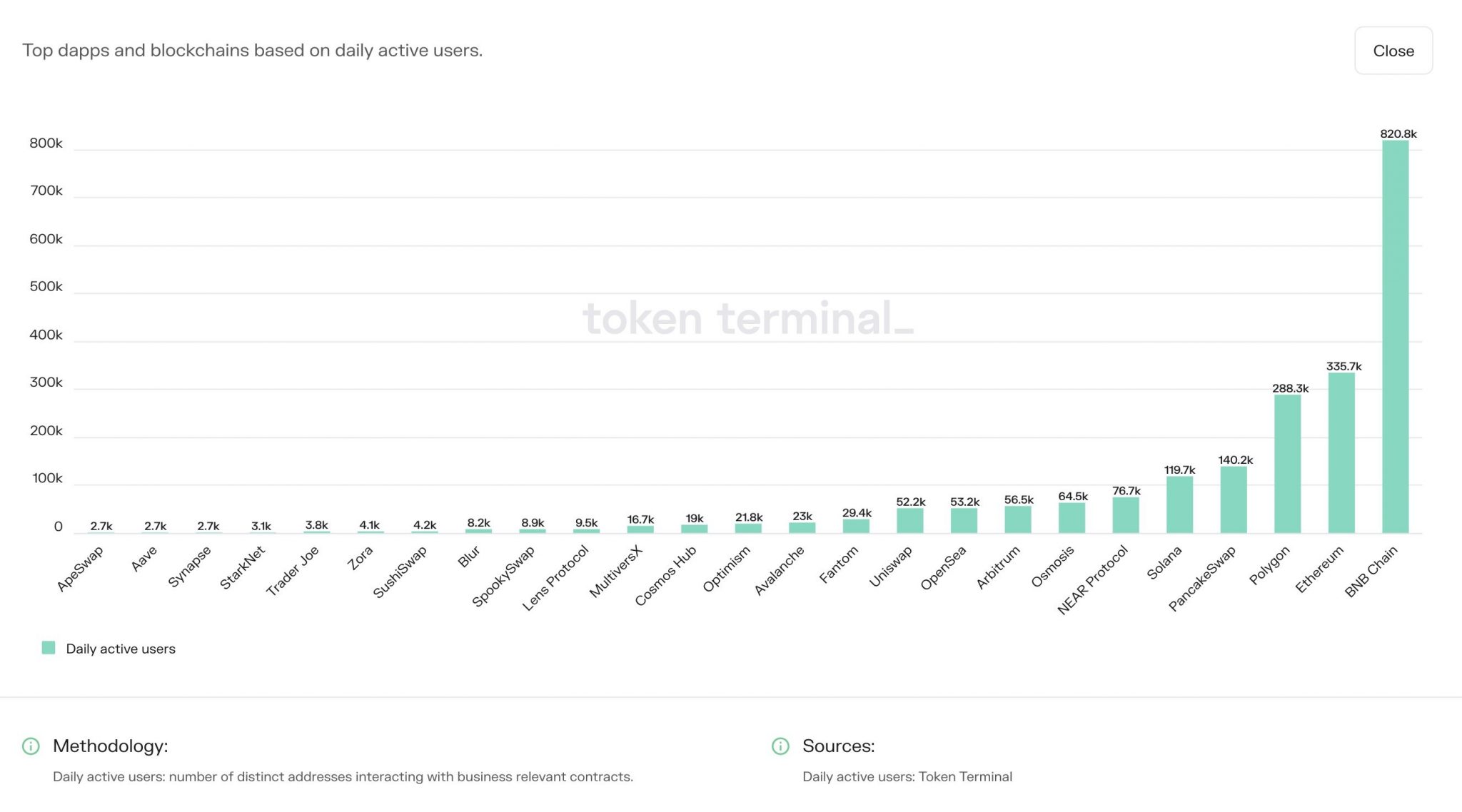 Optimism also ranked 4th in the number of contract creators with 367 (week 4, 2023). Polygon is in 1st place (4.8k), Ethereum is 2nd (4.8k), and Arbitrum is 3rd (1.4k).
Contract creators week 4 of 2023👀

Polygon: 4.8k
Ethereum 4.8k
Arbitrum: 1.4k
Optimism: 367

h/t @RaphaelSignal

— Narb (@NarbTrading) February 5, 2023
According to Defi Llama, Optimism is the second Ethereum's Layer-2 chain, with a total of $769 million locked in its smart contracts as of February 6. Arbitrum is in first place with $1.35 billion.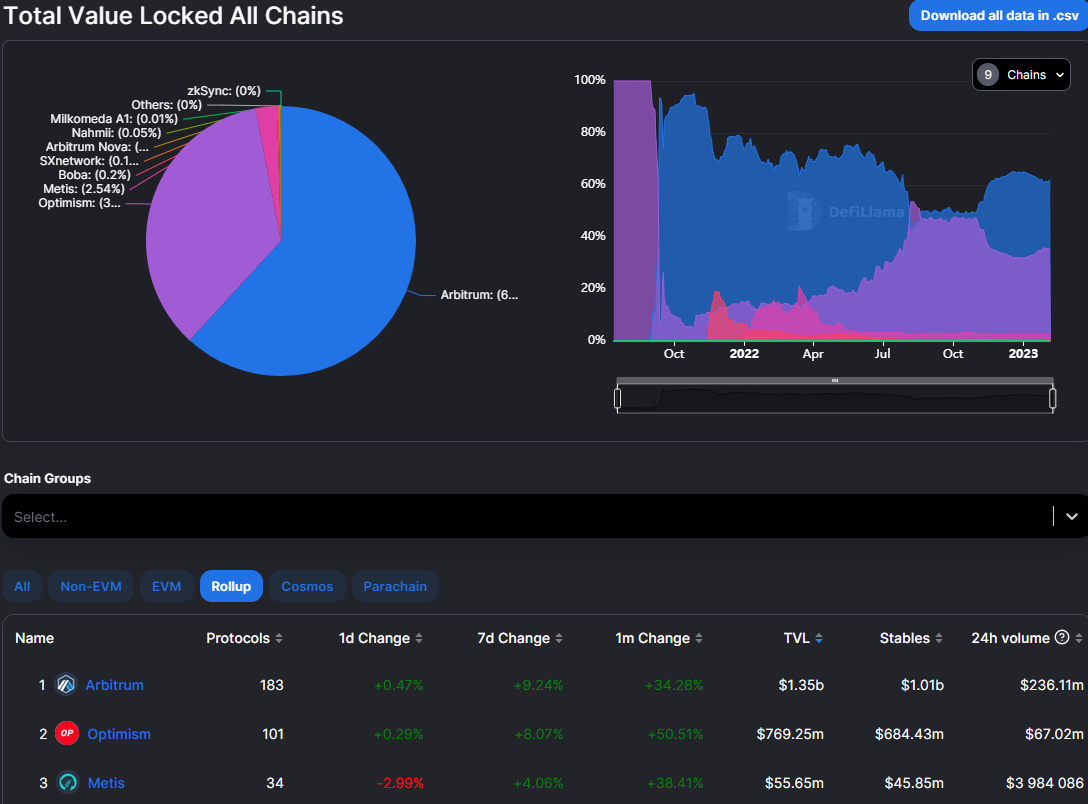 As of February 5, Optimism was also in 7th place among all blockchains by total value locked (The total value of all blocked cryptocurrencies in DeFi protocol smart contracts.) with $770 million, Optimism Hub data shows. Ethereum is in first place ($29.21 billion), followed by Tron ($5.17 billion), BSC ($5.10 billion), Arbitrum ($1.35 billion), Polygon ($1.22 billion), and Avalanche ($973 million).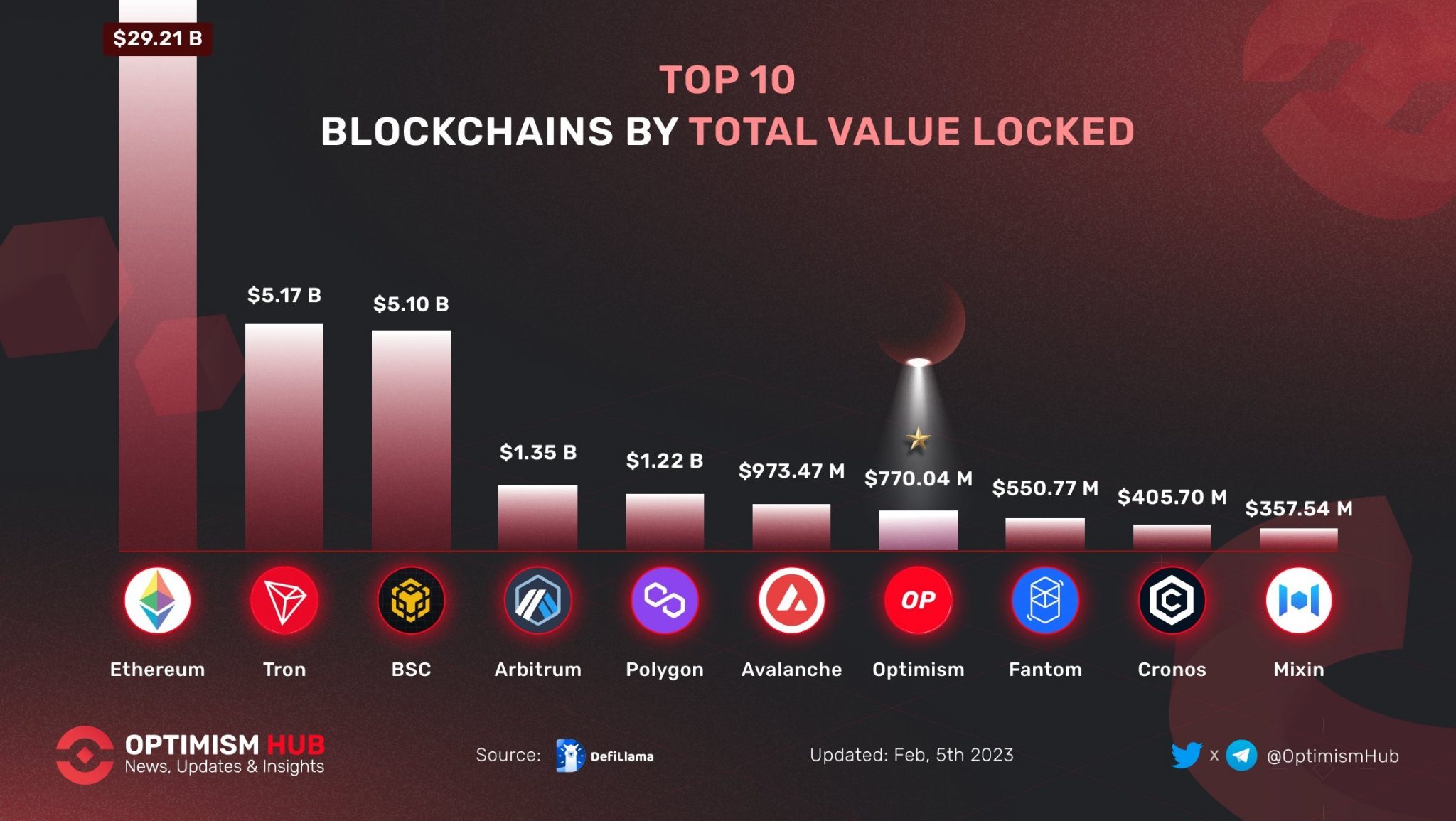 What is Optimism (OP)?
Ethereum (ETH), the largest smart contracts blockchain, is getting more expensive and slower as more users join the network. Therefore, Layer-2 solutions were invented to solve most Layer-1 scaling problems. Optimism is one such project.
Optimism (OP) is a Layer-2 blockchain on Ethereum. It takes advantage of the security of the Ethereum mainnet and helps scale the Ethereum ecosystem by using optimistic rollups. This means that transactions are recorded on Optimism but secured on Ethereum.
Optimism uses a technology called rollups. They rollup (or combine) the data of hundreds of transactions into a single transaction on the Ethereum network (Layer-1). When so many transactions are rolled up into one, the gas charge comes down to just one transaction. 
Optimistic Rollups (also known as Zero-Knowledge Rollups or ZK rollups) use fraud proofs. They optimistically assume that all transactions are valid and send packets without any initial evidence. There is a verification period during which others can detect and prove that the data in the package is fraudulent.
Optimism
(OP)

Price
Market Cap