The cryptocurrency XRP is performing well this month. This comes due to a rebound in the crypto market as a whole and due to Ripple's new collaborations and projects. There were a number of key events during January, and there are several more to come. They could have a major impact on the price of XRP. But will it break out or drop?
XRP performance
XRP ranks 6th on CoinMarketCap by market capitalization with $21,063,977,784. It has grown by $2 billion since January 20. In 2018, XRP was the second-largest cryptocurrency, behind only Bitcoin. XRP had a market capitalization of $130 billion at the time, while Bitcoin had twice that.
As of February 2, the coin's price is $0.41. In early 2023, it was $0.33 to $0.34. The record price was registered in 2018 at $3.84. Daily trading volume is up 17.12% to $1,076,508,167. 51% of all XRP coins are in circulation – 50,713,323,547 of 99,989,140,193.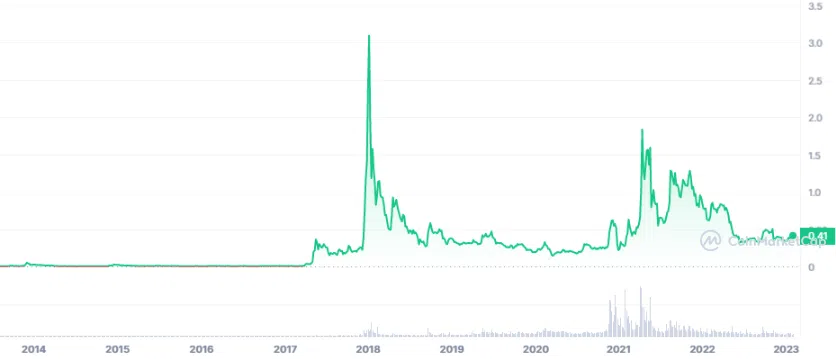 Interestingly, the third most traded market was the notorious South Korean exchange Bithumb, whose actual owner was arrested today. He is accused of embezzlement and securities fraud. The most popular pair on Bithumb was XRP/KRW. Cryptocurrency is often more expensive on cryptocurrency exchanges in South Korea, which traders take advantage of.
The brand new newsletter with insights, market analysis and daily opportunities.
Let's grow together!
In 5th place in terms of trading volume is the Mexican exchange Bitso, with the trading pair XRP/MXN. The peso is now under pressure as Mexico's GDP is expected to decline and the national currency drops against the US dollar.
So far, so good. Should XRP's price jump?
Ripple is a payment network created in 2012, based on the XRP Ledger (XRPL) network, where transfers and payments are made using the native cryptocurrency, XRP. So far, the XRP price has been influenced mainly by positive news.
XRPL Labs is preparing to launch a sidechain using XRP as a native asset. Federated sidechains allow developers to launch new features and innovative applications using the XRPL framework without sacrificing the speed, efficiency, or bandwidth of the public main network.
We're actually going to do this. Security audit contract signed last week.

After the audit (and potential improvements based on the results) there will be a side chain.

With XRP as the native asset. https://t.co/l6pPGyIz8l

— WietseWind – 🛠 XUMM @ XRPL Labs (@WietseWind) January 30, 2023
Ripple has made a strong showing in its Q4 2022

financial report

. Ripple's total XRP sales, net of purchases, were $226.31 million, compared to $310.68 million in the previous quarter. Peersyst released the first phase of the Ethereum Virtual Machine (EVM) sidechain for the XRP Ledger (XRPL) on Devnet, which allows DeFi applications such as Uniswap, Aave, and Compound to easily run on XRPL.
The United States Securities and Exchange Commission (SEC) admitted on record that the sale of LBRY Credits (LBC) tokens in the secondary market

doesn't recognize them as securities

. This set a precedent, as the SEC sued Ripple for the same reason. Now, LBRY and other XRP supporters are demanding that Coinbase relist XRP. A little earlier, cryptocurrency platform Coinbase succeeded in dismissing a consumer lawsuit alleging that the exchange facilitated the sale of unregistered securities on its platform,

Bloomberg

reports. Coinbase stocks soared from $58 to $72.
Coinbase should relist $XRP.

Under the SEC vs LBRY standard, $XRP sold by secondary holders is not a security.

— LBRY 🚀 (@LBRYcom) February 1, 2023
Ripple will help Montenegro to create a national stablecoin. The country's Prime Minister Dr. Dritan Abazovic and Ripple CEO Brad Garlinghouse said during a meeting at the Davos Economic Forum that they launched a pilot project.
Produktivan sastanak sa CEO kompanije @Ripple @bgarlinghouse i VP za saradnju sa centralnim bankama #JamesWallis. Razgovarali smo o razvoju platne infrastrukture koja bi obezbijedila veću finansijsku dostupnost i inkluziju. Crna Gora otvorena za novu vrijednost i ulaganja. ⬇️ pic.twitter.com/YdPeWHUtCm

— Dr Dritan Abazovic (@DritanAbazovic) January 18, 2023
The outcome is likely to be determined by the outcome of the SEC lawsuit and the overall state of the crypto market. The case between Ripple and the SEC is due to be heard this year. A hearing date has not yet been set.
Bill Morgan, a well-known digital assets enthusiast and a lawyer in Australia, believes that if the outcome of the court case is positive for Ripple, the price of XRP will meet the fate of LBRY Credits (LBC). The token's value has tripled since the end of January. 
Shows what could happen to XRP if the case has a good outcome https://t.co/uA63GMgxW4

— bill morgan (@Belisarius2020) January 31, 2023
XRP
(XRP)

Price
Market Cap