Ready to ride the blockchain rollercoaster and turn those zeros into ones? Time to HODL on tight and let's moonwalk our way to those digital treasures with some interesting ideas we've collected.
Opportunity 🔔 1: 
What is wrong with the tokenomics of shitcoins?
To start with, here are two theses that will save you a lot of $$$ and nerve, as well as help you understand the psychology of the shitcoins market.
Thesis one

: little-known altcoins from the second league (shitcoins) lack HODL culture, i.e., there are practically no long-term holders of such dubious coins. Short-term primitive speculation in the style of "buy today cheaper — sell tomorrow more expensive" prevails.

Thesis two

: All issues of new projects in the league of shitcoins are carried out with the mandatory freezing of most of the emission of such tokens. Because of the risk of market collapse, unlocking is done cautiously, gradually, and for small amounts. Otherwise, the tokenomics of such coins are inoperable and prone to zero.
Let's see how these mechanics work in real life in today's examples.
Today another BLUR's unlock started. 49 million unlocked BLURs ($13.25 million) were immediately transferred to Coinbase for sale. A very typical chart with Blur plummeting 15% at the moment:
The brand new newsletter with insights, market analysis and daily opportunities.
Let's grow together!
53 million ARBs were transferred today from a multi-subscription address labeled "Arbitrum: ARB Vesting" to 151 vesting contracts. This is probably in preparation for the first ARB unlock. Which immediately triggered an avalanche of selling by a nervous public:

From thesis 1 and 2, it is easy to predict any behavior of shitcoin quotes: people mostly do not try to keep them, but on the contrary, at the first opportunity, they immediately get rid of this digital trash. So any massive unlock is equivalent to a natural disaster in such a small market. You need to be aware of this specificity and risks if you suddenly decide to tie your fate to any altcoin from the secondary league. 
In this fragile "No HODL" market, the speed of turnover decides everything — buy first before the pump and sell first before the rapid collapse. It's a market of crypto cowboys that compete in speed shooting.
---
Opportunity 🔔 2: 
Is Render (RNDR) dropping lower?
In the current market situation, RNDR is testing the resistance level on a daily timeframe. Resistance levels are historical price levels where selling interest has previously occurred, potentially preventing further upside. Plancton's analysis has shown that after the current test of the daily resistance level, further downward movement of the token is expected (which is happening at the time of writing).
Next target is $1.4.
*Any technical analysis, in the long run, cannot accurately predict the movement because now is a very tough market and the news can swing currencies in all directions.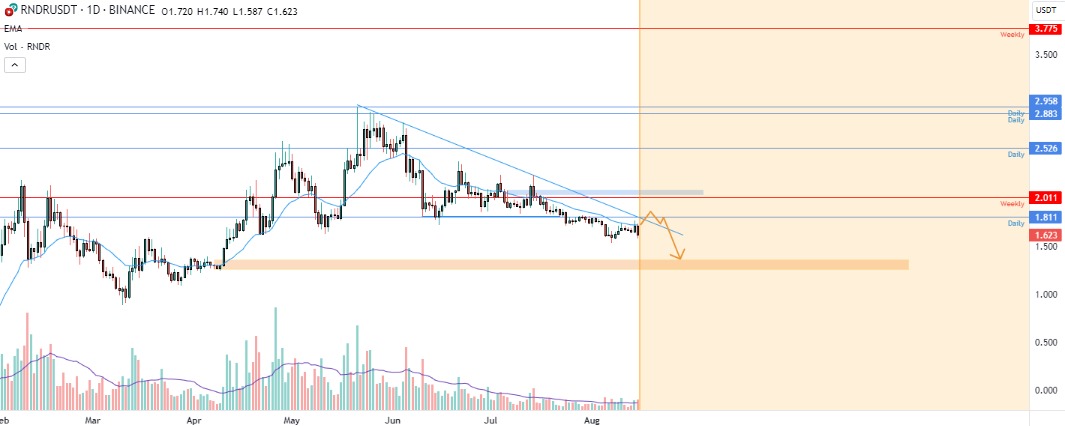 ---
Opportunity 🔔 3:
Drop from MintDotFun 
Mint.fun is an NFT platform where you can mint, purchase, and even accept offers for any existing collections on the ERC-20 network, thus bringing them to the top and promoting them among other users, like Zora (you can do 2in1), a useful topic for beginning authors.
What to do
Go to

mint.fun

and connect your wallet;

Mint !fundrop pass and tweet after doing so;

Then go to the

settings

, add, and confirm your email;

Go to the main page

Minting now

, and mint NFT (cheaper in OP);

You can install the

extension

, it gives you additional points;

It is important to do the mint for 7 days in a row (once is enough);

And you can invite 5 friends.