Hi, сrypto homies! Here is some useful stuff from our team 👋
Opportunity 🔔 1: 
Dog coins on fire
Two very similar meme projects have experienced a fiasco; let's try to do some work on the mistakes:
Yesterday, developers Shiba Inu (SHIB)

launched

Shibarium, a layer 2 network on the Ethereum (ETH) blockchain that runs on a new consensus algorithm, Proof-of-Participation, or PoP. This was a crucial project for the network that has been two years in the making. With this new layer, Shibarium should theoretically increase scalability and reduce the cost of performing translations.
The bad news is that this new network immediately crashed and stopped working, and $2.6 million of user funds are now temporarily blocked. You can read more about the technical aspects of the problem here, but the price of SHIB has already dropped 9%.
As it became known yesterday, the fight between Elon Musk and Mark Zuckerberg will not take place. This caused the DOGE exchange rate to collapse; it fell 6% in 24 hours.
What did we learn from these two similar examples?
The brand new newsletter with insights, market analysis and daily opportunities.
Let's grow together!
In both cases, the pattern "buy on rumors, sell on news" worked perfectly. Unfortunately, meme projects are often unable to release any real product or event, so it is safer to trade on expectations than on the actual release.
In yesterday's post, we wrote in great detail about the logic behind the development of shitcoins projects; both of these cases are a perfect illustration of this theory. Shitcoin projects too often generate fiascos in an attempt to create something real, but in terms of crowd intrigue. they are definitely the best.
---
Opportunity 🔔 2: 
MX token alert
MX is the native cryptocurrency token released by the centralized exchange (CEX) MEXC. Many manipulations of cryptocurrencies are known, but few stories are as compelling as that of MX, a digital asset that has experienced astonishing swings in a relatively short period of time.
It all started with the incredible rise in MX's value by x16. But the subsequent 85% plunge begs the question. Such dramatic fluctuations over a short period of time suggest that forces beyond the natural market dynamics may be at work here, says FX_Professor analyst. Then there was the token's 7x rise, followed by a 79% drop.
Possible dangers:
Liquidity concerns: Manipulators often use illiquid markets to orchestrate sharp swings.

Wash trading: This deceptive practice involves creating fake trades to create the illusion of activity and volume.

Pump and dump schemes: These schemes involve inflating the value of an asset (pumping) through misleading information or organized demand and then selling off large quantities of the commodity at an inflated price (dumping).

Insider trading: If exchange operators have advanced knowledge of market events, they can use this information to manipulate the market to their advantage. This is hinted at by the unnatural predictability of MX movements.
*Any technical analysis, in the long run, cannot accurately predict the movement because now is a very tough market and the news can swing currencies in all directions.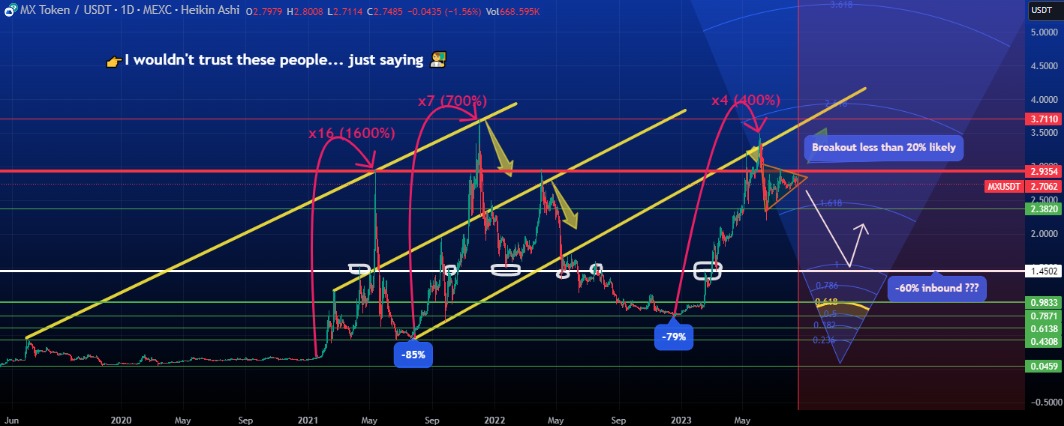 ---
Opportunity 🔔 3: 
NFT by ZkSync
The mint of the experimental LIBERTAS OMNIBUS NFT by ZkSync has opened. 179,365 wallets that qualify as "early members of the zkSync NFT community" can receive it. For now, this NFT is useless, but who knows what holders will get in the future?
Eligible addresses are those that interacted with at least one of zkSync's top 100+ NFT zkSync collections between the main network launch (Era) and July 12.
How to pick up NFT LIBERTAS OMNIBUS:
Go

here

and connect your wallet;

If your wallet fits the criteria, the Mint button will be active. Click it;

Wait for the queue and mint the NFT;

Once you mint an NFT, you can create your own NFT.