We've put together some interesting ways to warm up accounts, reasons to rethink your portfolio and not to miss out on important things in the crypto market.rnd
Opportunity #1: 🔔
Speculating on Litecoin requires caution
Previously, we suggested keeping a close eye on Litecoin because it is expected to undergo halving in July, which has traditionally led to price growth. Since our last signal, LTC is up 21%, and in the last two weeks, the coin is up 42%. Nevertheless, there comes a time when you have to be cautious.
Halving will happen around July 27 of this year, but already the gradual increase in the level of sales of those who fix profits is noticeable. We're sure that the level of sales will increase as we approach the halving.
The brand new newsletter with insights, market analysis and daily opportunities.
Let's grow together!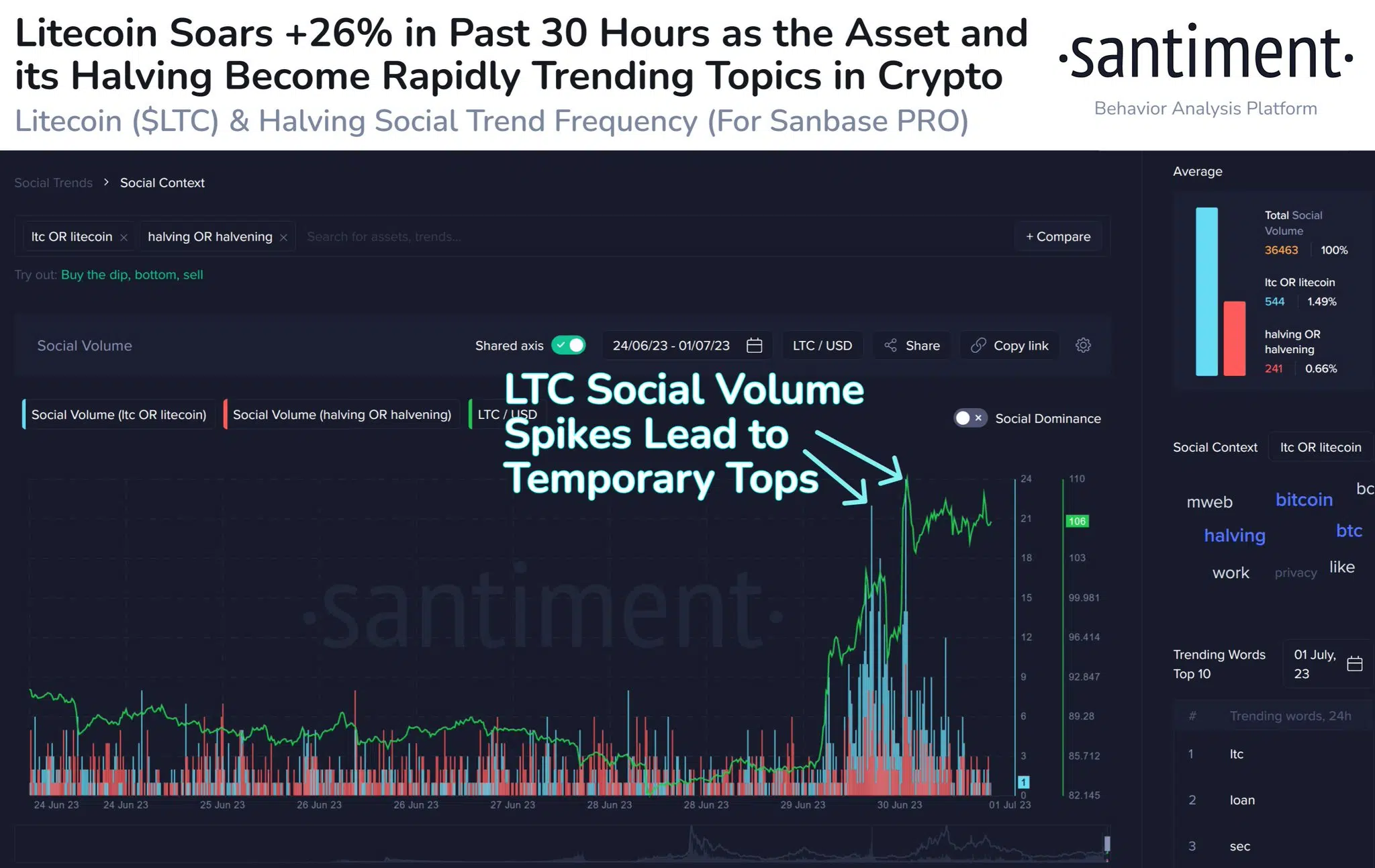 The main task for the speculator is to determine the price peak (or the value of an acceptable take profit) and close the position in time, and everyone who has decided to take a ride on the halving effect will compete in this. It is hard to say until what moment the rise and social hype connected with it will continue, but probably until August, the growth of LTC will exhaust itself.
---
Opportunity #2: 🔔 
Render (RNDR): stand or fall
According to P_S_trade technical analysis, RNDR/USDT is on the edge. On the one hand, the chart shows the obvious "Head and shoulders" pattern (classical graphical trend reversal pattern) with a target of $1.10.
However, for this pattern to come true it is necessary for the RNDR price to consolidate below $1.90, or better yet, for it to fall to $1.50 and stay above $1.90.
On the other hand, trading bots can cause the Render to start taking off when stop-loss orders are triggered on a short position (many shorts were taken).
That said, the RNDR has a strong liquidity zone, which would be difficult to penetrate.

---
Opportunity #3: 🔔 
How to get Polygon zkEVM Island Hopper NFT
On Galxe, in celebration of the integration ZkEVM network on the PancakeSwap has launched some tasks. By completing them, you can both warm up your account activity and get NFT.
What to do 
Participants will have an additional 3 days (until August 20 15:00 UTC) to claim the completed tasks as long as it is performed by the August 17 15:00 UTC deadline. All eligible addresses will be updated daily, every 24 hours. If there's a message "You are NOT eligible," check back after addresses have been updated.