Today is a fantastic day to recharge your batteries and set yourself up for success.
Opportunity 🔔 1: 
Watching FTT maneuvers
We have recommended many times to pay attention to the dead token FTT, delivered to the market from the bankrupt FTX. It has a deceptive nature and is very good for speculators. As an example, it has already shown +99% growth in the last month.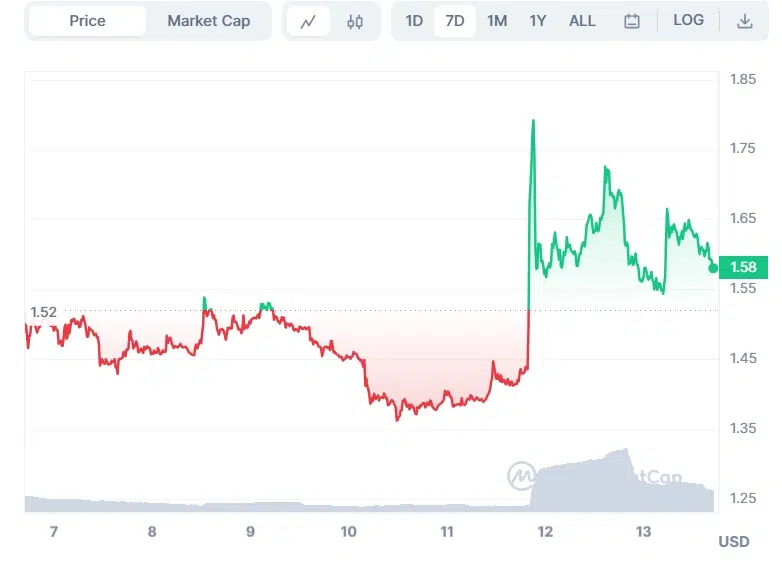 As a good illustration of how it works, here's a recent story. Yesterday, the FTX withdrawal acceptance site opened. The token showed a growth of 15% at the moment. But today this site closed without explanation — the token has already lost 6%. We can assume with a high degree of probability that this site will be reopened again (and more than once), as well as that the announcement of the FTX 2.0 relaunch will be repeated many times. You'll agree that this dead token lives an interesting and fulfilling life.
The brand new newsletter with insights, market analysis and daily opportunities.
Let's grow together!
Always remember the speculator's wisdom: if you are late for the long, don't miss the short!
---
Opportunity 🔔 2:
Where's Kava going?
Kava is a decentralized blockchain that combines the speed and interoperability of Cosmos with the developer power of Ethereum. The company updated its network to version 14. Also, the announcement of the new US CPI followed: inflation fell to 3%.
If these two news items are positive, it could be a combo push for $KAVA to move upward.
The critical level is the $1.20 mark. From this level, tokens can start to rise. A quick rise along the route of $1.50-2.30. Then a correction to the level of $0.80 may follow, according to P_S_trade analysis.

---
Opportunity 🔔 3:
Completing Taiko quests on Galxe
Taiko is a decentralized ZK-EVM and ZK-Rollup. With the project, dApps developers can easily deploy on L2, inheriting the security of Ethereum with lower fees than on L1. The project has raised $22 million in seed rounds from Sequoia China, Generative Ventures, OKX Ventures, KuCoin Ventures, and other funds.
Taiko developers have previously confirmed the token, and there is a high probability that the project will reward early users.
Completing quests on Galxe can earn points that may play a role in the future.
Instructions
Go to

Galxe

;

Connect your wallet and complete quests one by one;

Answers to Taiko alpha-3 testnet questions and Type 1, 2, 3, and 4 ZK-EVMs: C, C, B, and B, C, C, B, B, respectively.