Hey there, crypto enthusiasts and blockchain believers! Here are some interesting ideas for you 👇
Opportunity 🔔 1: 
To BNB or not to BNB?
Binance and its founder, Changpeng Zhao (CZ), are trying to get the dismissal of a complaint filed against the trading platform by the U.S. Commodity Futures Trading Commission (CFTC).
The regulator previously sued Binance for insider trading through "approximately 300 proprietary accounts" that are directly or indirectly owned by CZ.
As you can see, the charges from the CFTC are even more serious than those from their SEC counterparts. And here is the current result in numbers from the pressure of regulators from different countries: Binance's spot market share has fallen from 64% at the beginning of the year to 50% (and obviously will continue to fall further due to the increasing number of claims from other countries).
The brand new newsletter with insights, market analysis and daily opportunities.
Let's grow together!
But to understand the situation, it's better to see the chart of BNB, Binance's exchange coin. Normally healthy altcoins follow BTC, but as you can see in the chart below BNB (blue), starts to have a strong divergence with BTC (red) in early 2023 — BNB has literally become anti-BTC. The decoupling of BNB from the BTC rate channel came at a time of legal attack by regulators.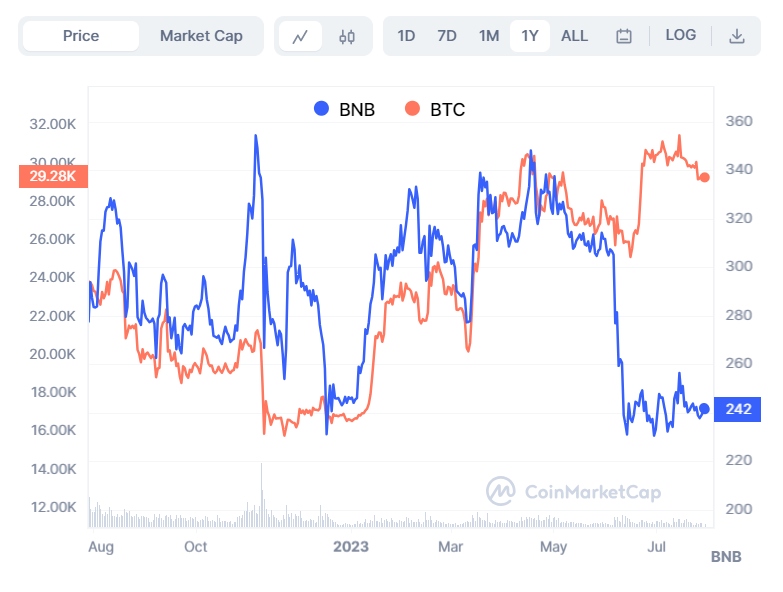 This behavior of BNB makes it at least unprofitable to HODL, at most a very dangerous asset that will collapse once again in case of new legal attacks (the probability of which is high). So far, Binance has not managed to solve any of the legal problems that have arisen, and this makes it necessary to reconsider one's asset portfolio.
---
Opportunity 🔔 2: 
Could Horizen ($ZEN) potentially go up?
Horizen is a zero-knowledge network of blockchains powered by the largest node system with tools for developers to custom-build blockchains.
According to RLinda's technical analysis, $ZEN forms a prolonged "bearish wedge" and shows strength amid Bitcoin's decline. The token consolidates and stops under resistance at $9.66, forming an ascending triangle. Over the next few weeks, $ZEN consolidates and continues to climb.
A retest of the previously broken boundary or consolidation above the $9.66 level may be formed soon, providing a possibility to enter more favorably. However, the token is breaking through the moving averages, which could indicate a change in trend.
Support levels: $9.66, the previously broken trend boundary.

Resistance levels: $11.4; $15.12.

Medium-term outlook: $15.12.
*Any technical analysis, in the long run, cannot accurately predict the movement because now is a very tough market and the news can swing currencies in all directions.

---
Opportunity 🔔 3: 
Showing activity on Linea
Linea is a zkEVM from ConsenSys, developers of the browser-based MetaMask wallet. The main network was recently launched, and there are already plenty of options to test it out and become an early bird. It will be especially useful for those who took NFT in the quest campaign on Galxe.
What to do