Howdy crypto investors, bounty hunters, and degens. We have a new batch of all sorts of useful goodies for you. And they refer to Litecoin, !fun Fridays, and FLOW.
Opportunity #1: There is a very interesting situation in Litecoin
Litecoin will soon have a halving at the end of July 2023. This will be a significant event for the Litecoin network. Every halving historically pushes prices to new records after some time.
But the situation is actually even more interesting. In May, the new LTC20 standard was launched, which leads to a gradual increase in the intensity of transactions on the blockchain, effectively creating a new market similar to BRC20.
Traditionally, Litecoin has shown patterns that were then repeated in Bitcoin, so halving LTC is worth taking a closer look at. Those who want to try to speculate on the halving should start entering LTC, because bigger speculators will start entering the coin as the event approaches.
The brand new newsletter with insights, market analysis and daily opportunities.
Let's grow together!
To understand what opportunities halving gives, let's look at the dynamics in the example of BTC: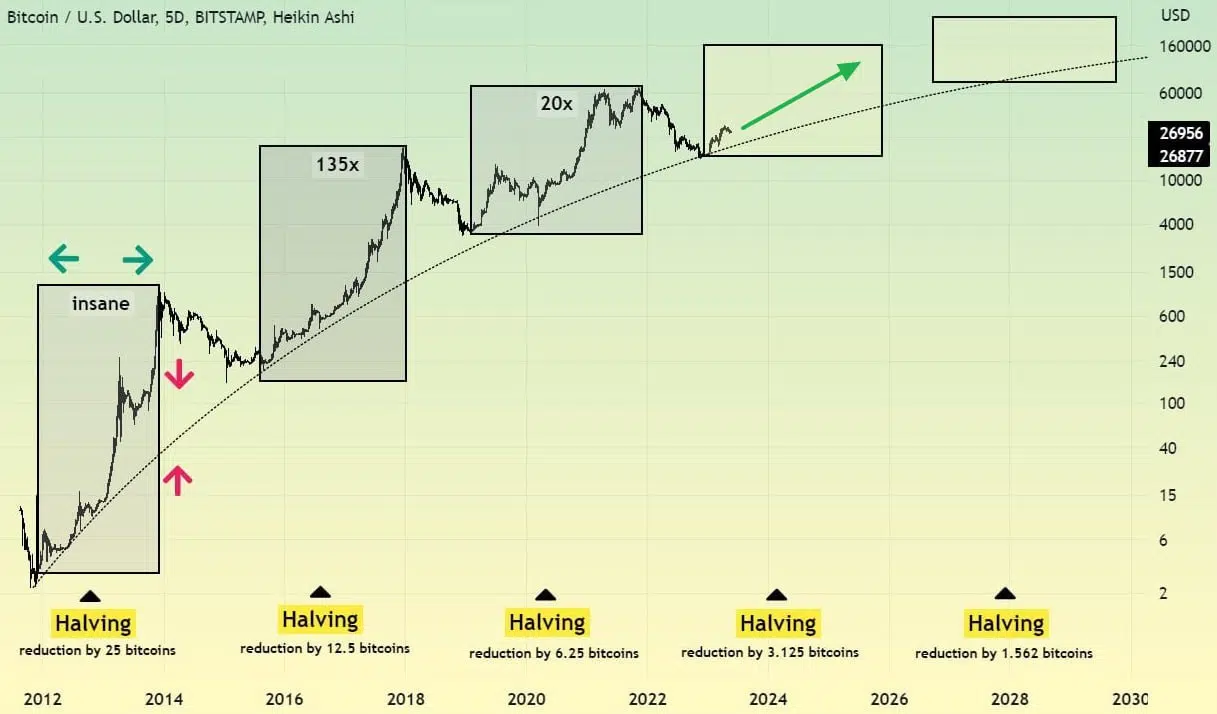 ---
Opportunity #2: Keep an eye on Flow (FLOW)
FLOW/USDT is forming a bottom in the area of $0.742, according to RLinda analysts. After numerous attempts to break through the trend resistance, it succeeded. A consolidation is forming, which could push $FLOW up.
The level of $0.742 is the key support at the moment. The bulls' task is to keep the price above this area.
Over the past month, $FLOW has been forming a decline in volatility and moving into a consolidation phase.
The cryptocurrency pair FLOW/USDT has accumulated the potential for a breakdown of resistance. In the case of breakdown of local resistance areas, it may start the phase of realization of accumulated energy.
Strong support: the previously broken wedge boundary, the level of $0.742.
Strong resistance: $0.800, MA-50, MA-200, $1.000.
If bullish support is successful, FLOW will continue to strengthen towards $1.000 and $1.800.

---
Opportunity #3: Getting active during !fun Fridays
During the Mint.fun event, you could mint an NFT pass and make NFT purchases through their service. This earned points, for which you can now mint NFTs from artist numo with a refund of the ETH spent on gas, as part of the !fun Fridays event.
How to participate:
Use the service daily and get points for it, for which there will be an NFT mint with a gas refund available. Every Friday until July 14, a NFT reward will be available from different artists.

Rewards are calculated based on the following criteria:

Length of the coin series since your pass was minted;

Position on the leaderboard;

Overall point rating;

Activity during the past week.

But first, you have to

mint the pass

. Those who do that before Monday will additionally receive Streak Saver, which will allow you to extend your series of mints if you miss one day.
With the current gas price, the commission per mint comes out to about $5. And at the end of the week, you will get a gas refund, but if you miss at least 1 day, they won't do it (so you can use Streak Saver).
A drop from Mint.fun is possible, and there is a very good chance that it will be for these NFTs. So there's a point to keeping them.