As previously predicted by analysts, one of the NFT trends in 2023 is the emergence of new leaders in the market. Already, you can see how NFT marketplace Blur is closing in on the heels of such old-timers as OpenSea. The competition only intensified in mid-February, when Blur launched its native token of the same name. Now the price of coins is about $1, but it has every chance to skyrocket much higher.
Blur breaks new records after token's airdrop
Blur launched its marketplace in October 2022 and promised token rewards for traders, and provided users with "care packages," which represent the upcoming distribution of tokens. Finally, on Valentine's Day, these users were able to receive their Ethereum-based BLUR tokens.
After the BLUR token began listing on the OKX exchange, its price peaked at $8.36. Some OKX users reported that there was a delay in receiving BLUR on February 14 due to a large volume of deposits. According to OKX, there was a huge BLUR in the upload stream after the transaction began, which caused this problem. Therefore, the exchange promised compensation to affected users in the ratio of 500 (BLUR):1 (OKB). The maximum compensation per user is 500 OKB. 
Over 50% of the blur airdrop day1 tokens were claimed within the first hour! (using 12% of 3bn assumption) pic.twitter.com/ELfV6CDg9k

— domo (@domodata) February 14, 2023
The brand new newsletter with insights, market analysis and daily opportunities.
Let's grow together!
At the time of writing, BLUR's price is about $1, with a market capitalization of $389 million (+38.45% per day). The daily trading volume is approaching $1 billion as of February 16. There are 360 million coins in circulation out of a total of 3 billion possible.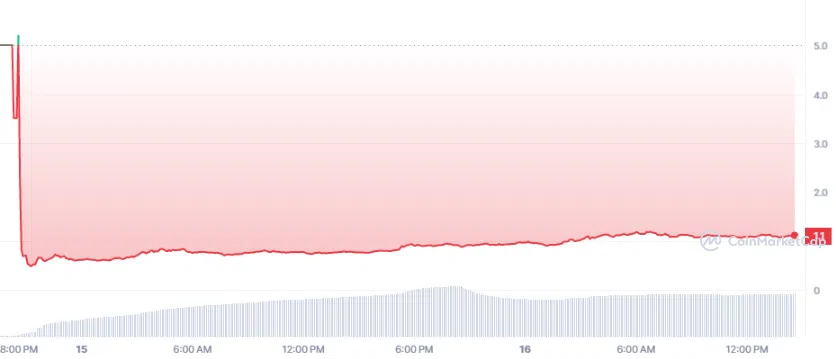 As part of the February 14 airdrop, 360 million BLUR were available, of which 328,520,982 have already been claimed (91.26%). There are 57 more days to receive the tokens.
Interestingly, potential diamond hands (receiving and not selling) have already been spotted. These are investors who refrain from selling an investment despite downturns or losses. This means they may be waiting for significant token growth in the future and targeting HODLing.
Blur's tokens can be purchased or exchanged on major exchanges such as KuCoin, Coinbase, Kraken, Uniswap (V3), SushiSwap, OKX, Bybit, Huobi, and Gate.io.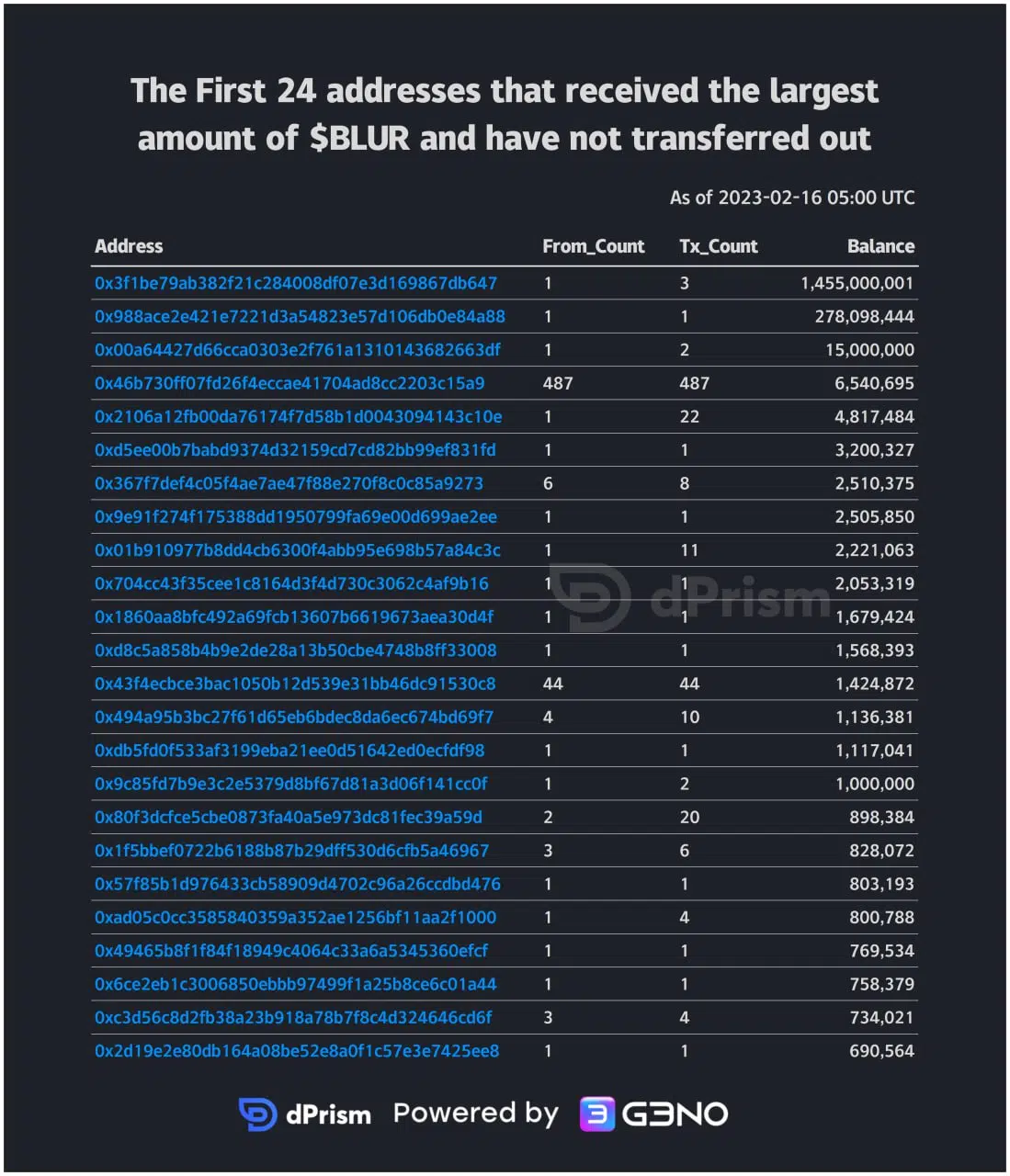 Interesting facts about BLUR
The address machibigbrother.eth, designated as Taiwanese singer Jeffrey Huang,

received

1.847 million BLUR tokens during this airdrop. Jeffrey Huang is notorious for issuing large numbers of ICOs (Initial offering of a certain amount of new cryptocurrency for the sake of attracting investment.).

BitMEX founder Arthur Hayes is buying huge amounts of BLUR tokens. According to

PeckShieldAlert

, an address related to him received first 341,000 BLUR tokens and then another 250,000. The token price has naturally responded to interest from a well-known crypto influencer and entrepreneur. Hayes is famous for his success in trading and investing, as all the assets he has recently bought have generated double-digit profits.

In the first half of February, Blur had almost daily higher bid volumes than OpenSea (according to

Dune

).
Looks like @blur_io has seen more (wash excluded) trading volume than @opensea almost every day in the first half of February 🔥

Source: https://t.co/yPbPkHn08h pic.twitter.com/beigRmpKW4

— hildobby (@hildobby_) February 15, 2023
Blur's bidding pools

reached

a new all-time high of 69.94 million BLUR

TVL (Total value measures the value of deposits and people's interest in a certain dApp or blockchain network.)

. Blur said this was a huge win for the community, which was handed out 360 million BLUR. And users will continue to receive BLUR in future community releases. 
Blur Bidding Pools have reached a new ATH of $69.94M TVL

This is a huge win for the Blur community, which has been distributed 360M BLUR, and will continue to receive BLUR in future community releases. pic.twitter.com/WyW7cjfvvv

— Blur (@blur_io) February 15, 2023
NFT marketplace Blur plans to be about to become a unicorn company (Startups with more than a billion dollars in capitalization for up to 10 years.) The startup intends to close the funding round, increasing its estimated value to $1 billion.

The debate over royalties for NFT creators is once again in shambles after the CEO of Blur, aka Pacman,

urged

creators to list on that platform rather than on OpenSea. Pacman also listed the options for royalties on his platform, as well as both at once.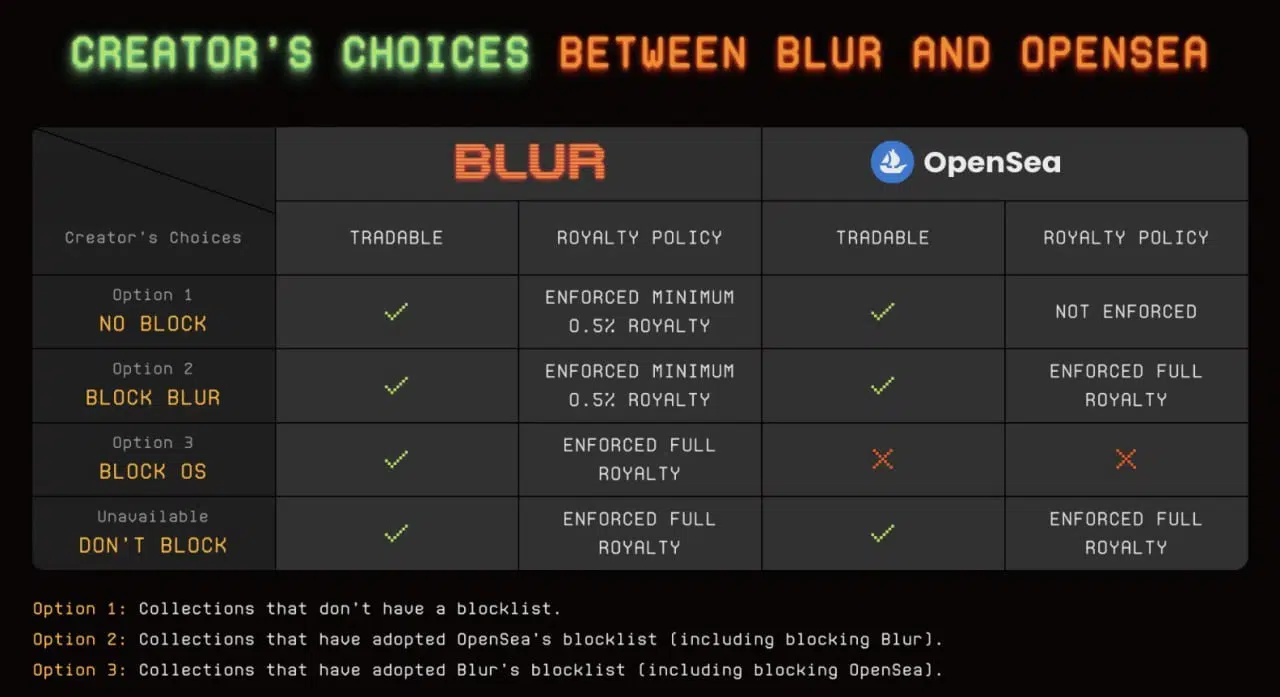 South Korea's largest cryptocurrency exchanges, Upbit and Bithumb, listed the token. Binance, however, has not yet listed BLUR.
BLUR-Up or BLUR-Down?
Growing trading volumes, interest from prominent investors, a possible listing on Binance, and ambitious plans signal the potential growth of BLUR tokens. However, the cryptocurrency market is very volatile, and the situation can turn 180 degrees at any moment. 
In addition, another NFT marketplace is gaining popularity and can significantly compete not only with Blur but also with OpenSea.
LooksRare has also attracted attention to its token LOOKS. But as of February 16, the price of LOOKS was down to $0.28. And on launch day, January 20, 2022, it was $7.07.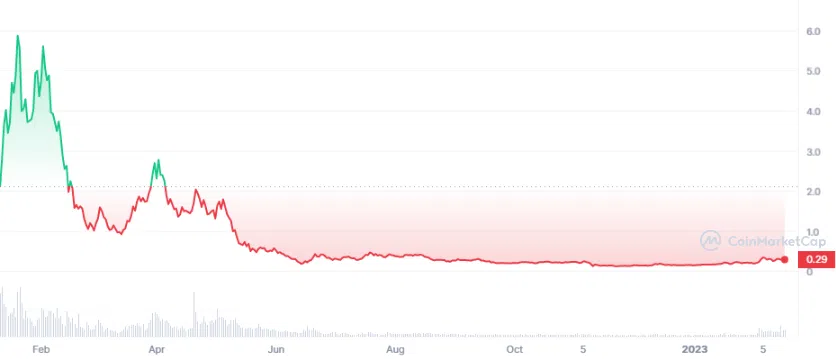 Blur
(BLUR)

Price
Market Cap
LooksRare
(LOOKS)

Price
Market Cap