Delving into the highlights of the eventful past week, we also will delve into the upcoming significant cryptocurrency events, token releases, and announcements regarding giveaways.
Here's a glimpse of what's on the horizon for our next edition.
Key Highlights: Get up to speed with noteworthy occurrences in the past week concerning Bitcoin's price surge, SBF's conviction, NFT's trading volume rebound, Web3 Wallet from Binance, and Circle's IPO.

Market Perspective: Essential cryptocurrency market indicators to monitor in the upcoming week.

Ethereum's path to $3K.

ORDI's 300% growth prediction.

Polyhedra's latest quests.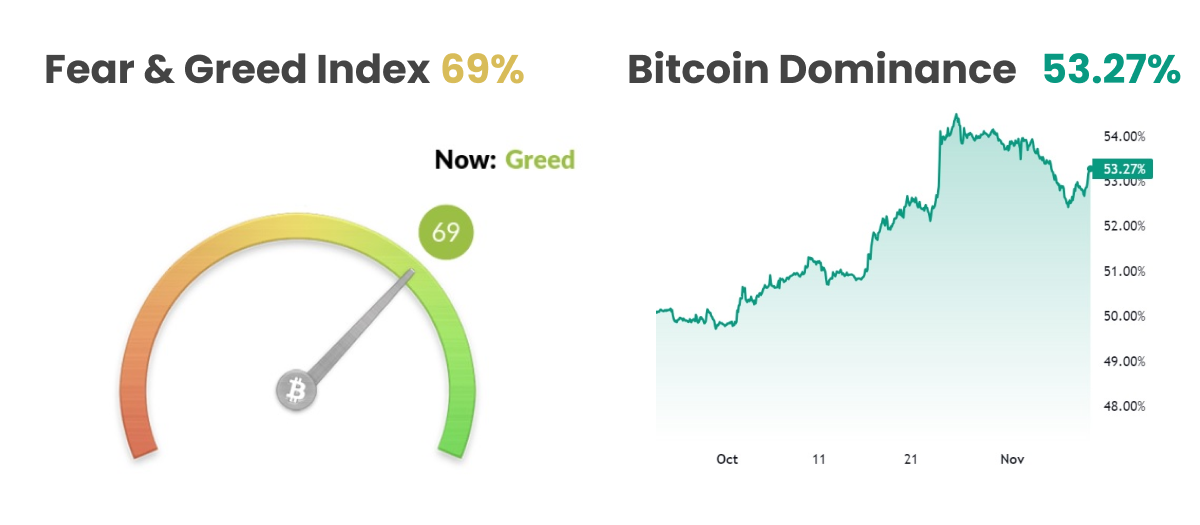 Let's kick things off by taking a closer look at the most noteworthy happenings from the past week.
Bitcoin's Remarkable Surge
On November 2nd, Bitcoin reached a new yearly all-time high (ATH), approaching $36,000. According to CoinMarketCap charts, the asset surged to $35,441. Regarding October's performance, Bitcoin closed the month with a 28.5% gain. It is currently trading around $35,200, signifying a 113% increase since the beginning of the year.
The brand new newsletter with insights, market analysis and daily opportunities.
Let's grow together!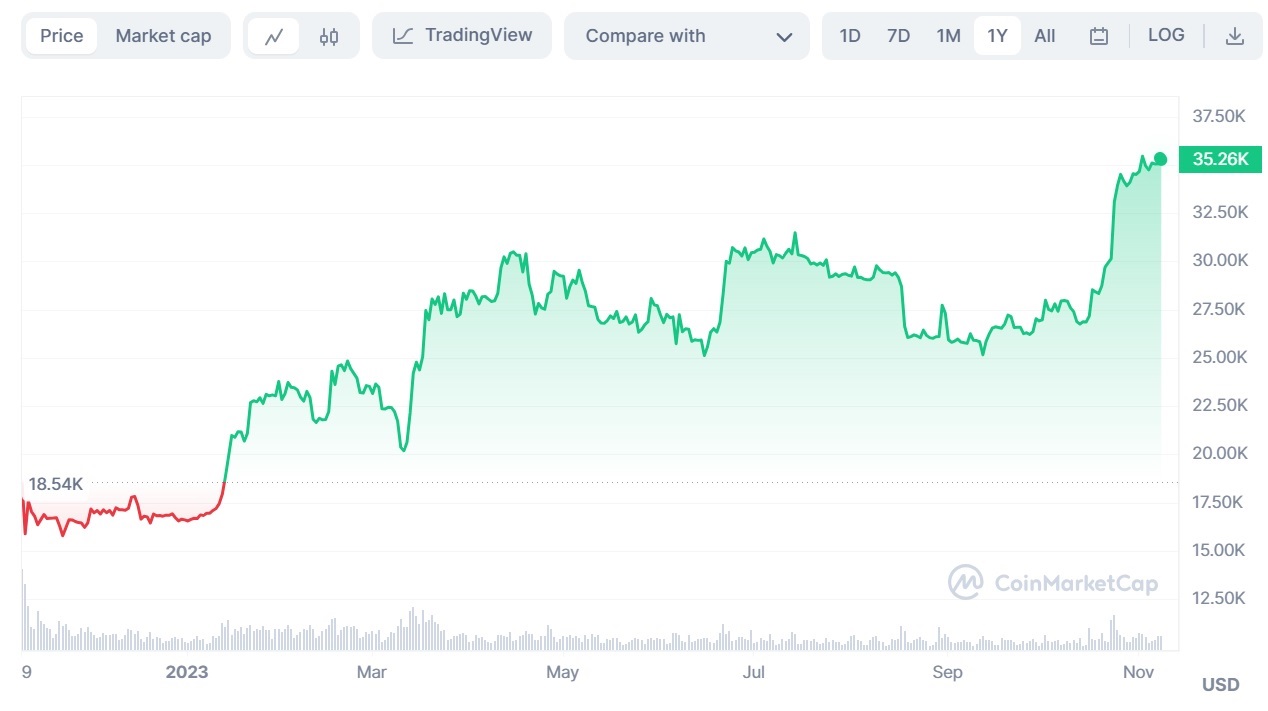 According to several experts, Bitcoin hit its lowest point in November 2022 and has been steadily gaining strength since then. However, a substantial uptrend is expected after the asset's halving event, potentially reaching a value of $150,000 by July 2025.
For more insights on when the next bull run might commence, you can find information in our interview with Axie Infinity co-founder Jeffrey Zirlin.
The court has found Sam Bankman-Fried, the founder of the cryptocurrency exchange FTX, guilty on all seven counts of fraud. According to reports, he faces a maximum sentence of 115 years in prison.
According to the prosecutor, Sam Bankman-Fried committed one of the largest financial crimes in the history of the United States.
"While the cryptocurrency industry may be new and players like Sam Bankman-Fried may be newcomers, this type of corruption is as old as time. This case has always been about lies, fraud, and theft, and we have no patience for it," he said.
The indictment of Sam Bankman-Fried for fraud could have significant implications for the cryptocurrency world. It could be another reason for increased regulatory scrutiny and enforcement in the industry, potentially affecting investor confidence and the overall perception of cryptocurrencies in the mainstream financial environment.
The sentencing hearing is scheduled for March 28, 2024.
NFT (Non-Fungible Token) trading has experienced a substantial surge, with volumes reaching 68,342 ETH (around $129M) in early November, marking the highest levels since August 2023, as reported by Nansen, an analytics firm.
Over the past five weeks, NFT trading volumes have consistently grown, with the lowest point in early October at 29,704 ETH. In early November, it skyrocketed to 68,342 ETH.
This trend underscores the growing interest and engagement in the NFT market, solidifying NFTs as a significant part of the cryptocurrency landscape, and attracting both collectors and investors. 
This news is especially interesting, given that at the end of September, it was suggested that 95% of all NFTs had become completely worthless after the 2021 hype. Is this a new boom?
Binance has introduced its Web3 Wallet, a self-custody cryptocurrency wallet, at the Binance Blockchain Week Istanbul 2023 conference. Richard Teng, Binance's regional head for Europe and the Middle East, presented the wallet, which aligns with the exchange's goal of attracting one billion users to the Web3 space. 
The Web3 Wallet utilizes Multi-Party Computation (MPC) technology for "keyless" access to funds, combining strong security measures with a user-friendly onboarding experience for newcomers. 
Notably, following Binance's announcement, the Trust Wallet project's native token price dropped by 17%, trading at $1.44 at the time of writing.
This development marks a significant advancement in the world of cryptocurrencies, as it introduces a secure and user-friendly cryptocurrency wallet that aims to broaden the adoption of Web3 technology. Users will have their new wallet address linked to their Binance account, streamlining their crypto experience.
Circle, the issuer of the USDC stablecoin, is planning an IPO (Initial Public Offering) in 2024.
Circle is reportedly in discussions and preparing for a possible IPO, with no details on the stage or timing. The valuation for the IPO remains unknown. Circle is a major holder of U.S. Treasury bonds and has recently partnered with Coinbase for the USDC stablecoin. 
Notable investors in Circle include Goldman Sachs, BlackRock, and Fidelity, with a reported valuation of $7.7 billion in 2022. 
This move could have significant implications for the cryptocurrency world, potentially fostering greater transparency and mainstream adoption.
🔑 Key crypto market highlights (November 8 — November 15)
💲 Ideas 
Matrixport Analyst Foresees Ethereum's Path to $3K
Ethereum (ETH) is on the rise, potentially reaching $3K, as suggested by analyst Markus Thielen of Matrixport, a crypto financial services platform.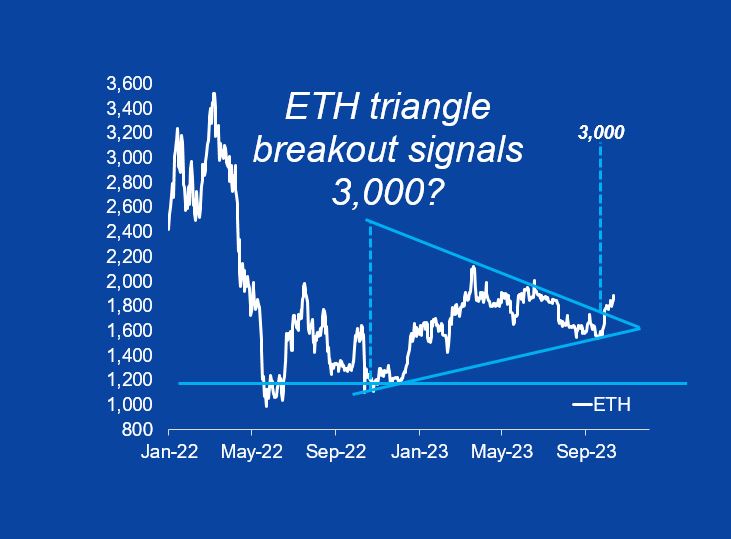 Ethereum's transaction fee revenues are surging, now exceeding $30M, making it an enticing choice for traders. Staying above the crucial $1.5K support level, Ethereum's recent breakthrough at $1.7K signals a chance for traders to hold onto their positions, especially if the price remains above $1.8K. 
What's more, Bitcoin's dominance is waning, down from 53,4% to 51,8%, indicating a shift in favor of ETH and other alternative cryptocurrencies. Currently, Ethereum is trading at $1,886, marking a 4% increase over the week and offering potential for earnings.
ORDI Token's 300% Growth Projection
Trader STDI has predicted a 300% increase in the ORDI token. Back in October, the expert noticed the asset's potential for growth. Now, with its listing on Binance, the token has already seen nearly a 20% increase in the last 24 hours. Furthermore, ORDI has attracted attention for breaking into the 11th position in terms of trading volume despite being ranked 131st in market capitalization. Over the past 24 hours, trading volume has surged by an impressive 2,450% (~$598 million traded overnight).

In his analysis, the specialist emphasizes that ORDI has similar potential to CYBER, which saw a sharp 351% increase in early September. However, it's worth noting that this surge was short-lived. Currently, the asset is trading 62% below its all-time high (ATH).
*Any technical analysis in the long run cannot accurately predict the movement because now is a very tough market and the news can swing currencies in all directions
Polyhedra's Exciting Campaign
Polyhedra has launched a new campaign to celebrate the launch of Legend Games, a gaming infrastructure for developers and regular users. The announced quests require minting resonators and bridging them from the opBNB network to all others.
To participate, you need to obtain special tickets, available one per day. To activate a resonator, you must move it through a bridge to another network.
Currently, quests are available for bridges from the opBNB network to BNB, Polygon, and Arbitrum One/Nova. Each completed quest earns you 15 points.
To mint the ticket and pay the bridge fee, you'll need BNB in the opBNB network. The fee can be sent through Orbiter or the official bridge.
The deadline is January 11, 2024. There is plenty of time, but it's better to get started early. Good luck.