According to Coingrams, FTX owner Sam Bankman-Fried told investors about the virtual bankruptcy of the exchange and related companies (according to other information, he spoke only of the probability of bankruptcy). At the time of writing, the information is not officially confirmed, but when it appears, the cryptocurrency market is waiting for the next wave of panic sales, which may particularly affect the crypto projects, which are financially dependent on FTX. The presence of a large number of $SOL in the portfolio of Alameda Research has already become a problem for Solana, which lost 40% of its capitalization in the last two days.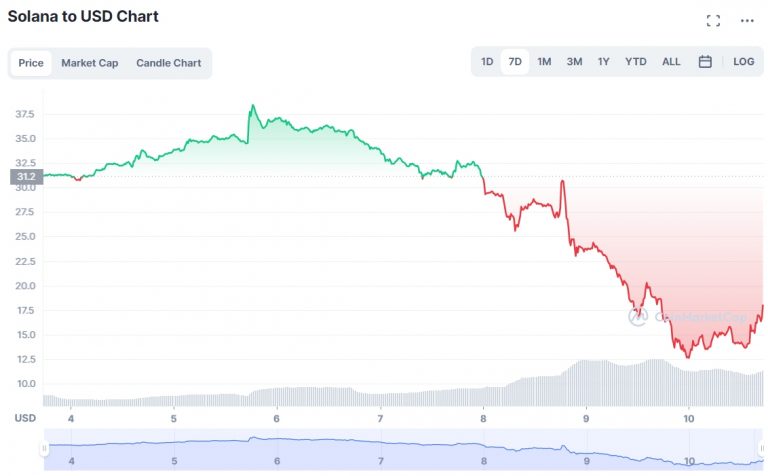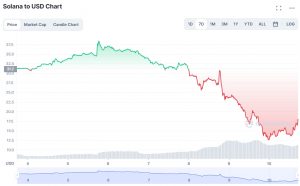 Five risk factors
Solana is doing badly right now. But the outlook ahead is even worse. Here are the main risk factors for SOL's impending decline that are important for any investor in this asset to know.
Solana is one of the FTX/Alameda investment projects, we

have written

about it before. FTX/Alameda was the big sponsor of the Solana fund and actively supported this project. 
the craziest part about the solana dump is that it's not even a bad blockchain, no ponzi mechanics, just has the wrong investors

— foobar (@0xfoobar) November 9, 2022
Alameda as an investor is officially one of the biggest holders of SOL. FTX has debts to its users to pay off, which means selling off all of its assets. The only question is how soon it will be done, voluntarily or by court order. After that, the market will be flooded with $SOL coins.
I'm hearing it said that FTX is the "Lehman Brothers" moment of 2022. If so, it is arriving just a little bit early on the script. Lehman collapsed Sep. 12-15, 2008, and we are still at the equivalent of the beginning of August 2008 in the best analog. pic.twitter.com/coQxGPV0SZ

— Tom McClellan (@McClellanOsc) November 10, 2022
According to the Solana Compass service, tomorrow, which is Friday, the Solana network will unlock 49,973,143 SOLs that have been blocked there on staking. Other reports say that the number of coins is much higher.
Nearly $1 billion of solana is set to be unlocked in 24 hourshttps://t.co/d5jbT90e2G

— The Block (@TheBlock__) November 9, 2022
Now Solana is only going to unlock half of those funds to relieve pressure on the market. This, in turn, is causing even more anger on the part of users who see this as a hitch to keep the market at their expense.
@Genesis14174555 writes:
Wait can i translate this as "We are freezing your funds so you, the 50%, cant dump the coins and crash the price further and the chosen 50% can take their exit first" ?? 
@nonsensesense2 writes :
T-fuck! You can not do this on a blockchain! Oh wait, Solana proving once again that they control the keys. They are centralised.

Some exchanges have already blocked the withdrawal of stablecoins based on the Solana blockchain due to the strong unpredictability of the situation. Besides FTX, crypto.com also did it. Other exchanges may do it at any moment. Here is how crypto.com

explained it

:
USDT/USDC on other chains operate normally of course. FTX was an important bridge/venue for SOL-based stablecoins, we do not want any additional risk to our users coming from this area, hence disabling it.
Smart….. A lot of risk if FTX or Alameda are holding the bridged assets. I think Alameda owns REN and the associated assets with that too. Surprised more exchanges haven't made this move yet now that I think about it.

— CADHODL (@cadhodl) November 9, 2022
Solana starts having infrastructural problems like a domino collapse, with some services and oracles suddenly shutting down and leaving DeFi-projects.
Anonymous message re: Solana. pic.twitter.com/qiQBkq5k9D

— Autism Capital 🧩 (@AutismCapital) November 10, 2022
Who else was affected besides Solana?
The BitDAO project was also the focus of investor attention, dropping the value of the BIT token by 30%. The developers of the ecosystem discovered an attempt to redeem FTT tokens for 100 million BIT on the market. According to their version, only Alameda Research could conduct such a deal. The company owns a stake in BitDAO, which should be frozen for 3 years. The crisis probably forced Alameda to break that commitment.
The Aptos blockchain token, aka $APT, whose patronage was taken over in part by FTX, supposedly flew down as soon as its sponsor started having problems.
How can I make money on this?
While waiting for the final fate of FTX, there is a lot of uncertainty and panic in the market. It is best not to hold long or short positions at such times (unless your temperament is inclined to high risk). It is probably better to wait out this historic moment of another giant's collapse sitting in stablecoins.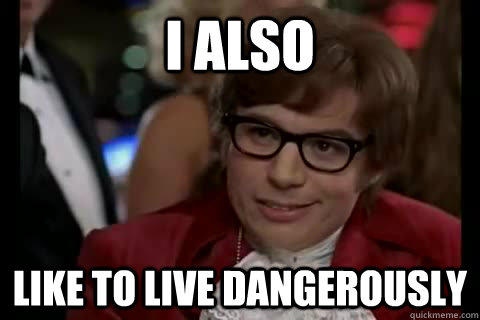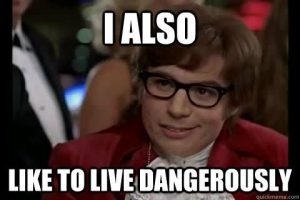 Whether Ethereum killers like Solana and Aptos will survive in the long run without outside infusions of money is still a big question. At least a new life is definitely starting for them, just like for all users who lost their money in FTX deposits. And if there is anything to buy in such a panicking market, it is better to buy dip from giants Bitcoin and Ethereum, which have better chances to survive in comparison with shitcoins rapidly losing their capitalization.