The native token of the watch-to-earn platform Gari Network (GARI), based on Solana, increased by 30,95%, from $0.0504 to $0.066. At the same time, the trading volumes show crazy daily growth. The index increased during the past 24 hours by more than 1000%. 
Some market participants believe that now is the last chance to buy at the bottom, after which the asset will go to the Moon. Why exactly, we'll discuss further.

Blockchain-based TikTok: What is the Gari Network?
The Gari Network is a social network that allows creators of short videos to monetize their content on blockchain. The process is carried out in one of India's most popular apps, Chingari. According to the official website, it is a fast-growing platform with more than 70M users.
Video authors can share their content with the world, and it is most similar to TikTok.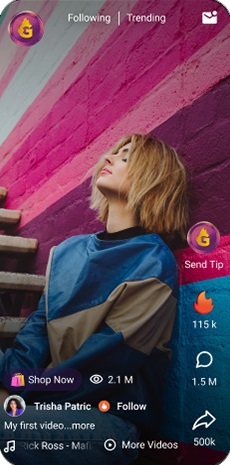 Content creators are rewarded in the form of the platform's native social token, GARI, based on Solana. Judging by the fact that, according to CoinGecko, the token was listed on 17 exchanges, it can be withdrawn. However, the site says that the launch of GARI as a currency will take place "shortly."
In addition to the financial benefit, users can use the token to influence the development of the platform through DAO and create a "circular economy"

a system based on the reuse and regeneration of material or products, especially as a means of continuing production in a sustainable or environmentally friendly way.
The audience, in turn, can also make money on the platform. This is made possible through the following features:
Create-to-earn.

Earn GARI tokens by creating videos.

Watch-to-earn.

Watch videos and earn GARI tokens.

Engage-to-earn.

Like and comment on videos on the app to earn GARI tokens.
The whitepaper was launched in September 2021, and the maximum supply of GARI is 1B. The project is now being managed by:
Deepak Salvi

. Co-founder and COO. According to the website, he has more than 20 years of industry experience.

Sumit Gosh

. CEO and chief of product growth. Scaled his first startup to $9M revenue.

Biswatma Nayak

. Co-founder and CTO. Has built 15 social media automation tool, dating apps and scaled them to 1M users.

Aditya Kothari

. Co-founder, COO, and chief of strategy. Created strategies to build, launch, and scale several B2C companies.
You can find more information about Gari Network's team here.
Reasons for GARI's growth
The GARI token entered the market in January 2021, as shown by data on CoinMarketCap. At that time, the asset was trading at $0.6768 and reached a historical high of $0.8901 a month later. However, the token now costs just $0.06288, which is 92,94% lower than the peak value.
Gari Network
(GARI)

Price

$0.051

Market Cap

$10.05 M
During the last day, GARI grew by 30,95% — from $0.0504 to $0.066 — which allowed it to reach the top daily gainers.
Top 5 Daily Gainers

1. $GARI: +33.82%
2. $PERL: +18.62%
3. $TROY: +14.44%
4. $KAVA: +11.07%
5. $DPET: +10.36%$GARI and $PERL, are currently leading the Top Gainers on ONUS with an increase of 33.82% and 18.62%, respectively. #Crypto #CryptoNews pic.twitter.com/Spn7tMiio6

— ONUS (@ONUSFinance) March 9, 2023
As for the reasons for this growth, one of them may be Crypto.com's post about the GARI raffle. According to the announcement, all blockchain content creators and Gari Network supporters can win a portion of the $100K prize pool at GARI.
Win a portion of the US$100,000 total prize pool in GARI by empowering the blockchain creator economy
Deposit, buy, or trade GARI to participate
Open to new and existing users

Learn more ☞ https://t.co/3Ai9Or6YB9 pic.twitter.com/z9KaYQDA1k

— Crypto.com (@cryptocom) March 8, 2023
Another reason could be the growing interest in the platform due to the possible ban of TikTok in the U.S. and Canada. According to Reuters, a U.S. House panel approved the bill, giving Biden the power to do it. Thus, there may be space in the market for a new player to occupy the video entertainment production niche.
The Chingari platform already competes with TikTok, so if it gets blocked, the choice could fall on a blockchain-based product. For comparison, TikTok is now valued at $300B and has a user base of over 1B users, while GARI has a market capitalization of only $62M so far.
Chingari launched in 2018 in India after TikTok was officially banned from the country. If the same thing happens in the U.S. and Canada, users will be looking for somewhere to move to. According to trader Romeo, if that occurs, GARI's market capitalization could increase by more than 100 times.
6/ Chingari was released in 2018 but became #1 in India after TikTok was officially banned.

If a similar move happened in North America, users will try to flock to platforms that are already big and functional like Chingari. If this happens, this $12m marketcap can 100X+

— 𝕽𝖔𝖒𝖊𝖔 (@RomeoTrades) March 2, 2023
As part of the current growth, when the token reached a daily peak, everyone who bought in advance made about 65% profit. If the TikTok platform is purchased, the numbers are likely to be much higher.
$GARI as i told you earlier we will keep it for mid term and do dca.
Hope you bought it's all dips with me.

Finally we made around 65% profit in it, our patience paidoff. pic.twitter.com/LgEClKU87o

— Kucoin Gem Signals (@Kucoin_Gems) March 8, 2023
What makes the GARI token unique?
However, even if TikTok gets banned, users will only move to a quality and competitive platform. That's why Chingari has so much to offer to begin with. Here is what the creators are ready to offer or plan to implement into the app:
NFT Videos

. There are NFTs on the platform that users can buy for GARI.

Tipping

. Users can use GARI to tip their favorite content creators directly from the video feed.

Boost

. Creators will be able to boost their accounts while making the payment for the service through GARI.

Token gated access.

The token holders can access exclusive content on the app by staking GARI on creator pools.

Governance.

GARI holders will decide the future direction of the Chingari.

Live streams

. This option will be available only for those staking GARI or buying NFT.
Do you think Chingari has any chance of replacing TikTok if it gets banned? Are there any other blockchain platforms that can do this? Write about it in the comments.
We previously reported on video hosting service Verasity, which runs on a special proof-of-view consensus algorithm and aims to carve out a niche in the online video and gaming economy.

Why is the VRA coin rising in 2023?