We discuss the specifics of artificial intelligence's (AI) penetration into the crypto industry. In crypto, AI has found two application points: in the form of AI robots for trading as well as in the form of AI tokens that represent relevant projects and services. We review the status of these two areas, which are in the early stages of development.
What is AI trading?
In order to discuss AI trading itself, we need to cite its differences from the already-standard algo trading, with which it is constantly confused. In both cases, bots are trading, but the differences between them are significant.
Both traditional algorithmic trading and artificial intelligence trading are solutions that trade automatically and execute trades hundreds of times faster than the average human trader can. The important difference is as follows: AI trading takes automation capabilities to a whole new level.
The brand new newsletter with insights, market analysis and daily opportunities.
Let's grow together!
In algorithmic trading, systems cannot learn on their own. A human needs to do an analysis on his own beforehand and give the computer a set of instructions (or create a complex model) to follow. It turns out that the human is still involved in the trading strategy, while an algorithmic robot is its executor and trades at an incredible speed within the framework of the rules assigned to it.
AI-trading is the use of machine learning capabilities in an attempt to proactively adapt to changes in the market. When trading using artificial intelligence, the machine itself automatically updates trading algorithms in a single cycle, forming a strategy and processing all trades. It learns from its trades as well as from what happens in the market. The role of man is reduced here to service functions only; he is no longer the center of decision-making.
So even though algorithmic trading (also known as high-frequency trading) is constantly confused with AI trading, the difference is actually huge, like between a paraglider and a modern airplane. Algo trading is already widely used and hasn't been exotic for a long time, but artificial intelligence trading is not yet widely used, and here's why.
What's wrong with AI trading?
Even in the area of traditional trading, AI-powered bots have not yet become very popular. The large-scale use of AI in trading is limited by training problems. After all, such a robot must first be trained on the work of a specialist or on relevant patterns, and trading itself is still a rather irrational science. 
So far, there are few traders who could be a successful model for training because their actions are often quite irrational (for example, one and the same figure of technical analysis can be interpreted completely differently by two different traders). AI is most successfully applied to well-formalized tasks, such as reading and writing. This does not mean that AI cannot be successfully used in trading; it just means that its successful implementation will require more time for learning.
If we talk about crypto-trading, AI will not be used in any serious way in early 2023; at least, there are no known public solutions. But this, of course, is only a matter of time, probably 2-3 years. Even now, we have to be prepared for the fact that when such systems enter the market en masse, it will be more difficult for an ordinary person to participate in trading because the intensity and complexity will increase significantly.
The AI token phenomenon
The second point of artificial intelligence (AI) penetration in the crypto segment are the so-called AI tokens. Most often, these are ordinary tokens of various AI-related projects; the tokens themselves do not have any intellectual functionality (as one might imagine); they simply act as stocks of relevant projects.
AI cryptocurrency tokens are riding a wave of interest right after the release of the ChatGPT chatbot surprised people around the world. ChatGPT's obvious capabilities demonstrate the potential of AI to revolutionize many aspects of life. This is why some consider AI tokens to be the next big thing in crypto. Before the hype associated with ChatGPT, they had minimal capitalization and were not even in the top 100.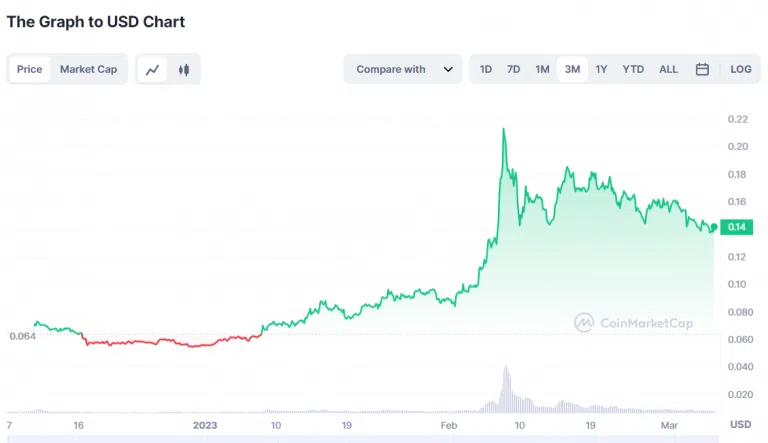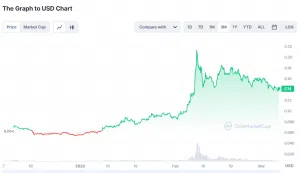 And even with the obvious wave of hype, in the current top ten, only one project out of ten has a capitalization of more than a billion dollars (it is The Graph, GRT). At the same time, to assess the quality of this best-in-segment asset, this leader at the moment has lost 95% of its peak price. 
That is, even in a state of rapid growth and hype, the market is small, which usually means the unproven concept of the project and the lack of liquidity. In other words, the AI-token market is young, and there are definitely no large investors in it yet.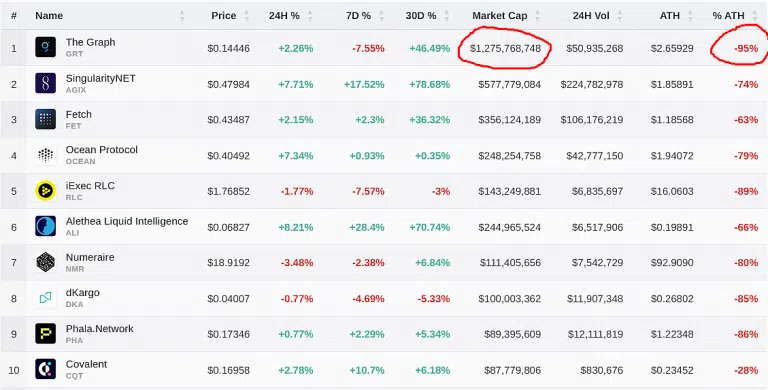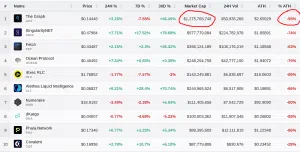 Low liquidity in the market as usual gives strong volatility, which often creates pseudo-sensational headlines, attracting speculators to the market. 
However, on the other hand, investing in such a young market involves not only high risk but also high reward in case of success because the growth potential increases manifold due to the inflow of the first large amount of capital, which provides a significant percentage increase in such small markets.
Top 5 AI tokens by market cap
Despite all the objective problems of this small and volatile market, many still see AI tokens as the next sector to boom, leading to the speculative fervor of investors seeking to enter the market early on. Therefore, here is a description of the top 5 AI tokens by capitalization.
Graph
Graph is a data query indexing protocol for networks such as Ethereum and IPFS, enabling many applications in both DeFi and the broader Web3 ecosystem. This protocol has the largest capitalization and has proven to be really practical (though some rankings do not put this project on the list of AI projects where it is minimally used).
SingularityNET
SingularityNET is a blockchain-powered platform that allows users to "create, share, and monetize" AI services. Through the SingularityNET marketplace, users can browse, test, and purchase a huge variety of AI services using the platform's native utility token, AGIX. 
Fetch
Fetch is an AI lab building an open and decentralized machine learning network with a crypto economy. The Fetch.AI model is rooted in use cases like optimizing DeFi trading services, transportation networks, smart energy grids, and travel (essentially any complex digital system that relies on large-scale datasets). 
Ocean Protocol
Ocean Protocol is a blockchain-based ecosystem that allows individuals and businesses to easily unlock the value of their data and monetize it. Through Ocean, publishers can monetize their big data while preserving privacy and control, while consumers can now access datasets that were previously unavailable or difficult to find. These datasets can be discovered on the Ocean Market, where they can be purchased and later consumed or sold.
iExec RLC
iExec is the leading provider of blockchain-based decentralized computing. Blockchain is utilized to organize a market network where people can monetize their computing power as well as applications and even datasets. It does this by providing on-demand access to cloud computing resources. 
A short summary 
As in all crypto-markets, where thousands of projects exist at a time, only dozens will survive in the end (as it was, e.g., during the dot-com crisis).
This statement is also true for the AI-tokens market, where many projects have nothing but impressive descriptions and are traded on token exchange. At the moment, AI tokens are characterized by incredible volatility, when a project can lose most of its capitalization in a couple of days (but also quickly grow for unknown reasons), which only suits short-term speculators. But it is certainly worth monitoring this market and picking projects with a real team and prospects.
It is worth recognizing that the real AI market leaders have nothing to do with crypto yet. For example, the famous ChatGPT project, which gave rise to this hype, recently introduced a monthly subscription with a fee of $20, but not in crypto. 
As for crypto trading, the race has already begun; AI is unstoppable. There are only a couple of years left, and eventually AI trading will radically change the trading profession (as well as the entire market).