Reuters reports that U.S. prosecutors are considering charging Binance and its management with possible money laundering and sanctions violations. However, Binance itself denies the Reuters information, saying that this is another FUD.
Binance may be accused of money laundering and sanctions violations
According to Reuters sources, a disagreement between U.S. Justice Department prosecutors is delaying a criminal investigation into the largest exchange, Binance, and its CEO Zhao (the investigation began back in 2018 and is focused on Binance's compliance with U.S. anti-money laundering laws and sanctions).
Reuters: Splits between U.S. Department of Justice prosecutors are delaying the conclusion of a long-running criminal investigation into the Binance. The investigation began in 2018 and is focused on Binance's compliance with U.S. anti-money laundering laws and sanctions.

— Wu Blockchain (@WuBlockchain) December 12, 2022
The brand new newsletter with insights, market analysis and daily opportunities.
Let's grow together!
Attorneys for Binance held meetings with Justice Department officials. Among the platform's arguments is that a criminal prosecution would hurt the cryptocurrency market (especially given Binance's strengthening position in the wake of the FTX crash). According to sources, prosecutors in Seattle have enough evidence to prepare charges not only against Binance, but also against Zhao personally. 
Per Reuters: During 2022, Binance kept weak anti-money laundering controls, processed over $10B in payments for criminals and companies seeking to evade U.S. sanctions, and plotted to evade regulators in the United States and elsewhere. Not surprising. https://t.co/lI45KEF1nN

— John Reed Stark (@JohnReedStark) December 12, 2022
So far, the decision is in the process of agreeing on a common position within U.S. government agencies. Binance has been denying the Reuters report, claiming it's another FUD, though one should be at least cautious with such statements, as FTX also denied the possibility of its bankruptcy until the last moment.
Reuters has it wrong again.

Now they're attacking our incredible law enforcement team. A team that we're incredibly proud of – they've made crypto more secure for all of us.

Here's the full statement we sent the reporter and a blog about our remarkable law enforcement team.

— Binance (@binance) December 12, 2022
Binance has suspended the withdrawal of some assets
The world's largest cryptocurrency exchange announced that it has temporarily blocked some of the accounts that managed to earn on the recent abnormal volatility of several cryptocurrencies. Binance explained its actions by "abnormal price movements in certain trading pairs."
The exchange team decided to hedge against the backdrop of an incident that happened the previous day, December 10, when Cosmo (OSMO) prices on Binance instantly increased by 460% and then fell to almost previous levels. Binance CEO Changpeng Zhao assured that the exchange is investigating the abnormal volatility of prices related to the "behavior of the market."
The Block: Binance locks withdrawals for some accounts amid what CEO calls 'just market behavior' https://t.co/ohrBwYNi76

— Digital Assets Daily (@AssetsDaily) December 11, 2022
How can I make money on this?
As you can see, because of this news, the exchange rate of BNB has fallen sharply: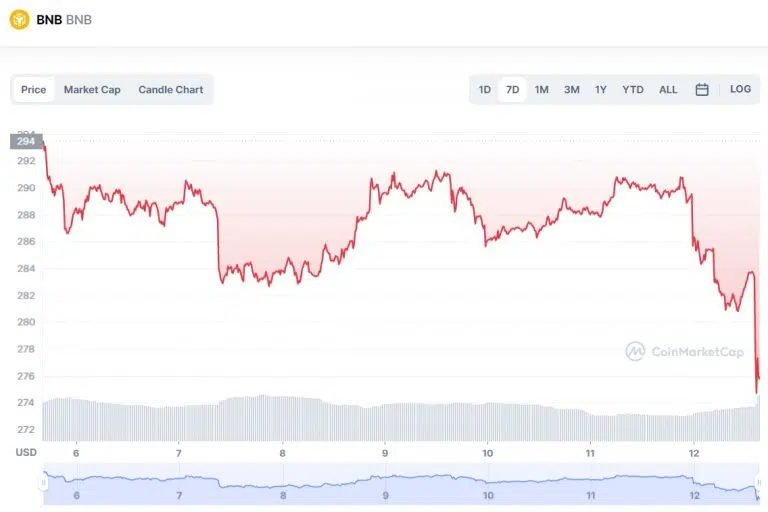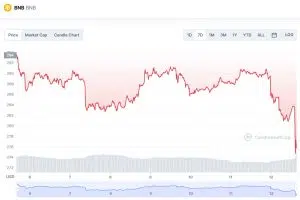 At this point, you can't risk to short, but you can try to buy back the DIP, if you think that this asset is valuable and you believe in the future of Binance. We wrote many times that BNB has excellent perspectives and Binance might be the only one who emerged the winner out of the FTX fall. However, it is impossible to foresee all the force majeure, so act at your own risk.