On February 2, we had an AMA session on Twitter about how to make a successful Web3 game. We talked to Kieran Warwick, co-founder of the first AAA crypto game, Illuvium. And the talk was so great that we decided to publish not one but a few texts based on this discussion.
Here we publish the very first material from this series — about Illuvium itself: what to expect from the game, when it comes out, and how to make money from it. And the full version of the AMA can be found here. 
What is Illuvium? A brief note
Illuvium is a AAA Web3 game built as a sci-fi adventure with playable characters. The universe of Illuvium includes three games: (1) Overworld, where one can explore a new fantasy planet; (2) Arena, where one can battle in multiple Player vs. Player modes; and (3) Zero, where one can build their industrial complex and develop it.
AAA game created in two years: how the magic of decentralization works
"We've got 135 full-time contributors that are working on Illuvium. We call them contributors because we're a DAO," says Kieran. It means that they don't have a company. It's "a living organism with people from around the world building exceptional products and no entity behind it."
Kieran thinks this is the main reason why they have been able to build the game so quickly.
"Instead of people working nine-to-five, we've got people whom we incentivize with tokens," he explains. "And so often, contributors will work two days vs. one day in a traditional studio."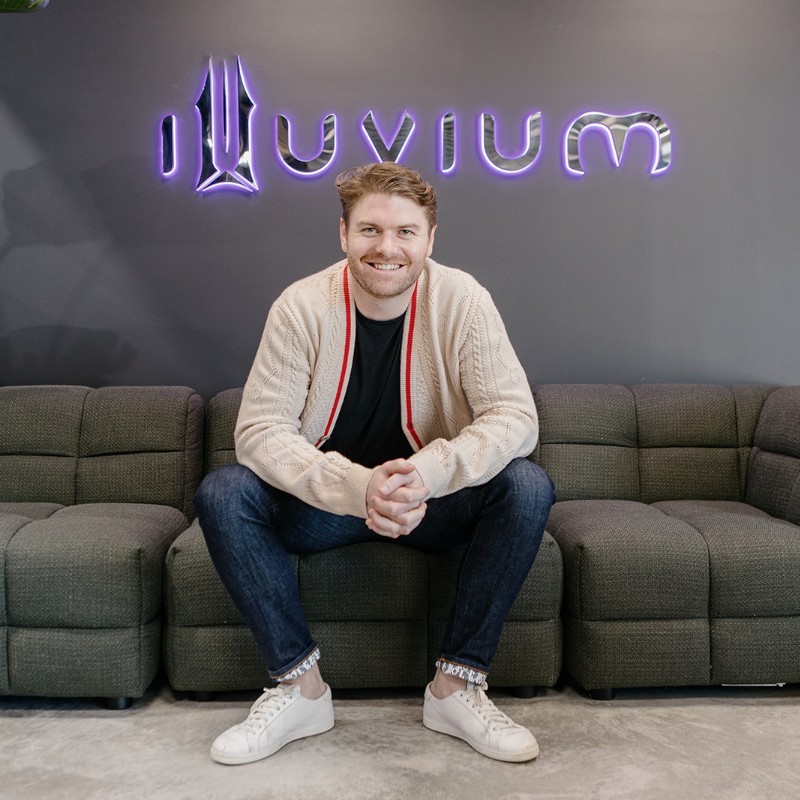 He adds that they are also very open and transparent with their contributors, letting them do what they do best and allowing people to work from wherever they want in whatever style. "Because they are the experts at the end of the day."
It's proven to be highly effective: in eighteen months, they've got three games that are currently available in beta or early access. 
Who is Illuvium made for — gamers or crypto-enthusiasts?
Kieran describes Illuvium as "games where you have the potential to earn." But he emphasizes that the possibility of earning is an ancillary benefit and not the main thing. "We create a game that is first of all competitive and immersive," he explains.
That also means there are two routes you can take with Illuvium:
If you are a gamer and don't care about crypto

, it will be the same experience as you're used to in a traditional mainstream game. You download the client, log in with your email and password, and start playing. 

If you are Web3-savvy

, you can connect your wallet from day one and start playing. Connecting wallet will mean capturing more powerful Illuviums, buying land, playing tournaments, and winning prize money in ILV (Illuvium token).
Kieran says it was hard to balance those two audiences, but they are proud they made it.
"Anyone can build a lackluster title with huge rewards systems and economies that aren't sustainable," he shares. "You get a whole bunch of users, but it doesn't last, so we're trying to get away from that."
That is why all Illuvium games are free-to-play, and that is also why they might have more users from Web2 than usual crypto games.
"If you take Illuvium Zero, for example," explains Kieran, — "there's now only the potential of 100,000 players aimed to earn with a total addressable market size of 30-50 million. That means we'll have a huge number of players purely playing for fun."
Illuvium: Gameplay Reveal Trailer
Mechanics of Illuvium: what makes in-game assets valuable
Kieran claims that to reach more users, a game creator needs to provide a scarcity of assets.
"Just like NFTs derive their value from scarcity," he gives an example. "And in Illuvium's case, we have a bunch of different mechanisms to ensure this scarcity."
Here are a few examples of those mechanics:
A user only has a finite amount of time to collect assets (for example, characters). Then there will be a new set, and the user is never able to go back and capture these assets again in the overworld.

A user can fuse assets by burning three NFTs to make a stronger, more powerful, and more effective NFT.

Lastly, each character is tied to a bonding curve, which means the chance of encountering that character once it's been captured is lowered. 
With such an approach, there's no end date or time horizon for Illuvium, thinks Kieran.
"If everything goes well [with] the game's popularity, people will continue to play, and we will have ongoing sets," he says. "That's similar to World of Warcraft, for instance: their fan base is still playing games now."
In the first set of games, there are going to be ~185 Illuviuls. Some will utilize the same character but give it different abilities, affinities, or classes. Still, they will have 50-60 different brand-new characters.
"It'll be just as fun in set 10 as in set 1," states Kieran.
Tokenomics of Illuvium
"Our tokenomics are unique in that we distribute all in-game revenue back to stakeholders — we are the only game with that model," says Kieran. "As users enter Illuvium and start spending money on different functions throughout the games, all revenue goes inside the vault."
That vault then triggers periodically, and it purchases ILV back from the market and distributes that ILV back to stakers.
"The whole idea behind these distributions is to make it a decentralized entity," explains Kieran. "The only way you can stake is by purchasing the ILV token, and if we achieve our goal of generating millions in ETH, it will become a fairly compelling system."
They then use that ETH to purchase their token off the market.
"And if people decide just to bank that ILV and swap it, so be it. But we think there's going to be a large portion of people that maybe take 20% off the table and stake the rest because they want a larger portion of next week's distributions," shares Kieran.
They also have token incentives in Illuvium: 30% of tokens can be yield-farmed and get rewards through staking. "We built that in a way where you can lock up your tokens, and the longer you lock up, the more yield you get," explains Kieran.
They also took that one step further and decided to create a pool of in-game yield. With it, they now have a 40% supply across the DeFi and in-game, which is 90 million dollars of player incentives.
Why is it worth it to start playing Illuvium early?
While Illuvium is not a play-to-earn (P2E) Web3 game, where early means better in the context of earning, there will still be advantages for early players.
"There will be assets through each set that comes out, but you will only be able to get them if you're playing at that time," Kieran says.
For example, there might be a character who might be considered quite lousy in the first set — maybe there's a whole bunch of fire characters in that set, so you're not considering them to be of much value.
But then set 2 comes out, and in that set, there's a limited amount of fire Illuviuls. All of a sudden, something that wasn't very sought-after, then became super valuable.
"And then that continues in every single set that we release," sums it up, Kieran.
As Kieran says, a definitive date for launching Illuvium is not yet known, "but it will be in 2023." They are also going to announce a new trailer before launching.
An interview with another member of our AMA, Valentin Cobelea from game studio Zilliqa, about the development of the first Web3 console and crypto analog of Steam, will be available soon on our website.