In the world of cryptocurrency, there are always opportunities for investors and traders to capitalize on. Here are three potential options to keep an eye on.
Opportunity 1: Buy $MATIC
Santiment states that from January 21 to February 19, the network was trending downwards while $MATIC was trending upwards (left side of the chart). This bearish divergence caused the asset price to fall 40%. 
But since March 10, the network growth has been going up, and the price of $MATIC is consolidating (right side of the chart). According to the rules of technical analysis, this time the bullish divergence is very likely to lead to an increase in the price of the asset.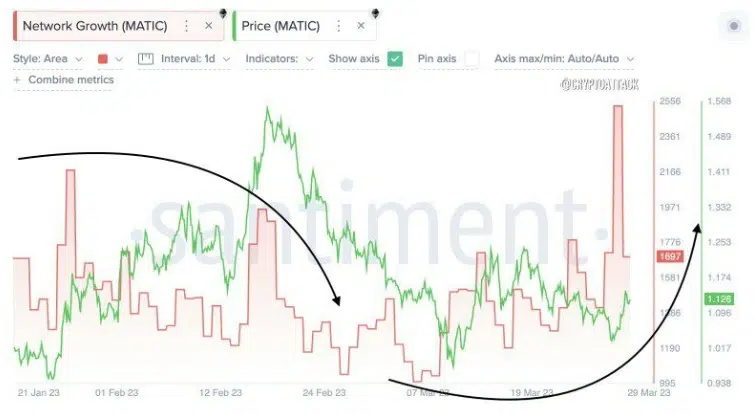 Opportunity 2:
five ways to claim a potential drop from Arbitrum Nova
Arbitrum Nova is a Layer-3 solution for Arbitrum that targets the NFT and Play-To-Earn (P2E) sectors, as it needs a lot of small and fast transactions to scale. Arbitrum Nova provides even lower fees and faster transactions than Arbitrum. There are already a lot of rumors that, in the near future, there may be a launch of its own token, NOVA. 
How to become a potential drop claimant?
The brand new newsletter with insights, market analysis and daily opportunities.
Let's grow together!
The release date of the token is unknown, so it's not worth trying to do all the activities as fast as possible.
Working from multiple accounts is not profitable, as you will lose out on every transfer across the bridge. So it's better to wait until GWEI is below 20. 
It's more profitable when you have a couple of accounts.
Opportunity 3: 
Bitcoin at $150k?
The current situation
BTC is out of a downtrend, crypto analyst CRYPTOMOJO_TA believes. The bull and bear markets after the last halving (in May 2020, at $8,601 per bitcoin) lasted about 1,000 days. If we take historical data, we can predict that BTC entered the next halving with a 50% drop from the top. Given that, bitcoin's price could be around $35,000 at the next halving (expected in the first half of 2024).
Currently, BTC has broken out of the bullish pennant and is trying to reclaim the previous resistance level of $28600. Reclamation of this level with a candle close above it would be a strong bullish sign for the market.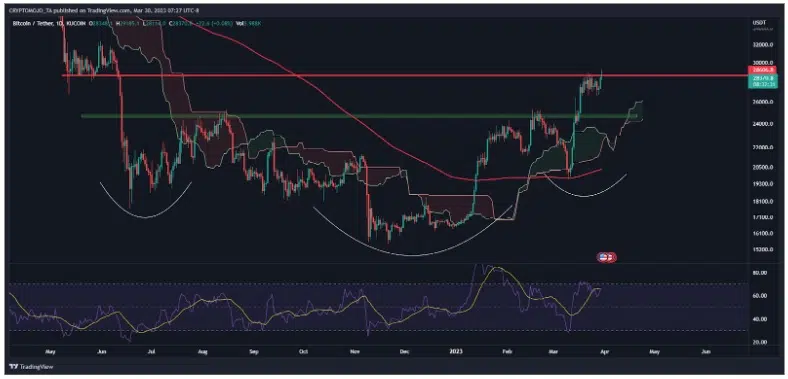 Short-term prediction for Bitcoin
Short-term holder SOPR (Spent Output Profit Ratio) indicates that since March 12, 2023, coins moved inside the network by short-term holders are again profitable. Market participants are reevaluating their attitudes toward the Bitcoin market. This is a positive factor for Bitcoin, but the rate at which the profitability of short-term coins (< 155d) is growing is far behind the growth of the Bitcoin price. If this contradiction persists shortly, it may create conditions for another rollback to $19,000-$21,000.
Long-term prediction for Bitcoin
Long-term prediction for BTC is 150k by 2025, and it won't go much higher than that. The BTC growth will slow down in the future due to halvings.