It all started in December, last year. A group of people who hated generic NFTs collections decided to create an NFT project.
"We were so pissed off by these ugly projects without artistic value or real utility and wanted to create something new, exciting, and useful," Dusan Zica, co-founder and CEO of the project, starts to tell me as soon as I connect to the call. I get comfortable in my chair as the story promises to be interesting.
What is the story I heard and am about to tell you? The story of the 2142 project, the world's first collectible NFT comic book with big plans for the future.

"I was never into NFT, crypto, or any of that stuff"
As he mentioned a few times, Dusan hated NFT collections.
"Majority of them are so ugly and sold only because of hype", he says. "Crypto, in general, is different, but as for NFT — a lot of them are scams."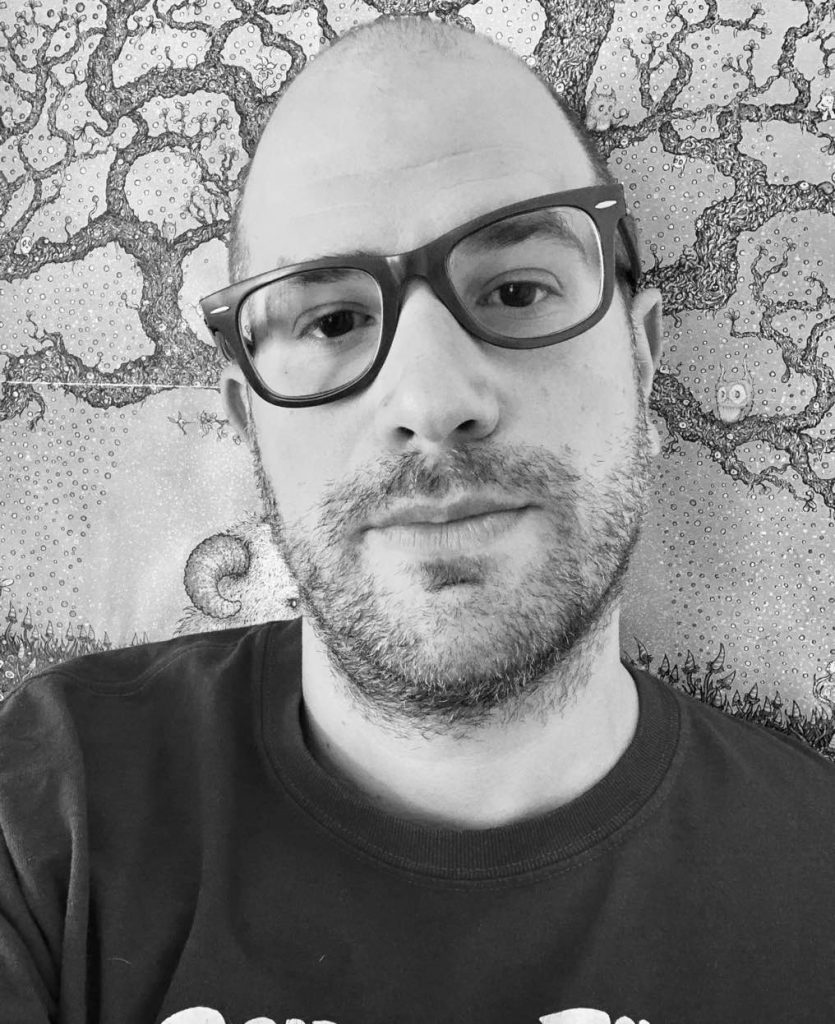 Dusan has many lines in his CV: he started by studying classical literature, then wrote ads for big brands for eleven years, and later moved into the video game industry. At this time, he started getting offers for NFT projects.
"I refused — I didn't even understand how the technology worked," shares Dusan. "Then my developer friend explained it to me. NFT is an item with a smart contract, he said. And the smart contract is a log tied to the blockchain. Blockchain is a very secure system that's why we can trust what's written in that log."
"When I realized that," Dusan continues. "I was even more surprised that such cool technology was being used to create some ugly and generic stuff."
He found people who shared his opinion and together they began to think about how to apply NFT in a new way. That's how the comic book idea was born.
Comic story vs. reality
The plot of the comic that the team is releasing also revolves around the blockchain myth and sounds like a crypto dystopia.
"Metaverse is the opium of the masses, and the last Bitcoin has been mined" — this is the short description from the website. When I read this, I immediately wondered if Dusan thinks that such a development awaits us in reality as well.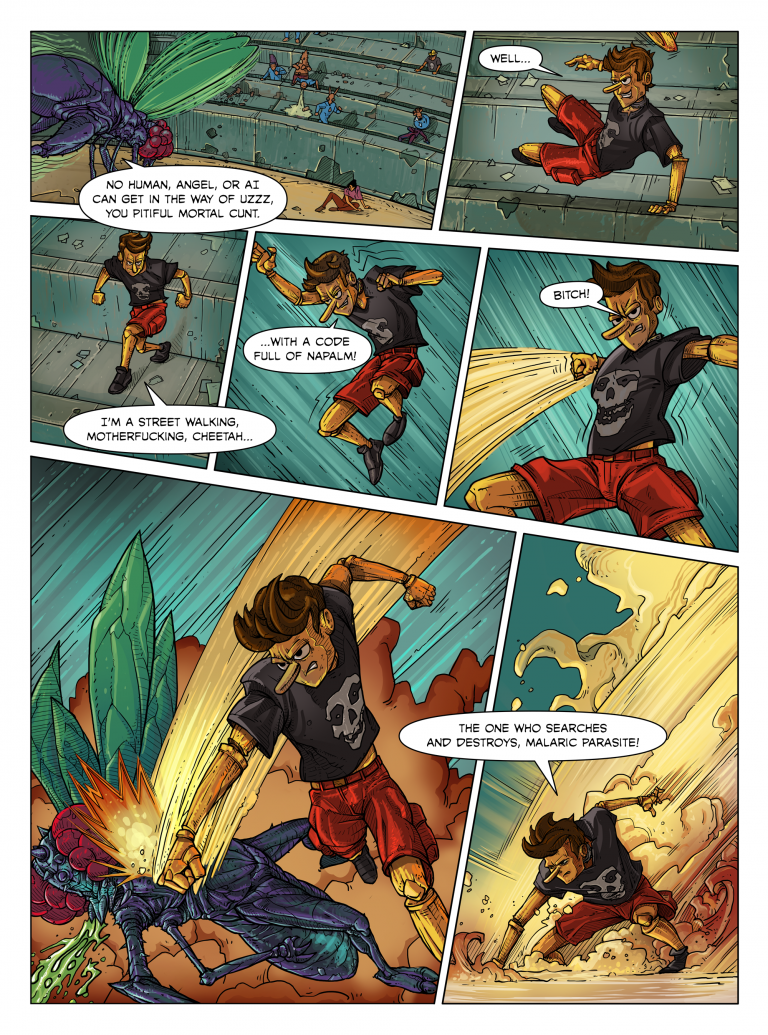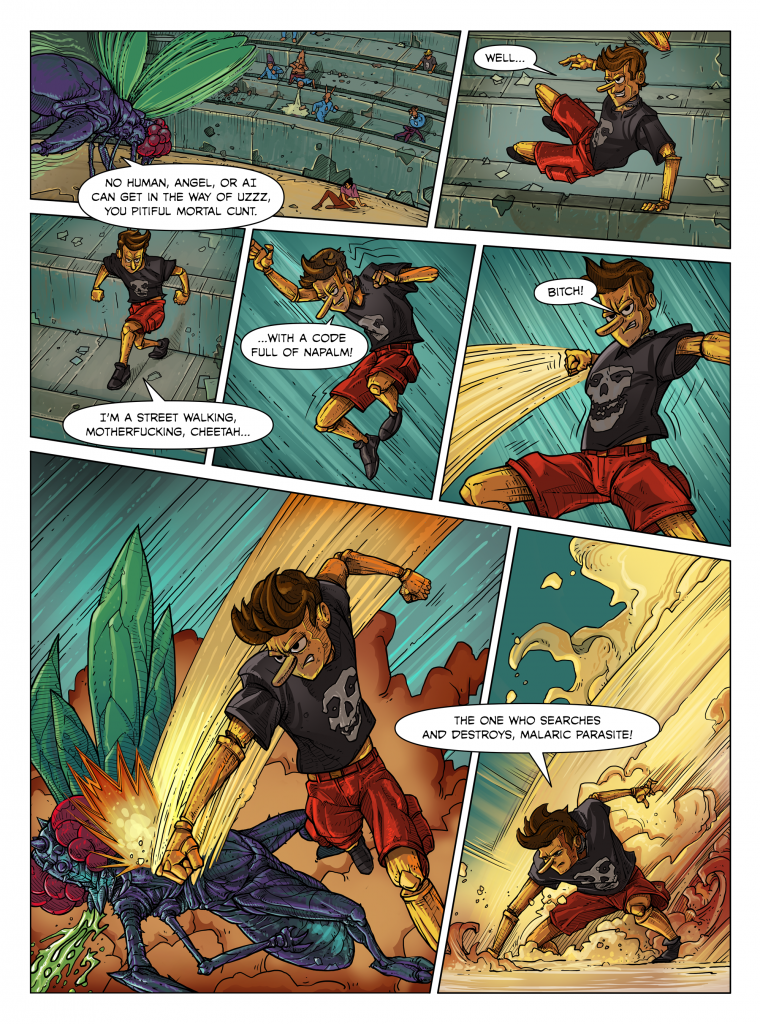 "Personally, I fear that we are going in such a direction," he admits in response. "The industry, innovative as it is at the moment, easily might end up completely overtaken by big players from the corporate world."
Dusan adds that dopamine-fueled social media and immersion provided by developing VR and AR tech also offer little room for a real revolutionary idea that will be utilized for the better good, especially in marketing-directed upcoming metaverse systems.
At the same time, even if the industry is dominated by the profit-driven corporate sector, there will be opportunities for indies and DAOs as well.
"I don't believe in 'industry.' But I do believe in an individual right to choose your way of life," Dusan shares. "We might be video game devs, marketers, and blockchain freaks, but I would always prefer scuba diving or tabletop RPG sessions, to the latest VR video game, even though I have had VR for years."
The comic book is just the first step
The team started the company to use NFT for completely different senses.
"We're not aiming to offer our NFT to typical flippers today and for a promise of selling them tomorrow for ten times the price. We have long-term targets and ideas surrounding the whole transmedia based on community insights and engagements", emphasizes Dusan.
Now they have an interactive comic book but it is just a first step for them: they are planning to make a video game in the end.
Trailer of the 2142 game
"We are going to achieve all our goals in 5 years, to launch our game, and in the meantime, we will be releasing different versions of transmedia for our fans in stages," Dusan says. For example, now they are working on a tabletop RPG in the likes of Kult, Cyberpunk 2020, and World of Darkness. And all stories — books, comics, tabletop, and games — will be connected.
"Whoever assembles the comic book issue and gets an airdrop reward for it will also get a piece of revenue share from the video game and items inside the video game," explains Dusan.
Going back to the comic, here's how it works now:
you buy bundles of 21 different NFTs — they are randomly generated and consist of pages, panels, and covers of the comic book;

when you assemble one book issue you get drop ownership — of a location, character, or item;

if you merge them, you get a unique and specific spin-off NFT comic book issue for you.
The team has already published the marketplace where you can buy and sell NFT items — panels, pages, and covers from the comic book. One bundle of 21 pictures (1 chapter) costs around $30.
"We didn't want to push people to buy more and more. So we made our own marketplace where people can sell or exchange duplicates to assemble the comic book," explains Dusan.
"We are not one-day butterflies"
Dusan says the bear market hit the company badly, but they expect it's going to be better next year.
"We have a long-term vision and a huge roadmap ahead of us. We also have partners that organize the TMRW conference which opens a door to networking and potential funding for us. We are already pitching for investments to grow our game dev team," he tells.
They also have 1,5k+ people in Discord for now — not much, but it is real people and not bots. "We are also proud that we are growing organically," adds Dusan.
He adds that the bear market and the downturn in the NFT industry prevented them from taking off so quickly, but they believe in the long-term success of this project because they are not one-day butterflies, they are willing to invest in this story and create a really interesting product.
"It is super exciting because the story incorporates the Satoshi Nakamoto myth. In our comic book, he's like a god practically and we're mixing cyberpunk tropes, and Bitcoin myths with the comparative mythology of Maya, Greek, Tibetan Buddhism, HPL mythos, and the idea of panspermia, and sacred entheogens," shares Dusan.
"NFT is just a technology"
The team considers their target audience not people who collect NFTs, but people who like good stories.
"I'm going to do creative stuff — some real products which people can have fun with. NFT is just technology for us. For me it's much more important to make a video game for gamers, not for the NFT guys," explains Dusan.
He believes that in five years many games would be on blockchain anyway. Scams will disappear and big AAA studios will enter the crypto. And he is proud to be one of those who start doing this instead of trying to make a quick buck on basic crypto games.
"I see a future when even people who are not into crypto can play with your game and everything blockchain related is in the background. And it's the future that inspires me."