BEN or scam? What you should know before investing — buidlbee analysis
The new BEN token appeared on the cryptocurrency market in May 2023 and has already generated a lot of interest among investors. At first, it was thought that the famous crypto-influencer Ben Armstrong, known as Bitboy Crypto, created it, but later it turned out not to be so. At the same time, some experts warn that the project could be a scam and recommend caution. We analyzed the BEN token to help our readers avoid possible trouble and find out if this project is worth investing in.
"Barks and adventure": What is BEN?
The protagonist of the token is a dog named BEN. He has just recently discovered the "exciting world of cryptocurrency" and, as such, has explored the possibilities of blockchain. His goal is to help people who are looking for ways to break out of the ordinary and come to something bigger.
"It can be risky, but I believe in it with all my heart and soul. Launching my own token can be a huge risk, but the risk is worth it. I know the market can be volatile and there are a lot of scammers, but I'm confident my token will be different. I'm not afraid of a challenge. I am willing to put everything I have into it, knowing that I could lose everything. But I am also aware that this could be the breakthrough I have been waiting for," states BEN.
The brand new newsletter with insights, market analysis and daily opportunities.
Let's grow together!
Thus, not hiding the danger of an adventure from something bigger, BEN invites everyone to join the journey without giving any more information. Yes, that's all the information that's on the website. Even less than half Shiba, which we reported earlier.
But it is necessary to note at once that since the moment of our article's publication, $Shiba0.5 site has visibly improved and gained more credibility. That's the reason we shouldn't judge BEN's page by how it looks now. Recall that only four days have passed since the launch.
Based on the name, many people immediately thought that the token was launched by the popular crypto-influencer Bitboy Crypto, real name Ben Armstrong. He soon refuted this information but admitted that he had decided to join it.
"I didn't launch the project. But I am now taking it over 100%. @eth_ben and I have agreed in principle to an agreement where all of the assets and liquidity for @bencoin_eth will be transferred to me within a week," Ben Armstrong announced.
Looking at the token's profile on CoinMarketCap, it seems like memecoin. At least the fact that the number of coins in circulation equals 420,690,000,000,000,000 BEN suggests such conclusions. Those figures are typical for tokens of this type. However, it is also worth noting that Bitboy does not consider Ben a meme token. According to him, BEN is not a memecoin but a "crypto adoption tool." Here's what the team plans to turn it into:
Government lobbying.

Public awareness.

Strategic crypto education.
What do you think about that?
Is BEN plagiarism?
This accusation was made by a user under the nickname Lil Vitrivius. According to him, the creators of BEN copied another token called JEFF.
"So BEN took over JEFF hype, copied it, made it it's enemy, took most of its liquidity and now Bitboy is dumbing on his followers, talking down to people who disagree with him and claiming that having 1M followers gives him the authority to abuse JEFF and everyone else," he said.
The blogger's reaction was not long in coming, and soon he published a tweet in which he wrote "Shut up Jeff" and suggested that the accuser find a dumping transaction. Lil Vitrivius himself did not respond with any findings, but some other users analyzed the BEN and called it "questionable."
By the way, this does look strange.

I checked $BEN with @DeDotFi Web3 Scanner and it actually looks questionable pic.twitter.com/jUF0m8FlPo

— Mark.eth ⟠ De.Fi (@DEdotFI_eth) May 10, 2023
It is unclear what the plagiarism was, if there was one. Both tokens have different features and are generally dissimilar. However, the comparative chart shows that JEFF began to lose market share immediately after the release of BEN. The launch of the latter took place just a day later.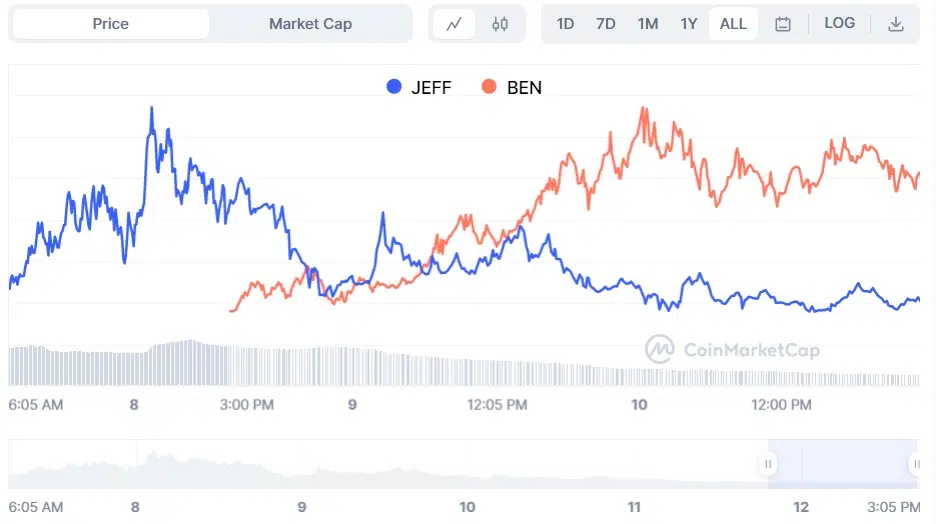 BEN current price
However, despite a seemingly successful start, the token is in decline. So, at the moment of writing this article, the asset can be bought at $0.00000005122, which is 17,16% lower than the day before. But, taking into account that most of the market is down on this day due to low liquidity, a crackdown on the industry from regulators in the U.S., and macroeconomic headwinds, this decline may be temporary and have nothing to do with the token itself.
Ben
(BEN)

Price
Market Cap
Bitboy Crypto itself is convinced of this.
"I don't care about the price of BEN in the short term. I'm happy for users that price went back up, but the vision and execution will be what separates us from the pack. Over the long term, I'm very confident it will organically go up when people see what we are doing," he said.
It is impossible to know for sure whether the token will grow or not. Therefore, as always, all projects must first be thoroughly analyzed. This reduces the likelihood of getting caught by fraudsters. In particular, it is worth noticing when an asset is praised while it is falling. Bitboy made a helpful repost of a post by a user nicknamed Jon_HQ, who compiled his own list of "red flags." They can signal that the creators of the project want to get hold of your funds and how to avoid it. Read below what he suggests.
How to avoid losing your memecoins due to scams:

1: No one will ever DM you with a way to claim more coins. It's a scam.

2: Don't click links without checking, make sure you're looking at the official account first always. Follow up by checking a second source for confirmation,… pic.twitter.com/idJMdEwY6a

— Jon_HQ (@Jon_HQ) May 10, 2023
Is BEN a scam or not? Conclusion
As with other cryptocurrency projects, it is important to keep in mind the risks and possible unreliability. Before investing, it is necessary to carefully study all available data, conduct a risk analysis, and make your own estimation. Also, it should not be forgotten that there are many unreliable projects in the cryptocurrency industry that are in the process of dumping. Despite the fact that they are being promoted by a celebrity.
So, earlier, we published a list of influencers that you should and should not trust when analyzing the market. Despite the fact that they are being promoted by a celebrity. In the best case, you will be misinformed and lose time, and in the worst case, you will lose your savings.
Meanwhile, the BEN project is developing, and according to Bitboy, it has a bright future.
"I will have much more on the BEN transition in the coming days. There will be some exciting things coming and I can promise you the future of this project is very bright. We will be releasing a roadmap in the next two weeks. And people will finally see the vision," he stated.
And whether or not it is, we will find out very soon. Do your own research, guys, and keep your money safe!