Terra Classic (LUNC) rose 5,32% over the last 24 hours from $0.0001618 to $0.0001704. Last year, the token crashed from $120 to $0.02 (-99%) due to the failure of the UST stablecoin. The fall of the coin was one of the biggest market shocks of 2022, which started the crypto winter. 
The sudden jump after a one-week drop of almost 2% is small, but given the reputation of the token, it provokes questions about the future of the coin whether it will be able to grow and compensate for the loss of its holders. We tried to answer them.
Compared to yesterday's low ($0.0001593) and today's high ($0.0001767), the difference is +10,92%.
What is Terra Classic?
Terra Labs was created in 2018 by two entrepreneurs, Do Kwon and Daniel Shin, with the goal of developing De-Fi projects.
The blockchain was managed by two coins: LUNA, for staking and network management, and UST, a stablecoin pegged to the dollar. Because Terra used a dual-token system, UST and LUNA were linked. That is, an equal amount of LUNA was burned to create a new UST. Thus, one UST coin could be exchanged for a LUNA worth one dollar, and conversely.
In May, the Terra ecosystem collapsed because of the UST's de-pegging from the dollar, and with it, LUNA fell to record lows because of the linkage.
To resurrect the project, Do Kwon decided to develop a new blockchain called Terra 2.0. While the old project was renamed Terra Classic, it was decided to abandon stablecoin in principle.
After that, some of the developers left with Do Kwon, while others continued to develop LUNA Classic.
Why is LUNC rising?
According to Coingape, the reason why the coin began to grow suddenly was the news that Terra Classic's stake has risen to 900 billion. It is 13% higher than the previous figure. 
"After much effort from the Terra Classic community and developers groups, LUNC staking [when you lock assets for a set period of time to help support the operation of a blockchain] has increased with projects building on-chain and investors staking with validators

is someone who is responsible for verifying transactions on a blockchain," says Coingape.
This is not the first time in January that LUNC suddenly began to rise. On January 14, it became known that Binance would support Terra Classic's last update, excluding re-minting of burned

Sending tokens to a cryptocurrency address that is not controlled by any user. This effectively removes coins from circulation, which could theoretically have a positive effect on their pricing behavior LUNC tokens.
On Binance, 50% of LUNC is traded together each month. The company also supports the community with constant token burns.
"Binance had support the Terra/Luna project from the beginning, but had been very critical of its founders when UST imploded taking the entire ecosystem with it," says the Cryptonomist.
After the collapse of UST, Terra creator Do Kwon, and part of the team decided to develop a new blockchain based on Terra, called Terra 2.0. The remaining developers continued to work on the old project, which became known as Terra Classic.
After the founders of the project left and started to create Terra 2.0, the exchange immediately abandoned it in favor of the original project to support its evolution. 
After this news, LUNC rose from $0.0001677 on January 13 to a peak of $0.0001931 on January 14 (+15,15%).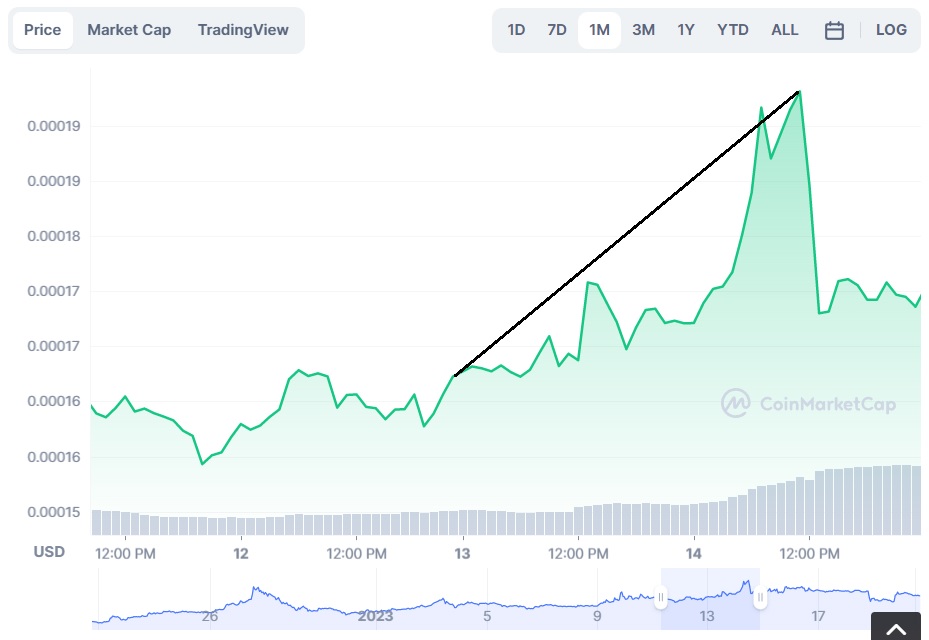 Current price
As of this writing, LUNC is trading at $0.0001701, up 5,91% from a day ago, but down 0,35% from a week earlier. 
Terra Luna Classic
(LUNC)

Price
Market Cap
Despite the current growth, let's not forget that the coin is still almost 100% below its peak in 2022. At that time the token was worth $116.42.  
In terms of market capitalization, the token ranks 45th at $1,021B. Before the collapse, the figure was $11B (-978,43%)
Predictions: will LUNC reach $1, or will the coin become worthless?
According to Crowd Wisdom, coin recovery depends on three factors:
Macroeconomic environment. As with all coins in the market, the economy will go up and the coin can go up. Don't depend on blockchain's developers.

Development of Luna Classic ecosystem. The community is expanding and new validators are appearing. The community plays a key role in the success of LUNC, but the project does not have enough money to add new features.

Differentiation/token utility. For now, Luna Classic is no different, and in some ways even worse than many tokens, in which the emphasis is already made on the variability of use. LUNC can only be used for staking so far.
Experts note that at the moment we can be sure that global changes are not worth waiting for. And if the coin will grow, then, mainly, only because of the improvement of general market conditions. But it will speak only about market conformity, not about internal superiority.
As for the technical equipment, there was a recent rumor that there were plans to merge LUNA and LUNC. Validator and crypto hypeman, as he calls himself, Mr.Diamondhandz1 explained why this would not happen.
According to him, at most, the project teams can cooperate, but as separate chains. Discussion of topics such as cross-stacking and cross-management takes place, but in the end, both projects will go their separate ways.
Attention $LUNC community. I'm still seeing some influencers and YouTubers saying there is going to be a "merge" of $LUNC and $LUNA. This is NOT true and NOT possible. @Jared_TFL confirmed it's not possible to combine two Cosmos chains. Read below

— Mr. Diamondhandz1 (@MrDiamondhandz1) January 15, 2023
However, if this were to happen, the event would cause the price to move in an unpredictable direction. In which direction? We will never know.
Can Luna Classic reach $1?
If we don't talk about the former heights, will Luna Classic be able to approach at least $1? According to experts, the token must grow 6,494 times for that to happen. Assuming the token grows 25% every year, it will take 38 years. However, experts don't think that will happen until developers activate the ecosystem.
The token cannot be called useless, either. LUNC, at least compared to many other altcoins, has its own blockchain, as well as a community

more than 30K people, according to two Twitter groups that continues to develop the project. But along with that remains the threat and risk of investing in LUNC, which is probably much higher than other tokens.
Are you investing in Luna Classic? Maybe the Terra 2.0 project is closer to you? Does LUNC have a future? Write about it in the comments.