PLEBToken, another meme coin, has grown nearly 3,000% since its release. The token achieved such success in just three days, which was made possible by the meme token hype that began in April. Let's see how this asset differs from its peers and whether it's worth investing in below.
By plebs, for plebs: token description
According to the official website, PLEB is a meme coin for plebs [ordinary people, especially those from the lower social classes]. Despite the negative connotation of the token's name, it is unlikely that the creators want to offend anyone. One must understand that it is a meme coin, so it must be treated accordingly. 
"Pleb is for the ones who can't catch a break. The ones who ape tops and sell bottoms and like to invest in rug pull scams. Look no further anon, Pleb is now your home, your calling," says the developers' statement.
Probably, the authors openly say that their coin is not for everyone but only for enthusiasts who are willing to take risks [not financial advice]. However, as for the PLEB token, the description says the coin is "completely safe for all plebs," because the total supply is 123,123,123,123,123.
The brand new newsletter with insights, market analysis and daily opportunities.
Let's grow together!
94% of all PLEBs were sent to the Uniswap liquidity pool.

LP tokens were burned forever.

The contract is renounced.
In this way, all token holders receive a guarantee that their funds will be safe. As for the remaining 6% of the total number of PLEBs, they are reserved for future listings.
Nothing is known about the project team, but as a rule, such tokens are community-driven. According to Web3 expert AltCryptoGems, the PLEB community is insane. And, apparently, the token is seen as a competitor to the equally notorious Pepe asset.
Recall that last week can be freely called memes week. During this period, the cryptocurrency market saw several powerful token releases, which made a lot of noise in a short period of time. Pepe, Wojak, and AIDOGE were the most high-profile assets. We reported more about them here.
The shilling in action: PLEB current price
The authors urge everyone interested in the growth of PLEB to shill – that is, in simple words, to promote the coin on social networks. And judging by the fact that the token entered Twitter trends (almost a million tweets), everything went according to plan.
At the time of writing, PLEB is trading at $0.00000005451, up 92,57% from a day ago. And since the asset's launch on "Doge Day," April 20, it's up 3162,8%.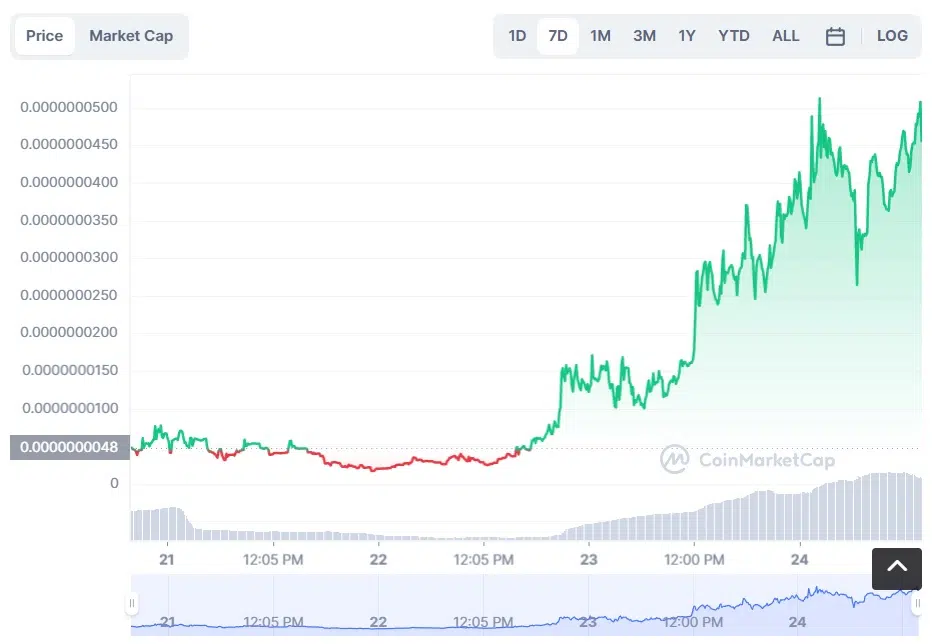 The token has just been launched, so it can only be bought on a few exchanges, namely Bitget and Uniswap. As for the latter, the official website gives a guide on how to buy PLEB (not financial advice).
Create a wallet

. Download and install a PLEB-friendly wallet on your browser or in your cell.

Get Ethereum

. PLEB is an Ethereum-based asset, so you need to buy some Ethereum.

Head over to Uniswap

. Go to the Uniswap

website

and connect your wallet. Paste the PLEM contract into the bottom box and click "I understand."

Swap ETH for PLEB

.

Done. 
Hopium: PLEB's price prediction
The success of PLEB depends on how long the hype around meme tokens lasts. For now, some conclusions can be drawn from such tokens. Earlier we mentioned Pepe and Wojak, and if you look at their condition now, they are in decline. Compared to the price at the start, they are still on the plus side, but those who bought later and held so far are probably now in a time of disappointment.
Pepe is down 20,55% in the last 24 hours.

Wojak is trading at $0.00009207 at the time of writing, down 33,56% from a day ago.
Earlier, both assets were showing growth of up to 250%. Considering a similar concept, the same thing can happen to PLEB: fast growth followed by an equally fast fall.
Now, taking into account the growth of PLEB and the growing interest in it, it is likely to rise in value for the time being. In this regard, we can also expect listings on other exchanges, which will also affect the price of the token.