Binance has listed and opened trading for Liquity (LQTY), with spot trading pairs LQTY/BTC and LQTY/USDT at 11:00 UTC on February 28. Withdrawals for LQTY will open on March 1 at 11:00 UTC.
LQTY listing fee: 0 BNB. In addition, Binance will add LQTY as a new borrowable asset with this new margin pair LQTY/USDT on Isolated Margin within 48 hours from February 28 at 11:00 UTC. After this announcement, the price of LQTY rose 107% and continues to soar (at the time of writing). Let's understand what Liquity is and why the listing made the price fly to the Moon.
LQTY's price has doubled
The Liquity tokens, LQTY, have doubled in value. At the time of writing, the price of LQTY has reached $2.74 (+107%), and the market capitalization has also increased by 109% to $251 million. Daily trading volume jumped 2258.82% to $97 million.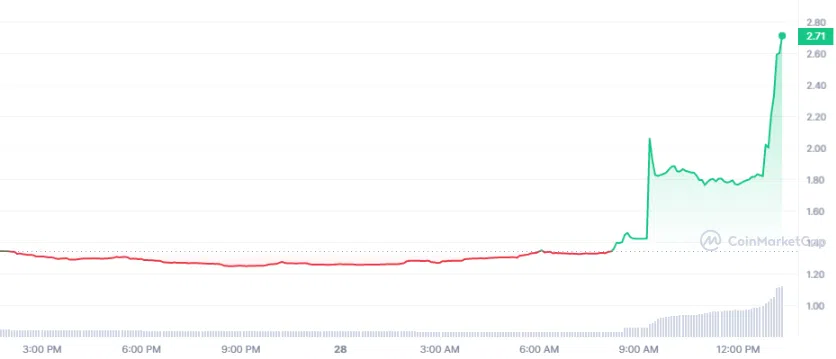 The most active tokens are traded on Uniswap (V3) in the LQTY/WETH (Wrapped Ether (WETH) is a token pegged to the value of Ether (ETH)) pair. This exchange accounts for 55.18% of all trades per day ($18,364,478).
The brand new newsletter with insights, market analysis and daily opportunities.
Let's grow together!
LQTY ranks first in the number of searches on CoinGecko, according to CryptoDep.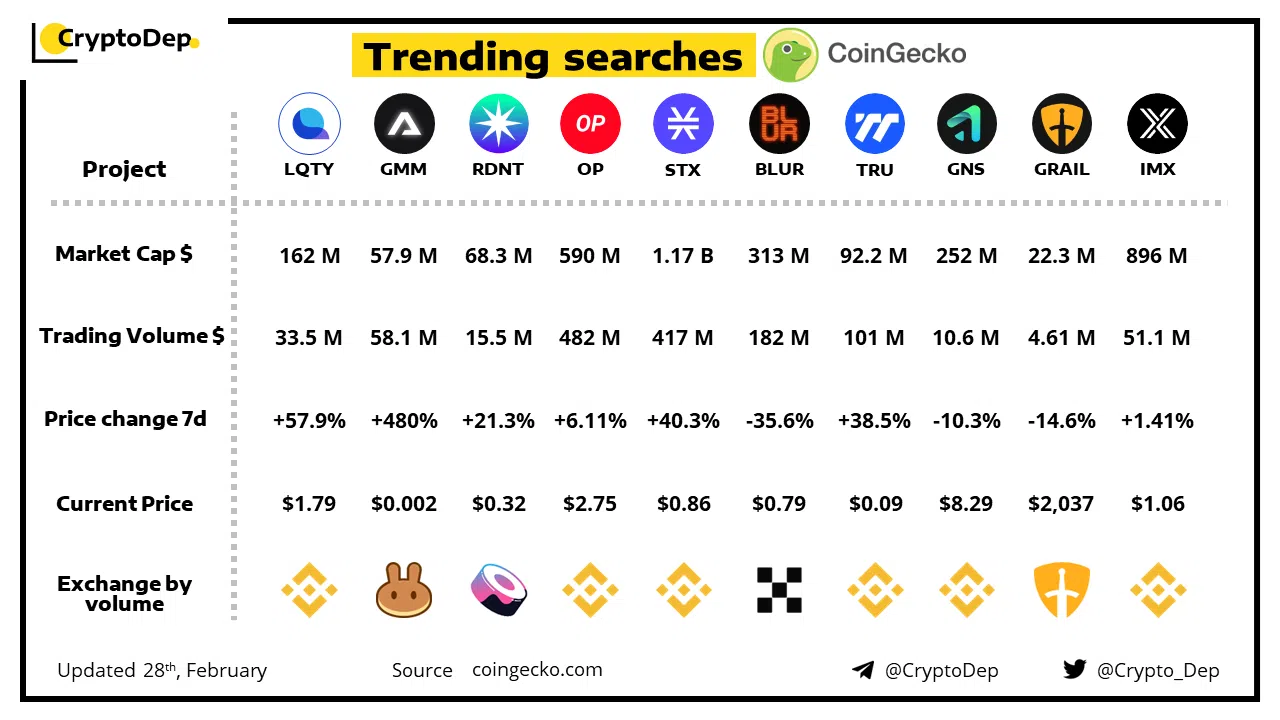 The lucky guy made $19,485 in just 20 minutes
Many traders have noticed that when they start listing on Binance, the price of assets rises by 20% on average. After that, it gradually decreases. That's why they actively hunt for information about upcoming listings.
According to Lookonchain, SmartMoney can always buy tokens as soon as they are listed on Binance's Innovation Zone (This allows users to trade newer token offerings from the comfort of their Binance account, while at the same time protecting less suited users from being exposed to the "risk" that comes with trading them.), and sell for a profit after the price rises. Notably, SmartMoney bought 105,384 LQTY with 180,000 USDC within seconds after the exchange's announcement.
After the start of trading, 105.384 LQTY was sold for 199.485 USDC. This address managed to generate 19,485 USDC in less than 20 minutes.
You call it smart money

I call it insider trading

We are not same bruh 😅

— Kumar Harshvardhan (@harshvardhan515) February 28, 2023
Since a similar situation was observed with the SYN token, there have been rumors of insider trading (not for the first time). So, the address bought 110,482 tokens for 150,000 USDC seconds before the listing began on February 22. And then sold 110,482 SYN for 185,610 USDC, making 35,610 USDC in 20 minutes.
Is Liquity USD (LUSD) a Binance BUSD replacement from Paxos?
Another reason for listing Liquity tokens (as per circulating rumors) is that LUSD (Liquity USD) is a replacement for the Binance USD (BUSD), which the U.S. authorities have banned Paxos from issuing. 
Liquity USD is a decentralized credit platform that accepts ETH as collateral and provides loans in the form of Liquity USD stablecoins (LUSD). LQTY is the utility token for functions such as staking and liquidity mining. The Liquity Protocol allows users to borrow at a minimum collateral ratio of 110%, which corresponds to a loan-to-value ratio of 90.91%. 
In under 24 hours of launching, the three $LUSD-related pools on @solidlizardfi have attracted over $3.2m in user deposits 😍 🔥

Check it out 👉 : https://t.co/RwQbAnUsFj pic.twitter.com/FtxHTjWy9W

— Liquity (@LiquityProtocol) February 24, 2023
Liquity's website states that the protocol does not use its frontend. It implies the integration of the protocol into other sites or exchanges.
According to An Ape's Prologue research group, RAI and LUSD are the most decentralized stablecoins, with no custodian risk and fully backed by Ethereum.
LQTY/LUSD advantages:
Unique proposition (a non-USD stablecoin).

Fully backed by ETH.

No custodian risk.

Slow and steady, Liquity continues to work on bringing LUSD liquidity cross-chain with their X-Chain Strategy.
Notable stats from Dune:
32.9% increase in LUSD supply in late January after six months of being flat.

Total staked LQTY constantly outpaces claimed (emission) LQTY.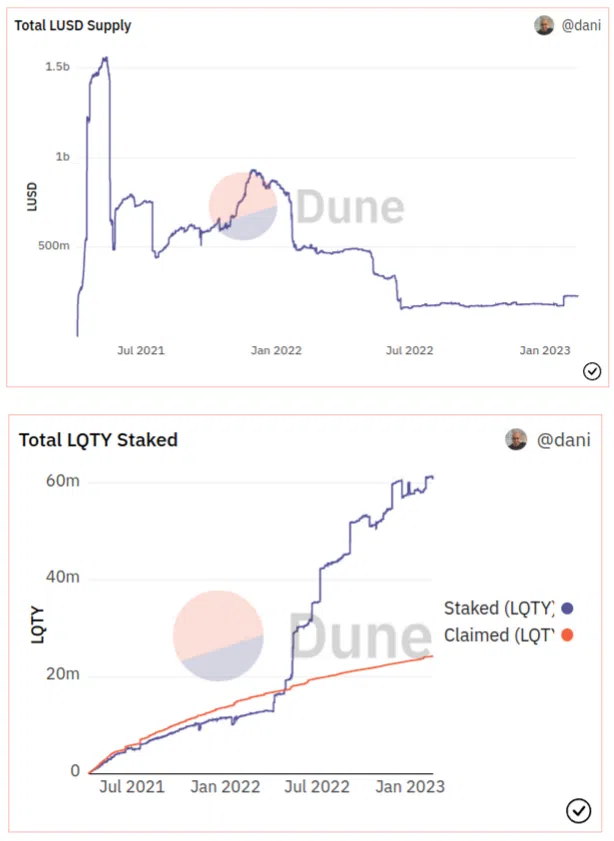 BUSD
(BUSD)

Price
Market Cap
Liquity USD
(LUSD)

Price
Market Cap
Liquity
(LQTY)

Price
Market Cap