Crypto.com, a heavyweight among global trading hubs, has announced that it will bid farewell to Tether's dollar-pegged cryptocurrency, USDT, on its Canadian users' platform, as per an email notification to their customers.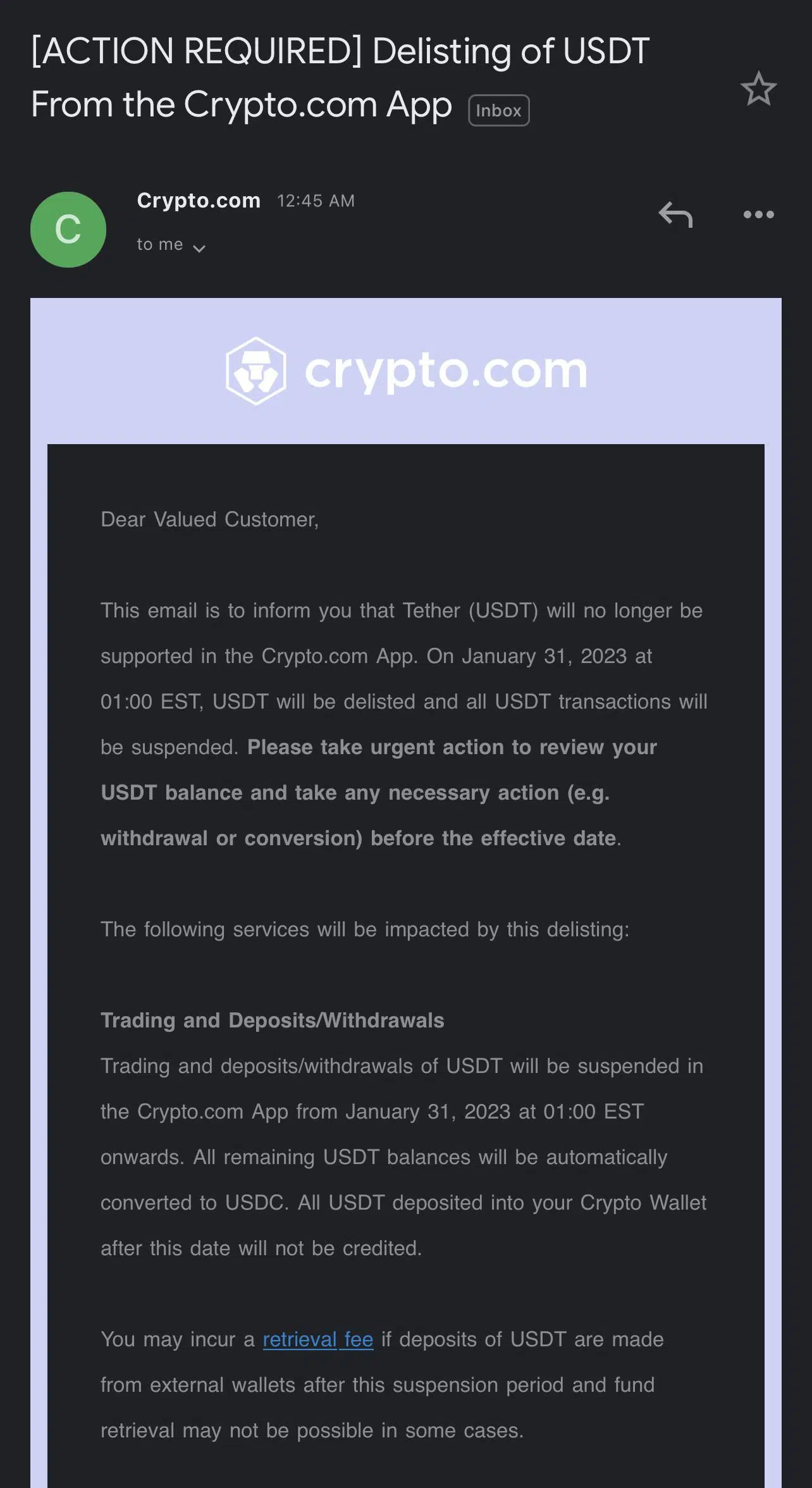 The exchange stated that the move was "in accordance with instructions from the Ontario Securities Commission (OSC) as part of our pre-registration undertaking for a restricted dealer license." (Spokesperson via the email)
All USDT trading activities, including trading pairs, transactions, deposits and withdrawals, will be removed at 1 pm (ET) on January 3, 2023. Any USDT user funds still lingering on the exchange afterward will be transformed into USDC issued by Circle.
Blame falls on FTX
Crypto.com's move arrives as watchdogs worldwide are sharpening their gaze upon centralized exchanges following the implosion of FTX and as the battle for supremacy among the leading stablecoins heats up.
The brand new newsletter with insights, market analysis and daily opportunities.
Let's grow together!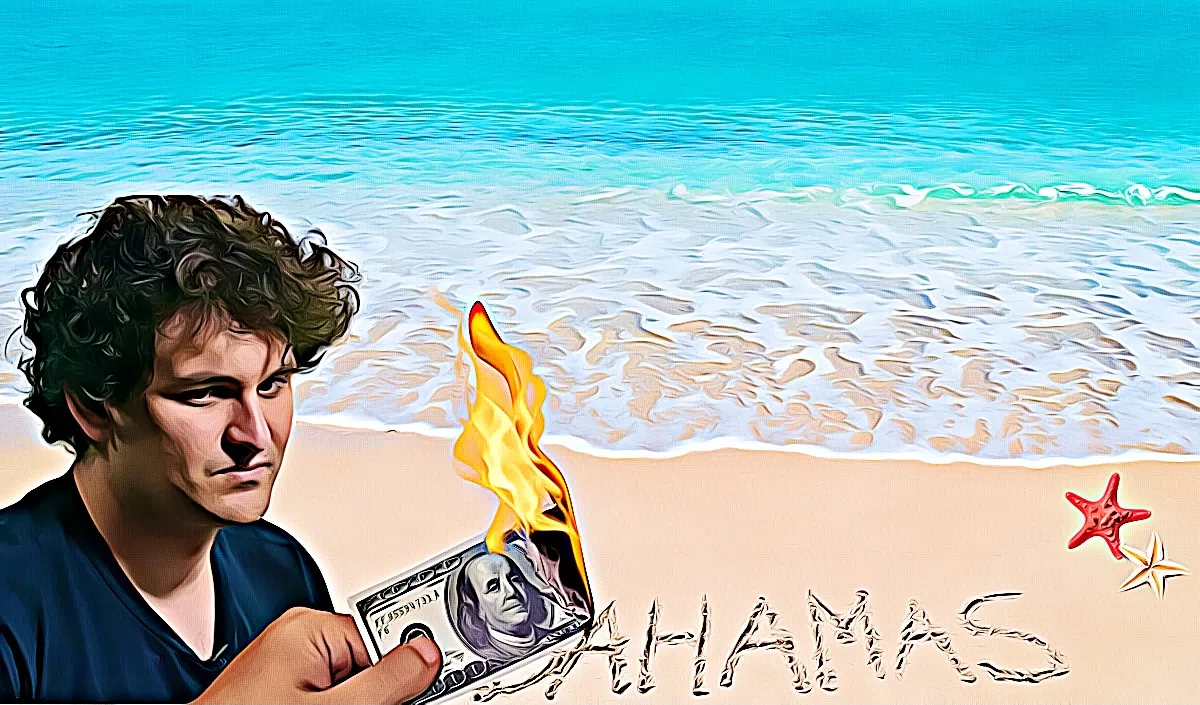 The Canadian Securities Administrators (CSA), a collection of veritable top regulators from 10 provinces and 3 territories in Canada, announced in December 2022 that they would fortify their vigilance over crypto exchanges.
In the press release, the CSA stated that they have amped up "existing requirements" for the trading platforms operating within the nation. "We will continue to monitor and assess the presence and role of stablecoins in Canadian capital markets." CSA Press Release.
USDT still the most popular stablecoin
USDT holds the throne as the most widely-used stablecoin, boasting a substantial $66 billion in market value. However, it's not without rivals, such as USDC with $44 billion and Binance USD with $16 billion, both issued by Paxos.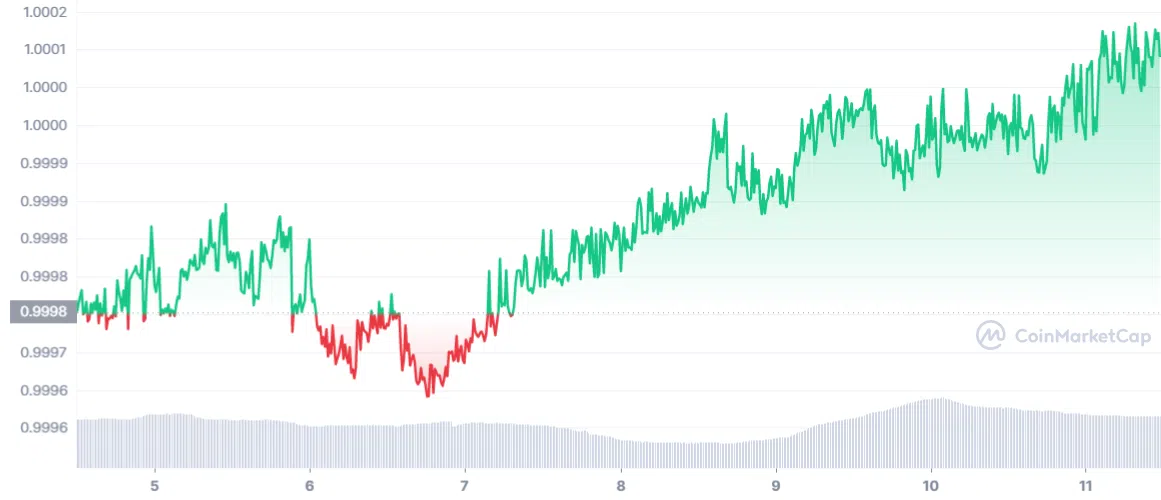 Though USDT is a crucial player in the crypto-sphere facilitating trading, the token has been surrounded by ongoing controversies surrounding its issuer, Tether, and the supposed backing of its value since its inception.
Crypto expert John Paul Koning told CoinDesk that Canadian crypto exchanges have been historically wary of USDT. Coinberry and Wealthsimple both banned USDT from their platforms, according to a court filing submitted to the CSA in 2021.
Presently, the live Tether USDT cost is $1.00 USD with a 24-hour trade volume of $23,283,044,778 USD, boasting a live market capitalization of $66,279,087,988 USD.