In just 24 hours, the price of GensoKishi Metaverse tokens rose 9% to $0.217. The value of MV started rising on December 5. What is it connected with and what should we expect next?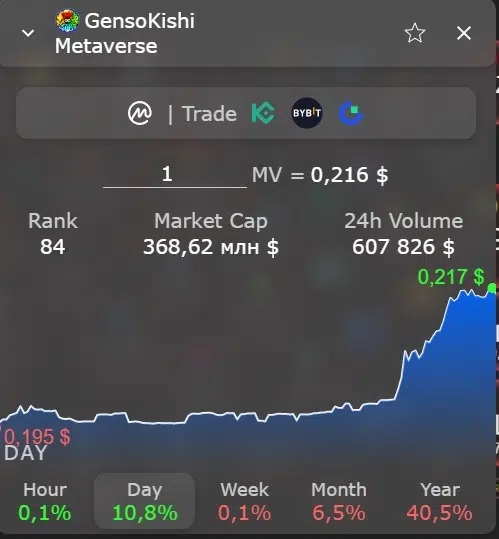 What is the GensoKishi Metaverse?
GensoKishi Online Metaworld, or Genso for short, is the GameFi and metaverse incarnation of the 3DMMORPG game Elemental Knights Online (EKO) for Nintendo Switch/PS4. The iconic game has been downloaded more than 8 million times worldwide. 
GensoKishi Online is built on the Polygon network (MATIC). It was officially released on November 30. Users could create their own skins, characters, maps, and weapons. In the GameFi-version, all of these items will be registered on the blockchain, so they can be transferred, sold, and bought as NFTs.
Thus, any in-game items created or earned by players belong to them and can be sold or traded. Therefore, commerce is an interesting and important part of the game. 
The brand new newsletter with insights, market analysis and daily opportunities.
Let's grow together!
Players can even create and buy plots of land or monsters for battles. And then they charge other players to enter their worlds. 
You can play on Windows, Mac, iOS, and Android.
While many blockchain games require an initial investment and a connection to a wallet, Genso is a free MMORPG. That is, you don't need to buy anything to start playing. Here's the whitepaper.
What about MV tokens?
There are a total of two native cryptocurrencies in GensoKishi Online.
The MV token is the main management token, which gives owners a say in proposed changes to the game. MV can also be bought and bid to earn ROND tokens, pay fees, and give owners the right to create new worlds and other in-game content.
ROND is the main in-game cryptocurrency of GensoKishi Online. It can be converted into smaller units called miniROND for payments in the Metaworld. Everything in the world of GensoKishi Online is worth miniROND, from traveling to different worlds to buying and improving weapons and costumes. 
MiniRONDs can be earned by lending accumulated items to other players or by completing tasks.
MV and ROND tokens comply with the ERC-20 standard. That is, it has a certain set of smart contract features that must be followed to create and deploy tokens in the Ethereum blockchain.
The MV real market cap is $368,813,727. There are 1,709,312,901 MV coins in circulation out of 2,000,000,000. MV is one of two proprietary cryptocurrencies in the play-to-earn (P2E) game Genso.
You can cash out miniRONDs by converting them back into RONDs. The latter can be sold on most secondary market exchanges. The current price is about $0.10 as of December 6 and according to CoinMarketCap.
Why did the price of the GensoKishi Metaverse (MV) token suddenly jump?
The GensoKishi Online Metaworld MV token may have risen in price for several reasons. 
To begin with, the game came out just a week ago and the Web 2 original already had an extensive fan base and is widely known in Asian countries. And by the time Web3 version was launched, the Genso community numbered more than 300,000 people.
I believe web3 will be essential to the future of gaming. Protect yourself in the @genso_meta with a @Ledger Sword.

It is truly an honor to be included in a game featuring art from the legendary @YoshitakaAmanoO pic.twitter.com/0ir7QEVRfh

— 8084.eth (@eugenehu) December 3, 2022
How can I make money on this?
GensoKishi Online has in the last few days announced a partnership in the NFT space with Coincheck to support NFT as part of the Genso Metaverse as well as various marketing initiatives related to GensoKishi Online. And it collaborates with Ledger. Also, previously announced was the release of the Tamago NFT collection.
CoinCodex analysts predicted that the GensoKishi Metaverse could fall by -22.62% to $0.165153 by December 11. And then it will fluctuate between $0.19 and $0.20 thereafter. A month from now, it will probably drop to $0.13.
Based on the December 6 data, the overall outlook on the GensoKishi Metaverse price forecast is neutral, with a bullish bias.
Price Prediction experts believe that in 2023 the MV token may well reach a minimum possible level of $0.30 or a maximum of $0.36.
The brand new newsletter with insights, market analysis and daily opportunities.
Let's grow together!
In 2024, the price of the GensoKishi Metaverse is projected to reach a low of $0.43 or a $0.51 maximum.
The forecast for subsequent years also looks optimistic and promises a gradual increase in the price of the token. But this, again, takes into account MV's previous history and the current state of the market. Given the volatility of cryptocurrencies, it is impossible to predict price fluctuations 100%.
By the way, the Axie Infinity (AXS) token continues to rise in value. It looks like GameFi is taking over the market. After all, now you can actually make money by playing. So it is reasonable to expect that even more people will come to P2E games, such as the Gensokishi Metaverse, in the future.