Polygon, a decentralized Ethereum-based platform for building scalable user-friendly dApps with low transaction fees, started this week very successfully, concluding major partnerships and announcing an important update. On the background of these events, the value of tokens of the network – MATIC – has already increased by 8%, and apparently will continue to grow, as the list of positive news is replenished.
The MATIC price is going up
As of February 15, the price of the Polygon network's native token rose 8% (to $1.27) and continues to rise.  The market capitalization of the platform also rose 8% to $11,127,669,399. Trading volume for the day jumped 25% to $711,741,854 at the time of writing.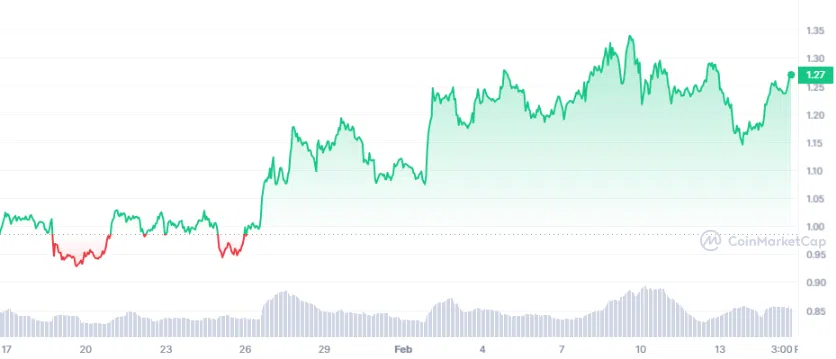 Why Polygon (MATIC) is skyrocketing? 
Over the past two days, several important announcements have been made, which have played a role in the network's token price hike.
The brand new newsletter with insights, market analysis and daily opportunities.
Let's grow together!
On Valentine's Day, February 14, the zkEVM mainnet beta was

announced

. The release date is March 27th. The first version of the zkEVM Polygon testbed was unveiled last October. The second testing phase of the project started at the end of December. The Ethereum scaling solution uses a zero-knowledge proof technology called ZK-Rollups, which makes transactions faster and cheaper. It picks up multiple transactions, merges them together, and sends a confirmation to the main Ethereum network, which shows the authenticity of the transactions. According to Polygon developers, zkEVM will be equivalent to EVM (Ethereum Virtual Machine – a virtual computing environment, a distributed computer responsible for executing algorithms on the Ethereum network called smart contracts.). Developers will be able to integrate Ethereum applications into the new network without making significant changes. What functionality will be available in the beta version has not yet been revealed.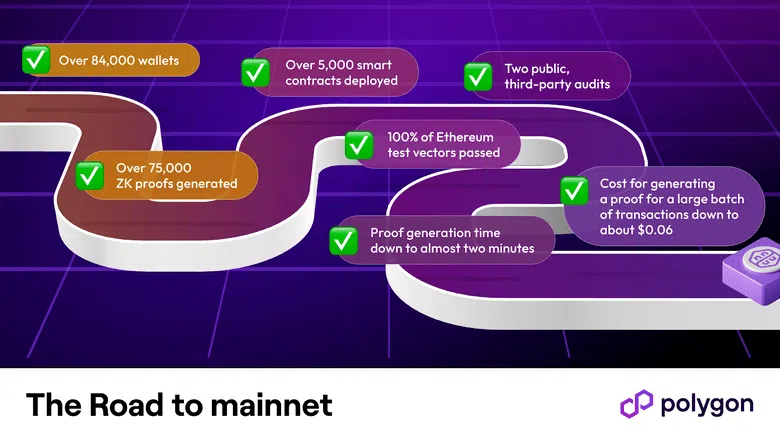 Polygon (MATIC) price prediction
Judging by the current situation, the MATIC token will continue to appreciate. In the near term, we can expect more Polygon partnerships with big brands. Whale also continues to accumulate blockchain tokens (a good sign). As the zkEVM mainnet beta date approaches, MATIC's price could jump.
However, intensified regulatory pressure on the crypto market introduces a high degree of uncertainty.
According to NewsBTC, the next major support level for MATIC is $1.35. If there is a break above it, the price may start new strong growth. In that case, the token could rise to the $1.42 level or even $1.50. The main support is near the level or trend line of $1.25. A fall below this level could cause the token to fall to $1.215.
Polygon
(MATIC)

Price
Market Cap