On February 22, the Klaytn team presented to the Klaytn Governance Council (GC), recommendations (KGP-6) for optimizing the KLAY tokenomics to ensure a more sustainable and verifiable token economy. According to the already approved plan, 5.28 billion KLAY is to be burned, which is about half of the total number of coins in circulation. This event will also coincide with the Kore hardfork. What does this mean, and how will it affect Klaytn and the price of KLAY?
What is Klaytn (KLAY), and what's up with it now?
Klaytn, South Korea's leading public open-source blockchain for the metaverse, play-to-earn (P2E) gaming, NFTs, and creator economies, launched in June 2019. It is currently expanding globally from its international base in Singapore. KLAY is a native blockchain digital asset that ensures the operation and security of the Klaytn protocol.
Klaytn (KLAY) ranks 60th in the CoinMarketCap ranking with a market capitalization of $886 million, ahead of popular tokens such as Maker (MKR) and Optimism (OP).
After the upgrade and burn announcements, the token price briefly climbed to $0.31, but now it's down to $0.29. The trading volume during the last 24 hours rose 90.06% to $157,483,590. KLAY's current price is 93% below the historic high of $4.38 set on April 2, 2021.
The brand new newsletter with insights, market analysis and daily opportunities.
Let's grow together!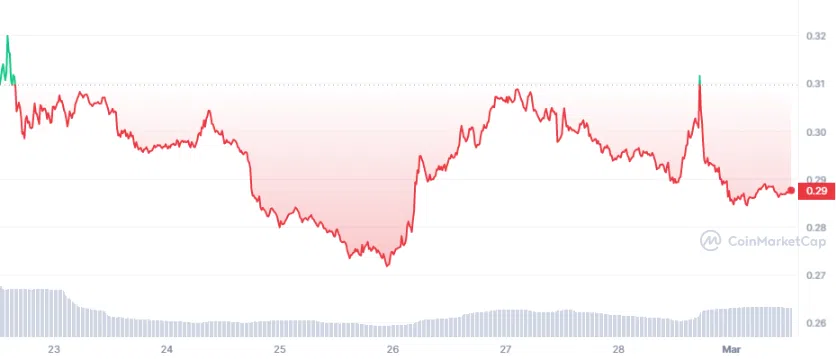 What does KGP-6 offer?
The proposal, titled KGP-6, was approved on February 28 unanimously by the 26 participating members of the 31-member GC: 
1inch, Swapscanner, Ground X, Kracker Labs, Hashkey, POST VOYAGER, METABORA, AhnLab Blockchain Company, Quantstamp, Verichains/VNG, KakaoPay, SK networks, THRUST, NEOPIN, FSN, Netmarble, EBC – Hanwha Systems, Kakao Corp., NFTBank, Krosslab, Jump-Everstake, Maekyung Media Group, The Korea Economic Daily (Hankyung), AQX, Wemade, and Sygnum.

Klaytn Growth Fund (KGF) and Klaytn Improvement Reserve (KIR) will merge into Klaytn Community Fund (KCF). A new operating fund, the Klaytn Foundation Fund (KFF), will also be created.

According to the plan, 5.28 billion KLAY is to be burned. 
Can't not be more excited.

I would like to thank the entire #Klaytn community for your amazing support… not to mention all 31 members of the Governance Council for making the right decision.

Y'all know the drill… #LFG.$KLAY https://t.co/j1ghuxPUQR

— johncho.klay (@Iam_JohnCho) February 28, 2023

Burn 'em down!
After the launch of Klaytn Mainnet, 10 billion KLAY were minted during the TGE (Token Generation Event). Token inflation mainly comes from a fixed amount of KLAY minted as a reward per block. Initially, 9.6 KLAY per block was minted (approximately 0.3 billion KLAY annually), but after the passage and integration of KGP-3, the reward per block was reduced.

As of February 19, 2023, the total number of KLAY tokens is 11.001 billion, of which 3.073 billion KLAY are outstanding. Current issuance is 6.4 KLAY per block (about 200 million KLAY per year).

More than 75 million KLAY has been burned through strategic buybacks and burns.

After KGP-6 is adopted, the 5.28 billion KLAY that has not been used in the last 3 years and 8 months would be burned (out of a total of 7.281 billion unassigned reserve tokens, or 73%).

Another 2 billion KLAY will be burned and deleted in 3 years if Klaytn GC and the community don't figure out how to apply them.
During the burning process, tokens are removed from circulation, reducing the number of coins in use. They are sent to a wallet address that can only receive tokens. Burning usually has a positive effect on the price of the asset, making it more valuable through deflation.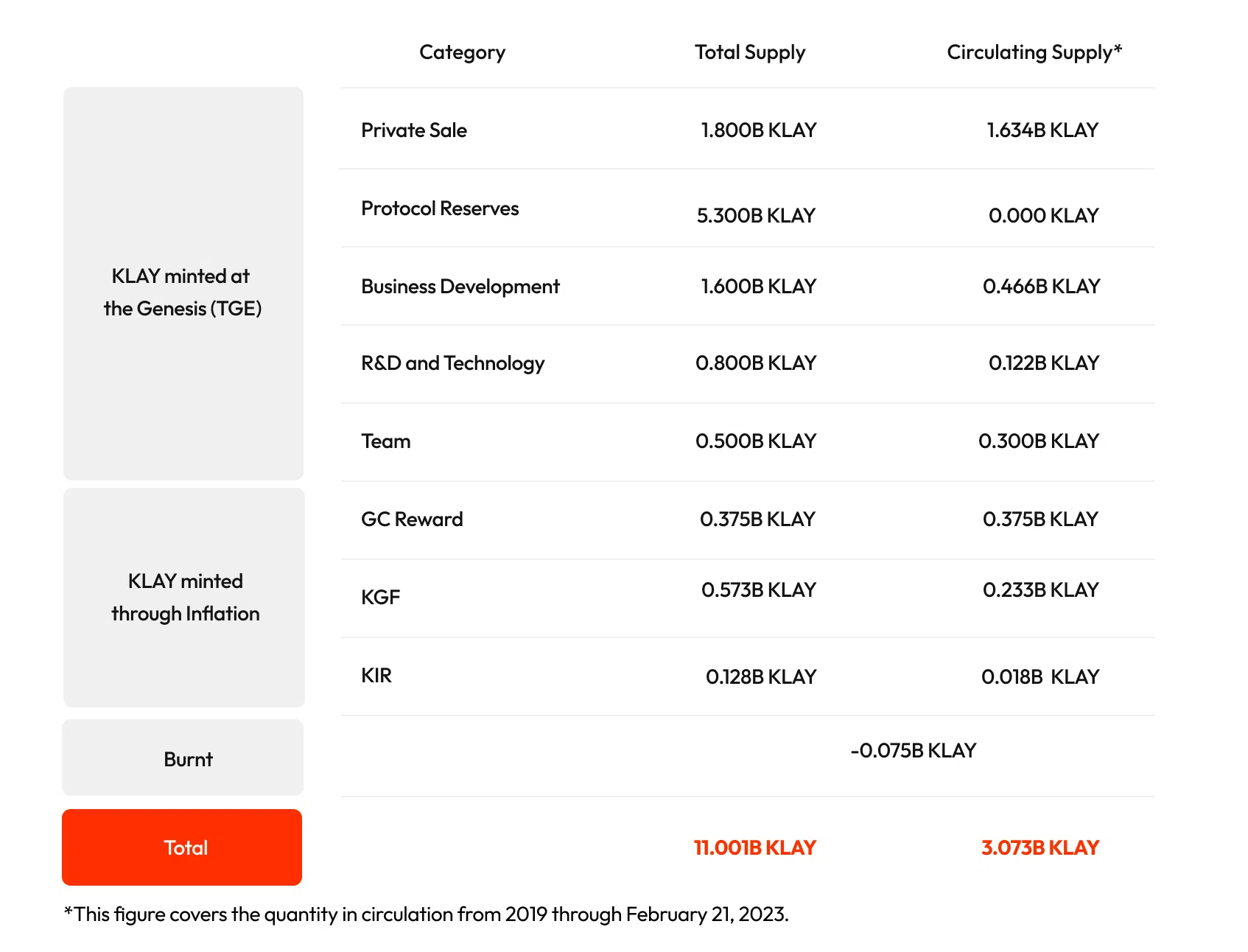 What is Kore hard fork?
The v1.10.0 (Kore) was released in late 2022. It contains a hard fork upgrade that results in backward-incompatible changes. The 5.28 billion KLAY burn will coincide with hard fork completion.
Klaytn has two networks: Baobab and Cypress, and they serve different purposes. Baobab is the public testnet for Klaytn. Cypress is the mainnet in which the Governance Council (GC) runs consensus.
All Baobab/Cypress nodes must be updated to v1.10.0 or higher before the target block number. For Baobab the process was completed in January 2023 and for Cypress the event is scheduled for March (to be announced in the next release (v1.10.x).
The hard fork contains an implementation of the network voting method (KIP-81), a new GC reward structure (KIP-82), and changes to the Ethereum virtual machine (EVM). More details are here.
Klaytn
(KLAY)

Price
Market Cap