Investor Mike Alfred again criticized Cardano. According to him, the coin continues to "languish away" and "it has no progress". This statement is especially interesting against the current Cardano Summit 2022, where the community was presented with a number of innovations in the ecosystem. Maybe things aren't as bad as the influencer thinks? Let's look into it in more detail. 
Poor Cardano 
Mike Alfred is known for his criticism of the ADA cryptocurrency. Earlier in August 2022, he had already spoken about Cardano's uselessness, adding that he did not intend to keep ADA, so he would give the 10M tokens he bought in 2018 to a random user. 
Once again, the investor decided to point out the fact that the coin is not developing and also has no unique value to society. In his opinion, the developers can't come up with anything anymore, so the value of ADA inevitably flies down and will fall even more before the end of the year. 
"Not too late to sell [ADA] and move to BTC," he concluded. 
However, not everyone agrees with this statement. Crypto enthusiast $janek sincerely does not understand the basis of Mike Alfred's hatred. Therefore, he advised the investor not to talk about topics he does not understand. 
What are you basing your tweet on? Seems you have not even tried to do some research.. It is ok to be clueless but don't speak about topics you have no clue about If you want to learn about cardano feel free to reach out

— $janek (@Quaremas3) November 20, 2022
The investor's criticism of the coin also didn't sit well with the community and ecosystem VP at Input Output Global (Cardano's co-creator company) Tim Harrison. He responded harshly to Mike Alfred, stating that he was the one who was poor and continued to "languish away", as well as no longer interesting to anyone, unpromising, and that his speeches were of no value to Twitter.
Poor Mike continues to languish away. No interest, no progress, no unique value for Twitter. Seems like he is done. Meanwhile an amazing #Cardano community keeps building. And ripping up Lausanne. Congrats to @I_Am_DTaylor & team on a fantastic #CardanoSummit2022 Day One 👍🙏 pic.twitter.com/STYyxWzyeX

— Tim Harrison (@timbharrison) November 20, 2022
The criticism may still be unfounded. Cardano Summit 2022 is currently underway. The scale of the event, which highlighted the growing community and celebrated the best ecosystem projects with awards, can be seen on Twitter. In particular, Cardano was called "the best mathematical blockchain," talked about its ability to provide users with decentralized identifiers, and about Cardano's security. 
It has also become known that the ADA ecosystem is planning to launch its first fully fiat-backed and compliant stablecoin. The release is planned for the first half of 2023 and will be called USDA. The main goal is to make Cardano's DeFi ecosystem healthier and more sustainable. 
Apparently, the coin has a community, and ADA developers are not exhausted, but on the contrary, have goals for the future and are rapidly moving toward them. However, Cardano does have problems, but who in the market, which has been suffering from the crypto winter and constant crashes of exchanges for a month, does not have them? 
What's wrong with ADA?
Cardano got hit by the FTX crash, just as other cryptocurrencies went down. According to CoinMarketCap, ADA ranks eighth at $10.51B in market capitalization. At the time of writing Cardano is trading at $0.3048 per coin, down 4.67% from a day ago and 8.54% from a week earlier. It has a circulating supply of 34 421 491 844 ADA coins and a max. supply of 45B ADA coins. However, everything is not so bad, the coin is growing in terms of trading volume, and in the last 24 hours. it has added 85.48% with a value of $332.7M.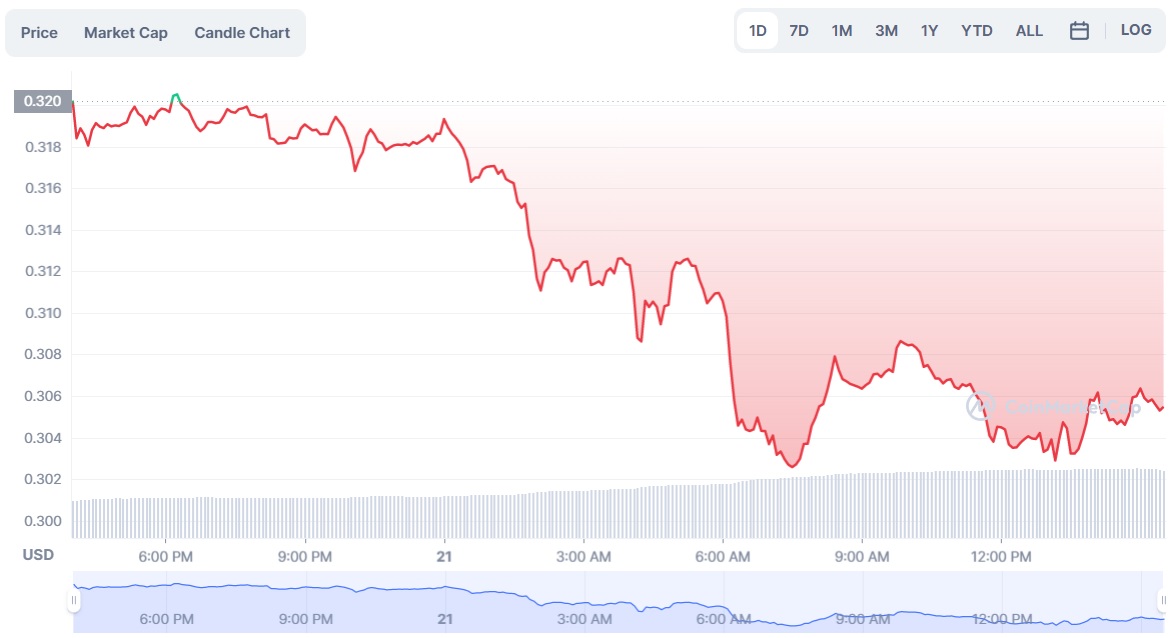 The coin peaked at $3.15 in August and has since fallen at least $0.3 in November. The problem is that the fall could continue because ADA has broken through the long-term support level.
"The entire drop was preceded by a bearish divergence in the weekly RSI, though there was no negative Cardano news to affect the price. The bearish divergence trend line is still intact," says Beincrypto analytics.
How can I make money on this?
How can I make money on this? 
According to the analysts, in the worst-case scenario, the ADA would drop another 50% to $0.15. Technical analysis shows that the bullish divergence trend line has been broken, which confirms the continuation of the bearish cycle. Otherwise, if the situation changes, the coin will go upward and might jump to $0.35, updating the six-month high. 
So, considering that the coin is falling in value, it is the right time to buy, but only if the trend reverses and the coin crawls upwards. However, considering the forecasts and Mike Alfred's criticism, it won't happen.