Analyst Lookonchain detected a transaction in which the Whale transferred 23M FTT (~$516M) to Binance. After that, the token price dropped by 10%. Market participants are widely noting the problems in FTX, predicting the soon ruin of the exchange. Against the background of the news, Binance has already begun to liquidate existing stocks of the coin. What is the reason for this, and what FTX holders should do, we will discuss further below. 
What's known? 
It all started with a CoinDesk investigation, in which FTX was accused of linking the exchange and Alameda Research. The reporters revealed an internal document from which it became clear that of the $14.6B in assets at Alameda Research, $3.66B was "unlocked FTT" and $2.15B was FTT in collateral. 
"Most of the net equity in Alameda's business is its own centrally controlled and printed FTX token out of thin air," explained Swan Bitcoin CEO Cory Klippsten. 
Thus, Alameda Research could influence illiquid assets like the FTX token with billions of dollars' worth of credit. The top manager reacted to tweets from Binance CEO Changpeng Zhao. He stated his desire to get rid of FTT, which together with BUSD totaling ~$2.1 billion were the result of the company's withdrawal from portfolio investment in FTX. At the same time, Zhao said that the decision was not intended to harm a competitor in any way, because it is important for Binance to maintain the functioning of the industry. The businessman cited the "recent revelations" of CoinDesk as the main reason. 
Confirmation that Binance doesn't trust FTX can also be seen in @MikeBurgersburg's article Is Alameda research insolvent? which got likes from @cz_binance. And two hours later, a retweet appeared on the Binance page revealing that Keith had transferred $23M of FTT to Binance and started selling. Many believe that this Keith is the exchange itself.
Will FTT crash?</b
Interesting move from Binance. Looks like they just moved the remainder of their investment in FTX (23M FTT) in preparation for sale?$583M current market value. They're ramping up the Sam FUD big time. The irony of dumping on retail to hurt competition https://t.co/iXmVA0lX47

— Autism Capital (@AutismCapital) November 5, 2022
 >
To answer this question, Lookonchain conducted an analysis of the coin. First, it found that the current total token supply is $328,895,112 $FTT and the circulating supply is $133,618,094 $FTT. Below is a graph of the distribution and supply of the coin.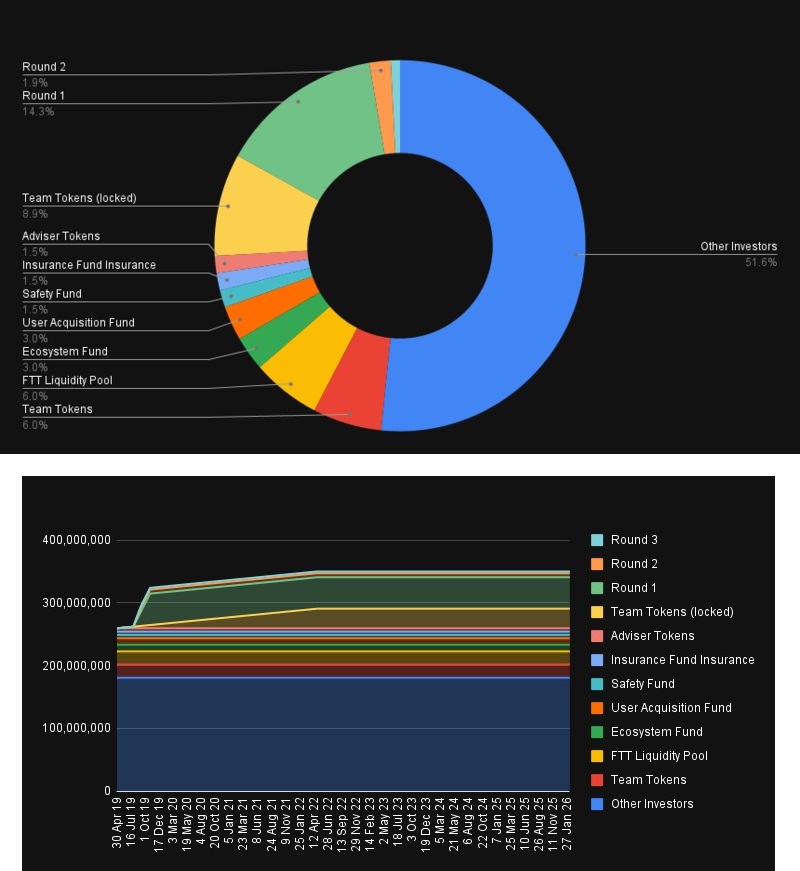 Also, to understand the overall situation, it is worth looking at FTT holders. The top 50 own $322.72M FTTs (~$7.44B), which is 98.12% of the total offerings. It turns out that most of the tokens lie on a small number of addresses. We also know that Almeda & FTX owns a total of $245M FTT (~$5.65B). That's 74.51% of the total offerings. 
In turn, Binance holds $24.35 FTT (~$56M) or 7.4% of total offerings. 
After that, Lookonchain analyzed the addresses with a net asset value of more than 1w USD of Alameda and found that Alameda only has $180M assets, of which the stablecoin assets are less than $60M.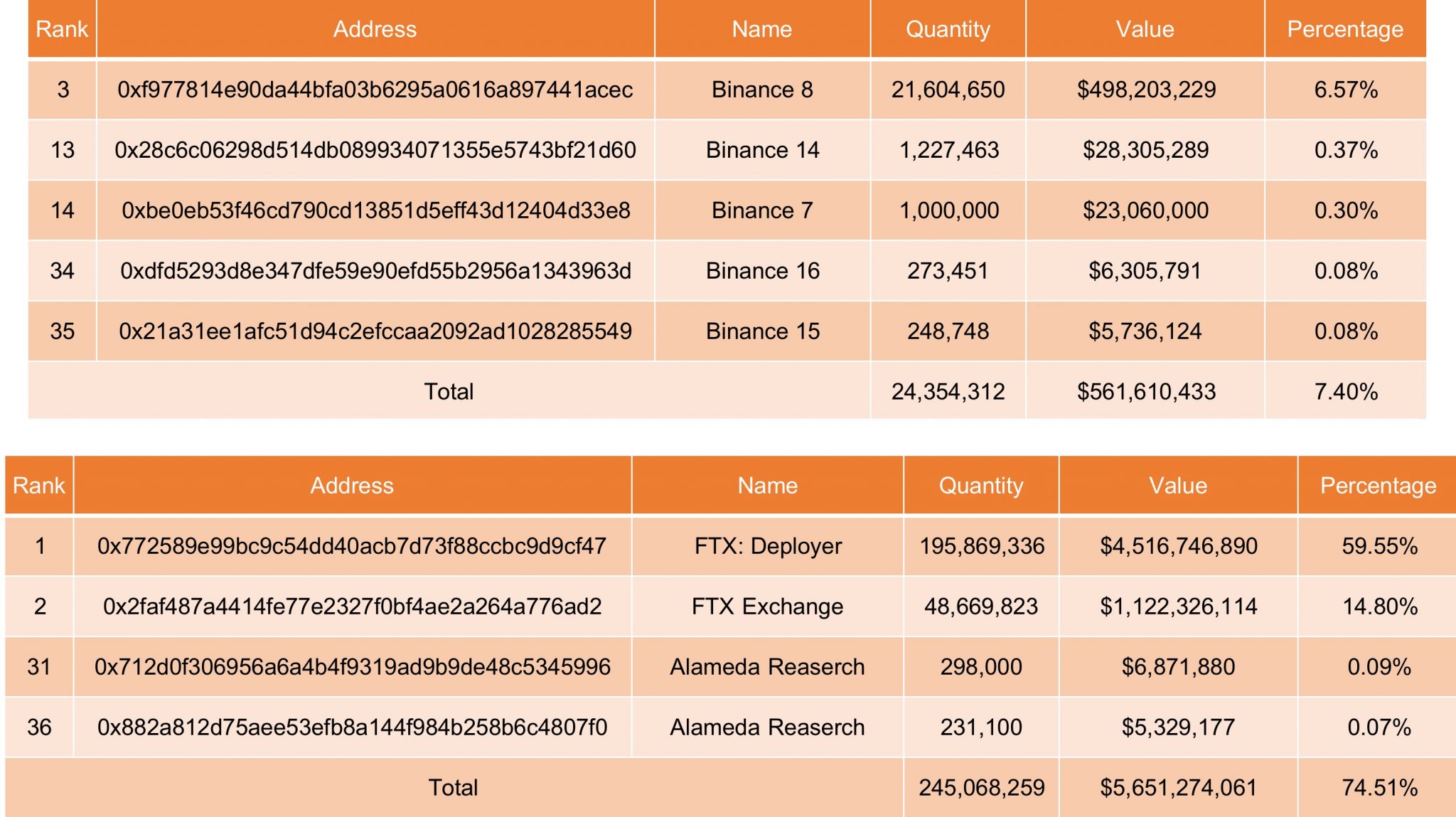 After checking two more wallets, it turns out that FTX holds $2.71B in assets, of which $1.2B is in FTT. Stablecoin has about $240M in assets. This suggests that FTX and Alameda currently hold about $300M in stable currency assets. However, these coins are not enough to cover 60% of the $23M FTT transferred by the aforementioned Whale. Simply put, Lookonchain thinks once the big Whales starts selling $FTT, there is a high probability that the token will collapse. 
How can I make money on this? 
It is still unclear whether FTT will collapse or not, but even those who are confident that this will not happen have already begun to withdraw assets in order to manage risks. The final answer to the question can be given if the exchange publishes an official statement with a full audit. 
Everyone is waiting to hear me say, "I told you so!" about @FTX_Official being rumored to be insolvent.

I'm actually not going to do that. I certainly urged people to close their FTX accounts, but not because they are insolvent.

Do what you have to do to withdraw funds…
1/2

— Ben Armstrong (@Bitboy_Crypto) November 6, 2022
Famous crypto YouTuber Ben Armstrong (aka Bitboy Crypto) believes that FTX will not hurt its customers and that everything will end when the exchange completes the deal with Voyager. 
So now the main question is not "how to make money on the situation" but how not to lose your savings. But if you have $FTT and plan to open short/long positions on $FTT, be sure to watch the big Whales. Their actions will tell you what to do.